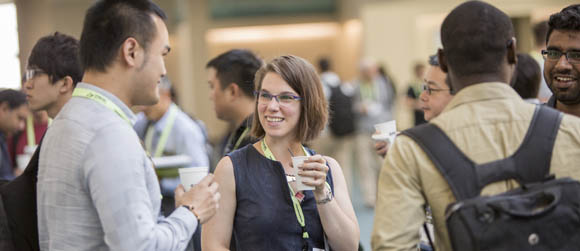 Activities across SPIE Optics + Photonics 2016 reflected the current vitality of the
photonics industry; above, networking during a coffee break. (Joey Cobbs Photography)
BELLINGHAM, Washington, USA , and CARDIFF, UK — A surge of interest in optical engineering at the recent SPIE Optics + Photonics 2016 from consumer product and virtual/augmented-reality companies and continued growth in the event's nanoscience and engineering programs reflect the vitality and dynamism in photonics industry and research.
SPIE Optics + Photonics, organized by SPIE, the international society for optics and photonics, ran 28 August through 1 September in San Diego, California.
"The multidisciplinary mix at SPIE Optics + Photonics serves as an unmatched incubator for technologies enabling new applications for nearly every aspect of our lives," noted SPIE Senior Director Andrew Brown.
Participation in one of the largest-yet SPIE Job Fairs by Oculus and Magic Leap and in the exhibition and conferences by Microsoft and Netflix — including live-streaming of a session on Royalty-free Video — illustrated recognition by leading innovators of the need for the skills of optical engineers.
Signs of industry vitality were echoed in an update by SPIE Industry Development Director Stephen Anderson on an ongoing comparative profile of the photonics industry by SPIE. The latest data show a continued upward trend since the study began in 2012, with growth in the number of companies, revenues generated, and numbers of jobs.
In Nanoscience talks, Alexandra Boltasseva (Purdue University) spoke on emerging materials for nanophotonics. Comparing graphene, complex oxides, and transition metal nitrides, she noted that the latter are thermally stable and biocompatible as well as compatible with computer systems.
Andrea Alù (University of Texas at Austin) who spoke on metasurfaces with applications such as an antenna capable of emitting a signal without receiving any, commented on the meeting's diversity.
The span of the SPIE community across many different fields, "is exciting," he said. "You learn about new activities in different directions that overlap within the broad platform of nanophotonics. I think it's the biggest conference that brings together all the different aspects of nanophotonics; the applied, more engineering aspects, and the basic research."
Boltasseva had similar comments: "Coming to SPIE conferences is a great way to connect with your colleagues, but also to engage with communities that you never talked to before. Talking to materials scientists, with chemists, with those doing computational physics is very important, because we are building upon different expertise and that really helps to push the frontiers. The breakthroughs happen at the borders between research areas."
Already the most comprehensive nanotechnology event, the Nanoscience + Engineering program continues to grow and expand. Particularly growth is being seen in areas such as spintronics, low-dimensional materials, and quantum science applications, said SPIE Science and Technology Director Bob Hainsey.
In Optical Engineering talks, Daniel Sigg gave an update on next steps for LIGO, the Laser Interferometer Gravitational-wave Observatory, which made the first-ever recording of gravitational waves last year. Working with additional sites in Europe and Asia, the North American-based observatory will continue to track black-hole and neutron-star mergers and other phenomena throughout the Universe.
A new conference chaired by Thomas Pagano (Jet Propulsion Lab) explored how CubeSats, miniaturized satellites often built with off-the-shelf parts, will create disruptive innovation in the aerospace industry similar to the impact of smartphones and personal computers.
The ingenuity of optical engineers and scientists was demonstrated in a talk by NASA Curiosity Rover scientist Melissa Rice (Western Washington University) on the Mars Rover missions' imaging capabilities. The next mission, due to launch in 2020, will include a zoom camera providing stereo photos in wide angle.
In Sustainable Energy talks, Caltech's Harry Atwater described progress by the Joint Center for Artificial Photosynthesis toward developing electrocatalysts that will enable artificial photosynthesis, to reduce carbon dioxide levels while generating usable fuel.
Emerging material systems such as perovskites which are of increasing importance in sustainable energy were a topic of focus in Organic Photonics and Electronics talks, in particular the Organic Photovoltaics conference chaired by Zakya Kafafi (Lehigh University).
Magnus Berggren (Linköping University) described potential for organic electronics in treating chronic pain, and in controlling growth in individual plants to yield healthier crops.
At an annual awards banquet, SPIE President Robert Lieberman presented awards recognizing technical achievements, contributions to the society, and service to the community, including the SPIE Gold Medal to Paras Prasad (University at Buffalo).
Lieberman announced Jennifer Barton (BIO5 Institute at the University of Arizona) as recipient of the 2016 SPIE President's Award, and Majid Rabbani (Rochester Institute of Technology) as recipient of the 2016 SPIE Directors' Award.
SPIE is the international society for optics and photonics, an educational not-for-profit organization founded in 1955 to advance light-based science, engineering and technology. The Society serves nearly 264,000 constituents from approximately 166 countries, offering conferences and their published proceedings, continuing education, books, journals, and the SPIE Digital Library. In 2015, SPIE provided more than $5.2 million in support of education and outreach programs. www.spie.org
---
Contact:
Amy Nelson
Public Relations Manager
amy@spie.org
+1 360 685 5478
@SPIEtweets
---