BELLINGHAM, Washington, USA -- Two dozen aspiring entrepreneurs who are out to change the world through photonics and build careers in the process have been named as semi-finalists in the 2014 SPIE Startup Challenge.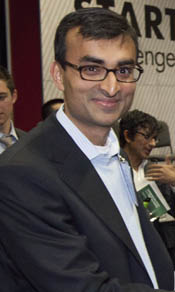 Semi-finalists for the 2014 SPIE
Startup Challenge are vying for
the top honor won last year by
8tree; above, co-founder Arun
Chhabra after last year's finals.
The semi-finalists will compete in a pitch contest before a panel of business development experts and venture capitalists at SPIE Photonics West in San Francisco in February. Winners will be announced at the event.
Top prize is $10,000 plus $5,000 in credit toward equipment from Edmund Optics. The second-place finisher will win $5,000, and the third $2,500. Cash prizes are funded by Founding Sponsor Jenoptik with additional support from Trumpf, Open Photonics, and Knobbe Martens.
SPIE will provide support for winners to attend a week-long entrepreneur "boot camp" for further help in refining their ideas.
This year's semi-finalists include:
Amos Danielli, MagBiosense
Ryan Shelton, PhotoniCare, Inc.
Eric Wandel, Innovative Photonics Technologies, LLC
Lars Rindorf, OptoRobotix
Brian Cummins, Glucid Innovations
Ramin Rafiei, University of Western Australia
Garrett Cole, Crystalline Mirror Solutions GmbH
Babak Shadgan, Pathonix Innovation Inc.
Tamas Haidegger, HandInScan Ltd.
Jarkko Antila, Spectral Engines
Natan Shaked, Tel Aviv University
Zeev Zalevsky, Bar Ilan University; Z-square
Anders Hansen, Fotonik, DTU
Christian Weedbrook, QKD Corp.
Matthew Muller, Swept Image Inc.
Nicholas Durr, Massachusetts Institute of Technology
Jannick Rolland, LighTopTech Corp.
Robert McLaughlin, University of Western Australia
Dan Gareau, Rockefeller University
Hoi Wai Choi, University of Hong Kong
Boris Lamontagne, Actishade-NRC
Thomas Ditto, 3DeWitt LLC
Sanaz Alali, University of Toronto; Pollux Devices
Boris Mizaikoff, University of Ulm
Hossein Alisafaee, University of North Carolina, Charlotte.
Live finals will be held at 3:30 p.m. on Wednesday 5 February in the Moscone Center. Registration to attend is free of charge.
Also at Photonics West, Arun Chhabra, co-founder of 2013 SPIE Startup Challenge winner 8tree, will introduce a panel discussion on "What Startups Need to be Successful." The panel, moderated by Andrea Belz of Belz Consulting, will be held on Monday 3 February at 2:30 p.m., and is accessible with free registration.
The Startup Challenge and other industry events focused on photonics commercialization complement a new virtual technical symposium on Translational Research chaired by Bruce Tromberg, director of the Beckman Laser Institute and Medical Center. The Translational Research program highlights papers from the BiOS symposium that address the latest photonics technologies, tools, and devices that have high potential for clinical use.
SPIE is the international society for optics and photonics, a not-for-profit organization founded in 1955 to advance light-based technologies. The Society serves nearly 235,000 constituents from approximately 155 countries, offering conferences, continuing education, books, journals, and a digital library in support of interdisciplinary information exchange, professional networking, and patent precedent. SPIE provided $3.2 million in support of education and outreach programs in 2013.
Contact:
Amy Nelson
Public Relations Manager
amy@spie.org
+1 360 685 5478
@SPIEtweets