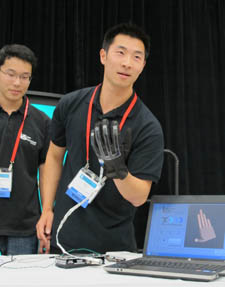 The EAP-in-Action session introduces a wide
variety of smart technologies; above, a team
in the 2013 event.
BELLINGHAM, Washington, USA -- Reports on engineering advances inspired by nature, research in electroactive polymer actuators and devices (EAPAD), and the latest in smart testing and evaluation of bridges and other infrastructure will be among highlights at the annual SPIE Smart Structures + Nondestructive Evaluation (SS/NDE) symposium next month. SS/NDE runs 9-13 March at the Town & Country Resort and Convention Center in San Diego, California, and is presented by SPIE, the international society for optics and photonics.
The multidisciplinary event covers the evolving fields of materials, enabling technologies, and sensor and actuator design for commercial, medical, aerospace, and military applications, NDE and infrastructure safety monitoring, and materials characterization and defect detection.
Organized into 10 parallel conferences, the event will include sessions on topics such as biomimicry, energy harvesting, shape memory alloys and polymers, structural health monitoring, and soft-bodied robots in engineering research and practice.
SPIE and the San Diego Zoo will host a panel discussion on "Biomimicry and Bioinspiration" as part of the conference on Bioinspiration, Biomimetics, and Bioreplication chaired by Akhlesh Lakhtakia (Pennsylvania State University). Staff from the zoo's Centre for Bioinspiration will bring an "animal ambassador" to help demonstrate how the capabilities of animals help to inspire novel engineering solutions. Examples of biomimetics found in conference papers are:
whisker-like sensors for underwater robots and other devices, to detect flow disturbance and enhance measurement range
the role of vision in dragonfly hover, for applications in aircraft or infrastructure stability in the wind
honeycombed thin films to maximize performance in semiconductor processes, solar energy capture, and sensing.
The popular interactive EAP-in-Action session, part of the conference on EAPAD chaired by Yoseph Bar-Cohen (Jet Propulsion Lab), will include demonstrations such as:
a crawling microrobot with movement inspired by an inchworm, propelled by liquid-based bending EAPs
a computer mouse enhanced with dielectric elastomer actuator (DEA) technology to provide tactile feedback to the user's palm
wearable energy harvesting devices
soft-sensor technologies such as a wireless glove powered by dielectric elastomer generators
a high-speed silicone DEA-based multigripper, intended for mounting on a satellite for orbital debris removal.
Five plenary talks are scheduled:
Hoon Sohn (Korea Advanced Institute of Science and Technology [KAIST]), on noncontact laser sensing techniques with applications in monitoring and testing aircraft, wind turbine blades, nuclear power plants, bridges, semiconductors, and other structures
Gianaurelio Cuniberti (Technische Universität Dresden) on light-induced switching of silicon nanowire field effect transistors, with capabilities for hybrid nanodevices consisting of organic complexes and inorganic nanowires
Peter Cawley (Imperial College London), on issues around the gradual shift in emphasis from periodic inspection of infrastructure with detachable transducers to permanently installed monitoring systems that give information about structural integrity at pre-programmed intervals or on demand
Karlheinz Bock (Fraunhofer EMFT), on the integration of different electronic components and functionalities such as batteries, displays, microcontroller ICs, sensors, and passive components on a flexible substrate to integrate sensing, controlling, and acting functionalities on thin and bendable surfaces -- smart electronic surfaces ("electronic skin") or adaptronics for robotics
Roger Ohayon (Conservatoire National des Arts et Métiers [CNAM]), on the dynamic behavior of complex coupled systems with aerospace engineering applications such as in attenuation of vibration in liquid tanks, or noise attenuation in satellite fairings or aircraft fuselage cabins.
EAPAD conference keynote speaker Robert Shepherd (Cornell University) will discuss soft-bodied robotics -- the development of more sophisticated robotic motions and safer human-machine interactions by leveraging compliant actuators and passive dynamics to reduce design and manufacturing, control complexity, and improve energy efficiency.
For the first time, full conference registration includes online access to all conference proceedings, beginning during the event. Accepted papers will be published in the SPIE Digital Library as soon as approved, followed by publication in print volumes and digital collections.
Symposium chairs are Victor Giurgiutiu (University of South Carolina) and Christopher Lynch (University of California, Los Angeles). Cochairs are Jayanth Kudva (NextGen Aeronautics) and Theodoros Matikas (University of Ioannina).
SPIE is the international society for optics and photonics, a not-for-profit organization founded in 1955 to advance light-based technologies. The Society serves more than 256,000 constituents from approximately 155 countries, offering conferences, continuing education, books, journals, and a digital library in support of interdisciplinary information exchange, professional networking, and patent precedent. SPIE provided $3.2 million in support of education and outreach programs in 2013.
###
Contact:
Amy Nelson
Public Relations Manager
amy@spie.org
+1 360 685 5478
@SPIEtweets