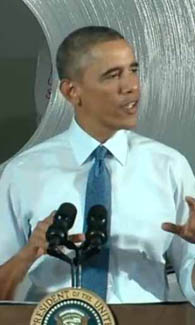 President Obama announces the
Integrated Photonics Institute for
Manufacturing Innovation, at a
speech in Indiana in October 2014.
BELLINGHAM, Washington, USA -- Photonics community leaders including SPIE, the international society for optics and photonics, are energized today by the announcement from the U.S. Department of Defense of finalists selected to submit full proposals to secure the Integrated Photonics Institute for Manufacturing Innovation (IP-IMI).
Proposals selected were from multi-state consortia led by groups in Florida, New York, and California. All stress the potential the IP-IMI represents for new, high-value jobs and regional economic lift as well as enhanced strength in the nation's ability to remain a global science and technology leader and to provide the benefit of technological advances to its people.
"Today's announcement of finalists represents an important step forward in the process of bringing integrated photonics manufacturing to a reality within the United States," said SPIE Industry and Market Analyst Steve Anderson. "The proposals advancing to the next stage are all the result of significant collaborative efforts on the part of many stakeholders. They ultimately will bring the USA to the forefront of an emerging photonics technology base that will become a lynchpin of future economic development, not just in the USA but globally."
With a pledge for DOD matching funds up to $110 million, the IP-IMI is the largest of several new manufacturing institutes (IMIs) being awarded by the Obama Administration to develop high-tech jobs in the U.S. It is intended to advance the state of the art in the design, manufacture, testing, assembly, and packaging of complex photonic integrated circuits that combine a variety of photonic and electronic components to achieve functionality.
Anderson noted that it is particularly appropriate that a competition that is centered on light-based technology is taking place during the International Year of Light and Light-based Technologies, an observance decreed by the United Nations for 2015.
"Photonics -- light-based science and technology -- benefits us all, enabling lifesaving medical treatments and diagnostics, global communications, space exploration, 3D printing, sustainable energy and lighting in developing and developed nations, and more secure communities," said SPIE CEO Eugene Arthurs. "Our members and partners have worked hard to communicate these benefits, and we are gratified that policy makers and funding organizations have seen fit to support and enable further photonics advances in this way, with the soon-to-be-reality IP-IMI."
One finalist team is led by the University of Central Florida, with a proposal for a Photonics Research Institute for Sustainable Manufacturing (PRISM). Most of the programs would be housed at a new facility, the Florida Advanced Manufacturing Research Center, being built near Kissimmee. Team members include more than 55 industry partners and five key research universities: UCF, Georgia Institute of Technology, the University of Alabama-Huntsville, Clemson University, and the University of Illinois.
Another proposal was submitted by the Research Foundation for the State University of New York (SUNY) on behalf of SUNY Polytechnic Institute, the University of Rochester, Rochester Institute of Technology, the University of Arizona, and Massachusetts Institute of Technology, and other academic and industry partners and stakeholders from California, New York, and Massachusetts.
The University of Southern California (USC) is the lead for the third finalist proposal. The USC entry features partners in Arizona, New Mexico and Ohio. (California team outlines photonics institute proposal, Optics.org)
"The decision to help fund a new IP-IMI underlines the critical importance of light-based technologies in the modern world," said SPIE President-Elect Robert Lieberman. "This will establish a center of excellence where engineers and scientists from academia, industry, and federal labs can develop the optical chip technologies that will drive the 'photonic revolution' of the 21st century. The selection of multidisciplinary, multi-party teams illustrates the nationwide scope of the U.S. optics and photonics enterprise. The commitment by partnerships to match, dollar-for-dollar, the federal contribution demonstrates their realization that next-generation manufacturing technologies are critical for maintaining competitiveness in the modern world."
"We are excited that with this step the IP-IMI is moving closer to being established and providing benefit, and happy for the groups that have advanced to the next stage," said SPIE Senior Director Andrew Brown. "We look forward to helping them recruit additional participants during their consortia meetings being held in a few days at SPIE Photonics West."
Full proposals are due on 31 March and a winning application is expected to be announced in June.
Read more:
National Photonics Initiative applauds finalists for Integrated Photonics Institute for Manufacturing Innovation (NPI press release)
New York and Florida take lead for $220M photonics hub (optics.org)
SPIE is the international society for optics and photonics, a not-for-profit organization founded in 1955 to advance light-based technologies. The Society serves nearly 235,000 constituents from approximately 155 countries, offering conferences, continuing education, books, journals, and a digital library in support of interdisciplinary information exchange, professional networking, and patent precedent. SPIE provided $3.4 million in support of education and outreach programs in 2014.
Contact:
Amy Nelson
Public Relations Manager
amy@spie.org
+1 360 685 5478
@SPIEtweets