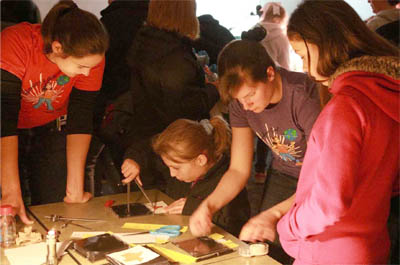 SPIE University of Texas at Austin Student Chapter members helped introduce more than 150 girls to engineering, in a project funded by SPIE activity grants being awarded this year in observance of the International Year of Light. Credit SPIE UT Austin Student Chapter (More photos below.)
BELLINGHAM, Washington, USA -- "Science can be fun" was a key message, as more than 150 fourth- and fifth-graders participated in an "Introduce a Girl to Engineering Day" at the University of Texas (UT) at Austin in February. Lessons in light-based science and technology were presented by the UT Austin SPIE Student Chapter, one of 26 SPIE Student Chapters awarded a total of $60,000 in International Year of Light activity grants by SPIE, the international society for optics and photonics. The IYL grants are in addition to education outreach grants the society awards annually.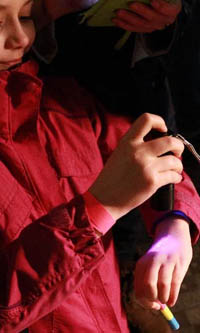 Learning about optics principles ...
through making UV "tatoos."
Credit SPIE UT Austin Student Chapter
The UN General Assembly proclaimed 2015 the International Year of Light to increase public and political understanding of the central role of light in the modern world and to celebrate significant scientific anniversaries occurring in 2015. A Founding Partner of the IYL, SPIE aims to promote community events and activities that highlight the critical role that light plays in our daily lives and to increase awareness of light-based technologies.
For their event, the UT at Austin chapter and the UT Women in Engineering Program arranged four interactive stations where students could learn about the basic properties of geometrical optics, LEDs, fluorescence, and ultraviolet (UV) light. A laser classroom kit and LED Light Blox sets were used to explain the basic principles of optics.
While making scratch holograms from CD jewel cases, students learned about specular holography at the first station, and basic optics principles through laser experiments and playing the Laser Game KHET.
Sorting gummy bears under different colors of light from an LED Light Blox set showed participants color is a property of light, at the second station.
The third station enabled participants to look at various sources of light using foldable spectrometers.
At the final station, extracted chlorophyll was used to demonstrate fluorescence, and participants made UV bead bracelets and drew UV "tattoos" on their hands.
Other SPIE Student Chapters have used grant funds for projects such as developing a laser maze (University of Arizona, in the United States), and building a Goldberg machine (Universidad Autónoma de Nuevo León [UANL], in Mexico).
The UANL Student Chapter hosted "Week of Light" in February. In collaboration with the UANL Faculty of Physical and Mathematical Sciences, chapter members constructed a Goldberg machine ["Máquina de Goldberg FCFM UANL" video: 2:29]. Through a chain of reactions the machine illuminated black lights placed over a neon IYL logo.
Guided tours of UANL labs and fun with giant kaleidoscopes were among the week's events. Stunning images representing the science of light, from the Light Beyond the Bulb customized displays project, introduced participants to the wonders of the solar system and the importance of light in technology and everyday life.
UANL "Week of Light" coordinator and PhD student Perla Viera-Gonzalez said the activities showed kids that science can be fun and brought mathematic equations they learned in the classroom into real life.
The full list of chapters that will be conducting IYL outreach events this year is online: www.spie.org/x108865.xml.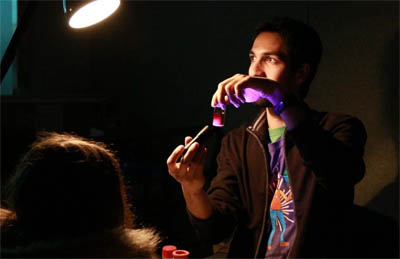 SPIE UT Austin Student Chapter members brought STEM lessons to life. Credit SPIE UT Austin Student Chapter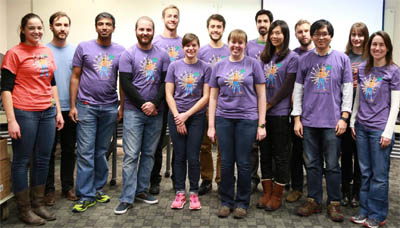 SPIE University of Texas at Austin Student Chapter members participated in "Introduce a Girl to Engineering Day." Credit: SPIE UT Austin Student Chapter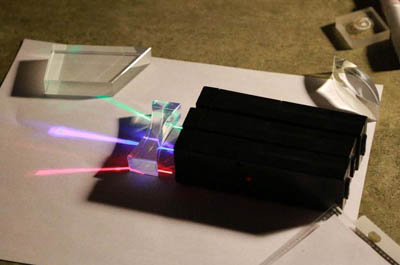 Light Blox, Laser Game KHET, and laser classroom kits were used to demonstrate optics and photonics principles. Credit: SPIE UT Austin Student Chapter
About SPIE
SPIE is the international society for optics and photonics, a not-for-profit organization founded in 1955 to advance light-based technologies. The Society serves nearly 256,000 constituents from approximately 155 countries, offering conferences, continuing education, books, journals, and a digital library in support of interdisciplinary information exchange, professional networking, and patent precedent. SPIE provided more than $3.4 million in support of education and outreach programs in 2014. www.spie.org
---
Contact:
Amy Nelson
Public Relations Manager
amy@spie.org
+1 360 685 5478
@SPIEtweets
---