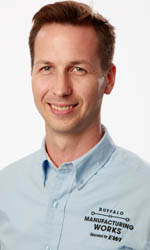 Kenneth Kort
BELLINGHAM, Washington, and WASHINGTON, D.C., USA — SPIE, the international society for optics and photonics, and The Optical Society (OSA) are pleased to announce the selection of Kenneth Kort, a graduate of the University of Buffalo (New York), as 2016-2017 Arthur H. Guenther Congressional Fellow, co-sponsored by OSA and SPIE. Kort will serve a one-year term as special legislative assistant on the staff of a U.S. Congressional office or committee in Washington, D.C.
Kort's one-year term will begin in September, starting with comprehensive training and orientation facilitated by the American Association for the Advancement of Science (AAAS). He and other Congressional Fellows will participate in an interview and selection process with offices of senators, representatives, or committees on Capitol Hill before selecting the office in which they will serve for the next year.
The Congressional Fellowship program aims to bring technical and scientific backgrounds and perspectives to the decision-making process in Congress, and provide scientists with insight into the inner workings of the federal government. Typically, Fellows will have the opportunity to conduct legislative or oversight work, assist in congressional hearings and debates, prepare policy briefs and write speeches as part of their daily responsibilities.
Each year, following a formal application process, finalists are interviewed and Congressional Fellows are selected by a committee comprised of volunteer members from OSA and SPIE.
Kort holds B.S. and Ph.D. degrees in chemistry from the University at Buffalo (UB). As an undergraduate, Kenneth was a member of the university's Student Affiliates of the American Chemical Society and a representative to the UB Student Association. He is a member of Alpha Phi Omega, a national co-ed service fraternity, and Alpha Chi Sigma, a professional chemistry fraternity, both of which he continued to be active with while in graduate school by serving as an advisor.
Kort's graduate research focused on the synthesis, characterization, and spectroscopic studies of novel nanostructured materials. In 2011, Kenneth was selected as a National Science Foundation East Asia Pacific Summer Institute Fellow, where he spent a summer abroad in South Korea carrying out research at Pusan National University.
In 2014, he served as a Christine Mirzayan Science and Technology Policy Graduate Fellow at the National Academy of Sciences where he worked on the National Materials and Manufacturing Board. He was also the recipient of the 2014-2015 New York Section of the Society for Applied Spectroscopy Graduate Student Award for his research on Raman spectroscopy for the determination of free electron density in III-V semiconductors.
After graduation, Kort was hired by UB's New York State Center of Excellence in Materials Informatics to assist with the launch of Buffalo Manufacturing Works, an advanced manufacturing institute to be operated by EWI. After his one-year appointment, he became a full-time employee of EWI where he has worked within their additive manufacturing group and materials and testing group.
Kort said he is eager to serve as the 2016-2017 Arthur H. Guenther Congressional Fellow. He has a long-standing interest in policy, and his scientific and technical background will allow him to meaningfully contribute to the legislative process, particularly in areas pertaining to renewable energy, advanced manufacturing, and optoelectronics.
About SPIE
SPIE is the international society for optics and photonics, an educational not-for-profit organization founded in 1955 to advance light-based science, engineering and technology. The Society serves nearly 264,000 constituents from approximately 166 countries, offering conferences and their published proceedings, continuing education, books, journals, and the SPIE Digital Library. In 2015, SPIE provided more than $5.2 million in support of education and outreach programs. www.spie.org
About OSA
Founded in 1916, The Optical Society (OSA) is the leading professional organization for scientists, engineers, students and entrepreneurs who fuel discoveries, shape real-life applications and accelerate achievements in the science of light. Through world-renowned publications, meetings and membership initiatives, OSA provides quality research, inspired interactions and dedicated resources for its extensive global network of optics and photonics experts. For more information, visit osa.org/100.
---
Contact:
Amy Nelson
Public Relations Manager
amy@spie.org
+1 360 685 5478
@SPIEtweets
---
All photos © SPIE, the international society for optics and photonics, except where noted.
---