ISRO Chairman Kiran Kumar, at left, and
NASA Administrator Charles Bolden were
among several leaders of space organizations
who were featured speakers.
Among nearly 700 attending were Jim Oschmann
of Ball Aerospace, at left, who served as
host for organizer SPIE, and symposium chair
Upendra Singh, NASA Langley Research Center.
NEW DELHI, India, and BELLINGHAM, Washington, USA -- High-level leaders from several nations' space agencies provided insider perspectives on programs for monitoring natural and manmade impacts on the environment, as featured speakers at the SPIE Asia-Pacific Remote Sensing symposium last week in New Delhi, 4-7 April.
In a gathering unusual for including so many top-level space agency leaders, the speakers sounded common themes of the need for collaboration and the value of ongoing and always-improving Earth monitoring for the betterment of humanity.
In addition to talks outlining their programs for space remote sensing of weather, climate, and changes in ocean and land mass properties, speakers participated in a panel discussion led by Shailesh Nayak of the Indian Ministry of Earth Sciences (MoES). Panelists were:
Kiran Kumar, Chairman, Indian Space Research Organization (ISRO)
Charles Bolden, Administrator, U.S. National Aeronautics and Space Administration (NASA)
Jean-Yves Le Gall, President, Centre National d'Études Spatiales, France (CNES)
Shizuo Yamamoto, Vice President, Japanese Aerospace Exploration Agency (JAXA)
YanHua Wu, Deputy Administrator, Chinese National Space Agency (CNSA)
Alain Ratier, Director General, Europäische Organisation für meteorologische Satelliten (EUMETSAT)
Francisco Javier Mendieta-Jiménez, Director General, Mexican Space Agency.
The panel stressed the need to work together to understand the environment, along with the value of ongoing and continuously improving monitoring of the weather, environment, and both natural and manmade impacts for the betterment of human kind.
The world is facing an unprecedented threat from accelerated climate change, Le Gall observed. He noted that accelerating climate change threatens individual well-being, economies, and societies. Remote sensing of Earth is needed to survive the changes, he said, noting that of 50 essential climate variables, 26 can be read only from space.
The panel described collaboration as freely sharing data from weather and environmental satellites; using the data cooperatively to predict analyze, mitigate, and respond during natural disasters -- thereby protecting people and saving lives -- through forecast improvements and response efficiency; and engaging in more joint projects to build space assets for Earth remote sensing.
Bolden pointed out that international collaboration is vital now. What we are learning about other planets is informing the study of our own planet, he said. "Working together, we can advance knowledge about our planet for all humanity."
The four-day symposium focused on the theme "Remote Sensing for Weather and Climate Monitoring," and drew nearly 700 attendees to hear about the latest research in the field as well as initiatives and collaborative international efforts to direct governmental policies.
Other featured speakers were:
Michael Freilich, director of the Earth Science Division of the NASA Science Mission Directorate, on satellites, science, and societal benefits
MoES Secretary Madhavan Rajeevan, on space technology for weather and climate services
Vinay Dadhwal of ISRO, on challenges in enabling integration of Earth observation data and geomatics for governance and developmental planning
David Thau of Google, on democratizing access to data for societal and environmental benefit.
SPIE Fellow Jim Oschmann, vice president and general manager of the Civil Space business unit for Ball Aerospace, hosted the conference on behalf of meeting organizer SPIE, the international society for optics and photonics. "The impressive collection of participants for the conference shows that attention to our environmental future is very important to a broad spectrum of leaders," Oschmann said.
Symposium chairs were Upendra Singh of NASA Langley Research Center, Vinay Dadhwal of ISRO, and K.J. Ramesh of the Indian Ministry of Earth Sciences. Along with Kumar, Bolden, Le Gall, Rajeevan, Yamamoto, and Ratier, Dazhe Xu of the China National Space Administration and Guanhua Xu of the Chinese Ministry of Science and Technology served as honorary symposium chairs. Toshio Iguchi of the Japanese National Institute of Information and Communications Technology and Jiancheng Shi of the Chinese Institute of Remote Sensing and Digital Earth were symposium cochairs. ISRO, ESSO, and NASA cosponsored the event.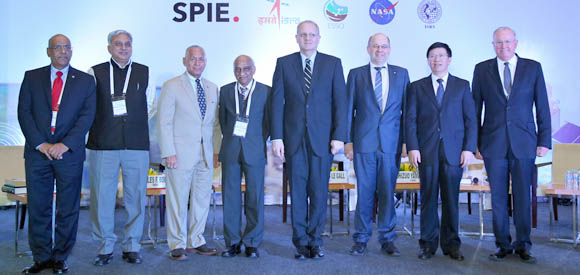 Among participants at SPIE Asia-Pacific Remote Sensing 2016 in New Delhi were, from left,
Upendra Singh (NASA Langley Research Center), Shailesh Nayak (MoES), Charles Bolden (NASA),
Kiran Kumar (ISRO), Jean-Yves Le Gall (CNES), Alain Ratier (EUMETSAT),
YanHua Wu (CNSA), and Francisco Javier Mendieta-Jiménez (Mexican Space Agency).
About SPIE
SPIE is the international society for optics and photonics, an educational not-for-profit organization founded in 1955 to advance light-based science, engineering, and technology. The Society serves nearly 264,000 constituents from approximately 166 countries, offering conferences and their published proceedings, continuing education, books, journals, and the SPIE Digital Library. In 2015, SPIE provided more than $5.2 million in support of education and outreach programs. www.spie.org
---
Contact:
Amy Nelson
Public Relations Manager
amy@spie.org
+1 360 685 5478
@SPIEtweets
---
All photos © SPIE, the international society for optics and photonics, except where noted.
---