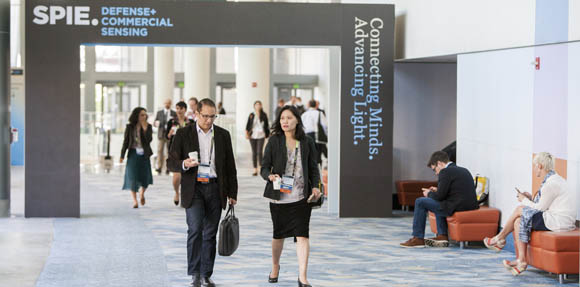 Joey Cobbs Photography
ANAHEIM, California, and BELLINGHAM, Washington, USA — The impressively wide range of photonics technologies for sensing, imaging, and related applications were the focus of researchers, engineers, product developers, and industry suppliers gathered last week for SPIE Defense and Commercial Sensing 2017 in Anaheim.
Sponsored by SPIE, the international society for optics and photonics, the event drew nearly 4,600 participants from 53 countries and ran 9-13 April. The technical program included approximately 1,800 presentations, and 370 companies participated in a three-day exhibition. Industry-focused sessions and an extensive course program rounded out the week's activities.
Conferences in Defense and Security covered topics such as infrared technologies, ISR, advanced optics, and multisensory integration and networking. Applications included explosives detection, target recognition, ocean monitoring, and cybersecurity.
Commercial and Scientific conferences presented imaging and sensing technologies for data visualization, fiber optics, and next-generation spectroscopic technologies, with applications in agriculture and food safety assessment, healthcare, and more.
Plenary speakers early in the week shared strategies and applications with a capacity crowd.
Tom Burns of DARPA's Strategic Technology Office outlined the U.S. approach to "mastering and imposing the complexity of systems of systems."
Parker Abercrombie of the NASA Jet Propulsion Lab took the audience on a virtual tour of Mars, with a demonstration of several virtual reality applications for augmenting exploration.
Cross-over and dual-use applications were a frequent theme, including in a high-quality all-day workshop on big-data trends organized by the Bahram Jalali lab at the University of California, Los Angeles, and technical sessions on artificial intelligence and virtual reality.
"We saw exciting advances in technologies that are addressing growing needs in both the defense and commercial imaging markets," said Commercial and Scientific Sensing and Imaging symposium co-chair Robert Fiete, Chief Technologist and Harris Fellow at Harris Corporation. "It was amazing to see in conference sessions and the exhibition hall such a wide range of transformative innovations that will improve the security and welfare of our daily lives — advances in SmallSats, drones, big data analytics, augmented reality, next-generation sensor systems, and more."
Among technical talks:
Ali Javey, University of California, Berkeley, described work with wearable health-monitoring sensors, in particular for monitoring sweat — an excellent candidate for non-invasive monitoring as it contains physiologically rich information about a subject's health.
Hong Hua, College of Optical Sciences, University of Arizona, discussed methods to enable focus cues in head-mounted displays for virtual and augmented reality, to help prevent visual discomfort.
Bhashyam Balaji, Defence Research and Development Canada, described research in the emerging field of quantum information technologies, which hold great promise for improved cryptography.
Sagar Dhakal, Agricultural Research Service, U.S. Department of Agriculture, reported on using spatially offset Raman spectroscopy for subsurface detection through multiple layers to ensure quality in pharmaceuticals or food, without opening the package.
Expo companies showcased components and systems in the latest technologies across the gamut of sensors, infrared, laser systems, spectral imaging, radar, and LiDAR. Booth activity reflected strong markets and an interested audience, exhibitors reported.
"The show has been very good for us," said Ed McIntyre of Princeton Lightwave. "We have had lots of good quality leads."
"We have had quite a few visitors to our booth expressing real interest in our products — genuine inquires," said ATA Corporation's Sheila Green.
The exhibit experience was amplified by industry sessions on a wide range of relevant topics, attracting a record audience on the exhibition floor.
In a particularly well-attended industry talk, Louay Eldada gave an update on solid-state LiDAR developed by his company, Quanergy, and its applications for autonomous vehicles.
Richard Crocombe gave an industry-session talk on spectroscopy for detection of food fraud or adulteration — horsemeat sold as "ground beef", or "chicken" eggs that have not come from chickens, for example. Crocombe, a consultant in handheld and portable spectroscopy, formerly worked with Perkin-Elmer.
In other industry sessions, Chris Bainter of FLIR and Jay Stepleton of Ametek discussed scientific and engineering high-speed imaging technoloiges for applications in ballistics, materials processing, and other areas. Bainter was one of several speakers from FLIR, one of the event's sponsors, on the industry stage.
Other sessions covered topics such as industrial impacts for thermal imaging drones, applications for SmallSats, defense technologies transferred to the movie industry, and leadership perspectives.
Ten distinguished early-career scientists selected as the inaugural group of Rising Researchers were honored during the plenary session. The Rising Researchers program is designed to recognize individuals conducting outstanding work in product development or research in defense, commercial, and scientific sensing, imaging, optics, or related fields. (Read more about the honorees in the SPIE press release.)
SPIE Defense and Commercial Sensing 2018 will run 15-19 April in Orlando, Florida, the next destination in a three-year rotation among Anaheim, Orlando, and Baltimore, Maryland.
About SPIE
SPIE is the international society for optics and photonics, an educational not-for-profit organization founded in 1955 to advance light-based science, engineering, and technology. The Society serves nearly 264,000 constituents from approximately 166 countries, offering conferences and their published proceedings, continuing education, books, journals, and the SPIE Digital Library. In 2016, SPIE provided $4 million in support of education and outreach programs. www.spie.org
---
Contact:
Amy Nelson
Public Relations Manager
amy@spie.org
+1 360 685 5478
@SPIEtweets
---