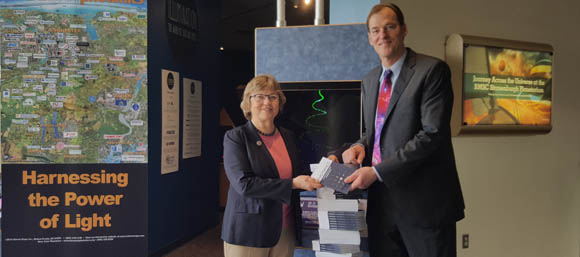 RMSC President Kate Bennett accepts donation 400 copies of
Photonics Infographics from Peter Hallett of SPIE. (RMSC photo)
ROCHESTER, New York and BELLINGHAM, Washington, USA -- A new book donated today by SPIE, the international society for optics and photonics, will give the Rochester Museum & Science Center (RMSC) another means to share information about one of the Rochester area's most important industrial and educational activities.
Peter Hallett, SPIE director of Marketing and Industry Relations, presented Kate Bennett, RMSC President, with 400 copies of Photonics Infographics. The RMSC will distribute the books for free to area educators and students, as well as interested RMSC visitors, to encourage a new generation of photonics enthusiasts.
Photonics Infographics, originally published in German by SPECTARIS, the German Hightech Industry Association, is written in an approachable style suitable for mainstream readers and potential young engineers and scientists. SPIE collaborated with SPECTARIS on the English-language version.
"Part of our mission at SPIE is to support photonics education and RMSC is a natural partner for us since they are doing the same thing," Hallett said. "The RMSC inspires students to enter science fields and if we can help foster that with the donation of these books, we've done our job at that level."
"We are grateful for the generosity of SPIE and their work in helping us shed light on the world of photonics for students," Bennett said. "We are happy to strengthen Rochester's new role as photonics hub through sparking curiosity in science in our exhibits, programs and now the availability of this book."
The book illustrates with infographics many ways in which applications of photonics technology touch our lives, from LEDs and solar energy to optical fiber networks and medical applications of photonics, in an approachable style suitable for mainstream readers and potential young engineers and scientists.
SPIE has also become a co-sponsor of RMSC's exhibition Illumination: the World of Light and Optics, Hallett announced.
The exhibition opened last summer, and offers RMSC visitors of all ages a hands-on opportunity to explore the amazing light-based technologies that impact our daily lives. More than 15 interactive components invite experimentation with aspects of light to understand its nature. The exhibition encourages the exploration of scientific concepts including reflection and refraction, radio waves and color temperature. The RMSC also promotes photonics in its Inventor Center as well as through several programs throughout the year.
The book can also be downloaded as free PDF file from the SPIE website at www.spie.org/photonics-infographics.
Also in Rochester on the previous evening, Hallett gave a presentation on "The Photonics of Star Trek" at the annual dinner meeting of the OSA Rochester Section. The talk was based on an article he authored in the January issue of SPIE Professional magazine, detailing then-futuristic ideas presented in the original television series 50 years ago that have now become reality, such as 3D printers, smartphones, and tractor beams.
About SPIE
SPIE is the international society for optics and photonics, an educational not-for-profit organization founded in 1955 to advance light-based science, engineering, and technology. The Society serves nearly 264,000 constituents from approximately 166 countries, offering conferences and their published proceedings, continuing education, books, journals, and the SPIE Digital Library. In 2015, SPIE provided more than $5.2 million in support of education and outreach programs. www.spie.org
About RMSC
Rochester Museum & Science Center (RMSC) includes the Science Museum, Strasenburgh Planetarium and Cumming Nature Center. Offering experiences at the Museum with more than 200 interactive exhibits, Planetarium with a 65-foot dome and Nature Center on 900 acres, the RMSC stimulates community interest in exploration. In addition, the more than 1.2 million RMSC collection items tell the story of Rochester's past including its rich history of innovation and invention. RMSC receives major funding from Monroe County, where it is one of the top three most visited attractions serving children and families. For more information about RMSC, visit www.rmsc.org.
---
Contact:
Amy Nelson
Public Relations Manager
amy@spie.org
+1 360 685 5478
@SPIEtweets
---
All photos © SPIE, the international society for optics and photonics, except where noted.
---