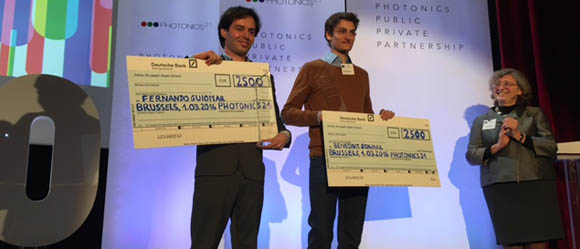 Winners of 2016 Photonics21 Student Innovation Awards were announced on 1 March; from left
are Fernando Guiomar and Benedikt Schwarz and Executive Board Member Roberta Ramponi.
BRUSSELS, Belgium, and CARDIFF, UK -- Researchers reporting on miniaturisation of versatile mid-infrared sensors and increasing capacity of ultralong-haul fibre-optic communications were honored with Photonics21 Student Innovation Awards at the Photonics Public Private Partnership (PPP) Annual Meeting today in Brussels. SPIE Europe Ltd. is a sponsor of the awards and of the event.
The awards were presented by Photonics21 Executive Board Member Roberta Ramponi (Politecnico Milano) and President Michael Mertin (Jenoptik).
Benedikt Schwarz, Vienna University of Technology, won for the paper "Miniaturized mid-infrared sensors", on work utilizing quantum cascade lasers (QCLs).
Fernando Guiomar, Instituto de Telecomunicações, won for "High performance and efficient digital signal processing algorithms".
Prizes included a check for € 2500 for each winner. Along with SPIE Europe, award sponsors are Hamamatsu, Jenoptik, and LioniX.
"Photonics is driving innovation in the 21st century, and making the difference", said Mertin in his welcome remarks. Photonics21 is celebrating its 10th anniversary this year, he noted: a successful decade of cooperation among industry, science, and politics.
Günther Oettinger, EU Commissioner for the Digital Economy and Society, spoke in a keynote talk on the successful digitisation of European industry, asserting that photonics will play a key role in shaping European industry's future.
Tomorrow's agenda includes talks by Mertin, on the impact of digitisation on Europe's economic system, and by Wolfgang Boch, EC Head of the Photonics and Organic Electronics Unit, DG Communications Networks, Content and Technology, on progress made by the Photonics PPP, and opportunities and challenges for 2016 and beyond.
Other speakers, parallel work group sessions, and project presentations will address Photonics PPP planning for the Horizon 2020 work programme for 2018-2019, the impact of the International Year of Light 2015 on awareness, and digital transformation issues.
Since 2014, the Photonics21 Association has acted as a "mouthpiece" of the European Technology Platform Photonics21 and its more than 2000 members in working with the European Commission in the Photonics PPP.
SPIE Europe Executive Director Eugene Arthurs serves on the Photonics21 Board of Stakeholders.
About SPIE
SPIE is the international society for optics and photonics, an educational not-for-profit organization founded in 1955 to advance light-based science, engineering, and technology. The Society serves nearly 264,000 constituents from approximately 166 countries, offering conferences and their proceedings, continuing education, books, journals, and the SPIE Digital Library. In 2015, SPIE provided more than $5.2 million in support of education and outreach programs. www.spie.org
---
Contact:
Amy Nelson
Public Relations Manager
amy@spie.org
+1 360 685 5478
@SPIEtweets
---
All photos © SPIE, the international society for optics and photonics, except where noted.
---