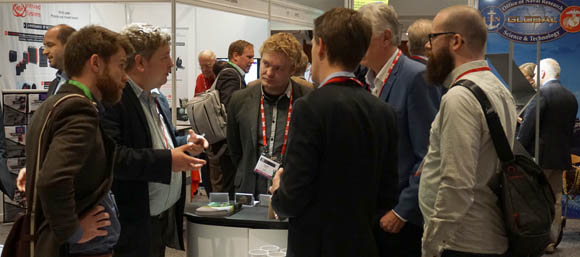 New technologies drew high interest at the 2016 SPIE Security and Defence exhibition.
EDINBURGH, UK, and BELLINGHAM, Washington, USA -- Business leaders, scientists, and engineers from some of the world's foremost research organisations and companies gathered in Edinburgh in record numbers last week for SPIE's co-located Remote Sensing and Security and Defence meetings. The event was held in the Edinburgh International Convention Centre, 26-29 September, sponsored by SPIE, the international society for optics and photonics.
Nearly 1,000 participants and 41 exhibiting companies attended the annual meeting, enjoying Scottish hospitality, hearing the latest research developments, seeing state-of-the-art products, networking, and developing new business leads and strategic partnerships among the global community.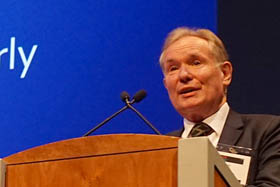 Sir David Payne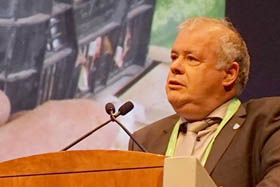 Wim Bastiaanssen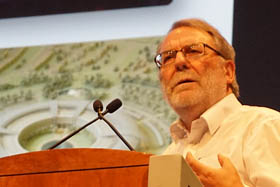 Sir Peter Knight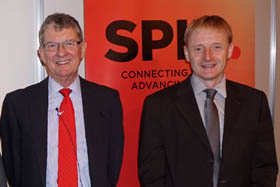 Sir Brian Burridge (left) and Andrew Cunningham
presented during the industry session
Highlights included the participation of three UK knights, with two speaking in a captivating plenary session on opening day. Speakers and topics included:
Sir David Payne (Optoelectronics Research Centre and Zepler Institute, University of Southampton): recent developments and opportunities in fibre lasers
Wim Bastiaanssen (UNESCO Institute for Water Education; Robert Daugherty Water for Food Institute, University of Nebraska Lincoln; and Delft University of Technology): remote sensing for global water security.
Sir Peter Knight (Kavli Royal Society International Centre and Imperial College): quantum technology
Sir Brian Burridge (Leonardo and UK Defence Solutions Centre), keynote presenter in an industry session organized by Paul Winstanley (Innovation, UK Defence Solutions Center) and Stephen Anderson (SPIE), provided a perspective on the industry's ability to be agile and commercially successful with technologies for intelligence surveillance and reconnaissance (ISR).
The day-long session included presentations covering a range of issues relevant to executives with an emphasis on dual-use technologies, and provided excellent networking.
Conference sessions included 650 high-quality presentations covering the most recent advances in technologies and applications presented by leaders from many of the field's most prominent organisations, institutes, and companies.
A milestone at this event was the occurrence of SPIE's 10,000th conference with a resulting proceedings volume. The distinction went to Sensors, Systems, and Next-Generation Satellites, chaired by Roland Meynart (European Space Research and Technology Centre), Steven Neeck (NASA), and Toshiyoshi Kimura (Japan Aerospace Exploration Agency) with Haruhisa Shimoda (Tokai University) as co-chair. SPIE President Robert Lieberman called the occasion "a truly prestigious moment in SPIE's history" during his welcoming remarks.
This year's conference on Remote Sensing for Agriculture, Ecosystems, and Hydrology was dedicated to Manfred Owe, long-time chair of the conference and senior scientist at NASA Goddard Spaceflight Center. Owe, who died in January, was honored with a tribute during a session on Remote Sensing of Soil Moisture. Conference chairs were Christopher Neale (University of Nebraska Lincoln) and Antonino Maltese (Università degli Studi di Palermo).
The exhibition buzzed with energy as conference attendees and traffic from local industry walked the floor hearing about the latest products and discussing upcoming needs and business opportunities.
"SPIE prides itself on connecting researchers who are developing the latest technologies with industry developers who implement these solutions to address real world problems" said Andrew Brown, SPIE Senior Director. "It's a testimony to the hard work of our conference chairs and industry partners when we see the energy and engagement that took place here in Edinburgh."
Remote Sensing symposium chairs were:
Klaus Schäfer (Karlsruhe Institute of Technology)
Christopher Neale (University of Nebraska Lincoln)
Iain Woodhouse (University of Edinburgh).
Defence and Security symposium chairs were:
David Titterton (UK Defence Academy)
Ric Schleijpen (TNO Defence, Security and Safety)
Karin Stein (Fraunhofer Institute of Optronics, System Technologies, and Image Exploitation)
Stuart Duncan (Selex ES Ltd.).
About SPIE
SPIE is the international society for optics and photonics, an educational not-for-profit organization founded in 1955 to advance light-based science, engineering and technology. The Society serves nearly 264,000 constituents from approximately 166 countries, offering conferences and their published proceedings, continuing education, books, journals, and the SPIE Digital Library. In 2015, SPIE provided more than $5.2 million in support of education and outreach programs. www.spie.org
---
Contact:
Amy Nelson
Public Relations Manager
amy@spie.org
+1 360 685 5478
@SPIEtweets
---