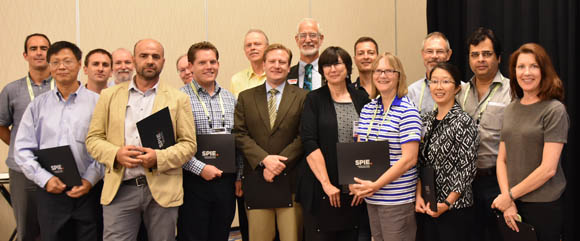 Some of this year's new SPIE Senior Members were honored by SPIE President Robert
Lieberman and other SPIE Board members at a breakfast last month
during SPIE Optics + Photonics 2016 in San Diego.
BELLINGHAM, Washington, USA , and CARDIFF, UK — A record number — 198 — of distinguished members of SPIE, the international society for optics and photonics, have been elevated to the rank of Senior Member this year.
SPIE Senior Members are honored for their professional experience, their active involvement with the optics community and SPIE, or significant performance that sets them apart from their peers.
Recommendations for individual candidates were evaluated by a subcommittee of the SPIE Membership Committee, chaired by SPIE Fellow and Board of Directors member Anita Mahadevan-Jansen (Vanderbilt University), and approved by the Board.
A minimum of five years of cumulative SPIE non-student membership is required for eligibility. Senior Members must also have at least 10 years of professional experience, which may include credit for up to six years while earning an academic degree.
Three countries are represented for the first time in this year's group with Hans-Peter Wegelin (Wegelin Aktiengesellschaft) of Liechtenstein, Edvin Skaljo (BH Telecom) of Bosnia and Herzegovina, and Kert Edward (University of the West Indies) of Jamaica.
A noticeable increase in female senior members this year is due to a concerted effort on the part of members of an SPIE presidential advisory committee on diversity to identify and nominate eligible SPIE members for this recognition, Mahadevan-Jansen said.
Lower numbers of women nominees in the past are not related to there being few qualified female SPIE members deserving of such recognition, she said. Instead, she noted, women typically "do not seek to be nominators, and our nominators tend to be mostly male who don't think to nominate their female colleagues."
With the addition of this year's group, the total number of active SPIE Senior Members is 798.
The SPIE Senior Member recognition program began in 2008 as a way to recognize active members earlier in their careers and from a broader constituency.
Nominations for the 2017 cohort of SPIE Senior Members will be accepted through 15 March 2017.
About SPIE
SPIE is the international society for optics and photonics, an educational not-for-profit organization founded in 1955 to advance light-based science, engineering and technology. The Society serves nearly 264,000 constituents from approximately 166 countries, offering conferences and their published proceedings, continuing education, books, journals, and the SPIE Digital Library. In 2015, SPIE provided more than $5.2 million in support of education and outreach programs. www.spie.org
---
Contact:
Amy Nelson
Public Relations Manager
amy@spie.org
+1 360 685 5478
@SPIEtweets
---