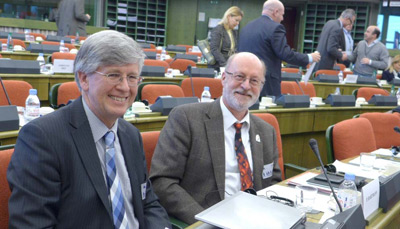 Peter Hartmann (at right) of SCHOTT will participate in executive briefings at SPIE Photonics Europe on the impact of EU regulations REACH and RoHS on the optical systems industry; above, Hartmann and Michael Wale of Oclaro UK were among photonics leaders who testified on the issue to the Science and Technology Options Assessment committee at the European Parliament in February.
BRUSSELS, Belgium -- Two European Union regulations, REACH and RoHS, are endangering the availability of raw materials for optical systems that are vital for medical diagnoses, scientific research, computer technology, security systems, and a host of industrial and consumer uses, according to leaders in the optics and photonics industry. The issue will be among several discussed in executive briefings Wednesday 16 April in the Square Brussels Meeting Centre. The briefings are part of the Photonics Europe Industry Programme during the weeklong SPIE Photonics Europe conference, sponsored by SPIE, the international society for optics and photonics.
REACH is the regulation on registration, evaluation, authorisation, and restriction of chemicals, and RoHS, the restriction of the use of certain hazardous substances, restricts or prohibits the use of mercury, lead, cadmium, and other hazardous substances in electrical and electronic equipment.
Many of the chemicals and substances restricted under these regulations are essential raw materials for the production of fluorescence microscopes, telescopes, infrared cameras, optical lenses, laser safety goggles, semiconductor crystals, and other photonics-enabled devices.
Peter Hartmann, director of market and customer relations for SCHOTT Advanced Optics in Germany, one of the few remaining suppliers of optical glass in Europe, and Wenko Süptitz of the German industrial photonics federation SPECTARIS aim to help raise awareness of the regulations' risk to technical optics through their presentations on Wednesday.
"The prohibition of lead and cadmium will lead to the loss of many essential properties of specialty glass such as refraction and filtering," Hartmann said in latest issue of SPIE Professional, the society's quarterly magazine. "These regulations would impair the performance of optical systems strongly if not preventing it totally" and would be harmful to the EU's Horizon 2020 research and innovation program, he said.
Hartmann says that while optics industry representatives agree that human health and the environment should be protected against toxic, carcinogenic, and other hazardous substances, many of the hazardous raw materials listed in REACH and RoHS are harmless once transformed into optical elements like lenses, prisms, microscopes, and infrared materials. Glass production is already conducted under strict safety regulations, he said.
Optical materials need a considerable variety of substances to provide all required properties for high-end systems. Among them are lead oxide, arsenic oxide, cadmium oxide, boron oxide, and other substances that might be hazardous under certain circumstances.
"Today, virtually all industry relies on high-end optical systems," Hartmann said. "These systems provide key functions for research, diagnosis, surveillance, and quality assurance in medicine, scientific research, general industry, safety installations, and environmental monitoring."
Hartmann noted that these optical systems are crucial for the automotive, aviation, shipbuilding, and building-construction industries. "Even the food industry needs optical-measurement equipment for quality inspection and machine alignment."
And in medicine, for example, only endoscopes made with lead-oxide-containing glass transmit enough light to allow a view inside the abdominal cavity with high enough contrast to distinguish different color tissues. Replacing these optical instruments with ones using lead-free glass cuts away blue-violet light, an important part of the spectrum, and could result in a higher risk of cutting into the wrong tissue.
The EU has recognized photonics as a key enabling technology (KET) that supports the general targets set out in the Horizon 2020 research and innovation program for Europe: competitiveness in excellent science, industrial leadership, and solutions to societal challenges.
Hartmann, a Fellow of SPIE, and SPIE Member Ronan Burgess of the EC Joint Research Centre were among European photonics leaders who gave testimony to the Science and Technology Options Assessment (STOA) committee at the European Parliament on 6 February.
SPIE is the international society for optics and photonics, a not-for-profit organization founded in 1955 to advance light-based technologies. The Society serves nearly 256,000 constituents from approximately 155 countries, offering conferences, continuing education, books, journals, and a digital library in support of interdisciplinary information exchange, professional networking, and patent precedent. SPIE provided $3.2 million in support of education and outreach programs in 2013.
###
Contact:
Amy Nelson
Public Relations Manager
amy@spie.org
+1 360 685 5478
@SPIEtweets