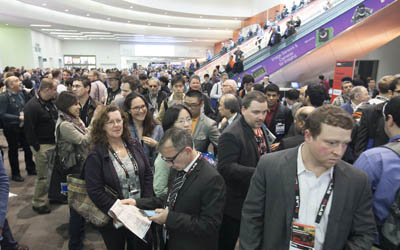 A record number of registered attendees at this year's SPIE Photonics West got a close-up look at the latest in research, equipment, and systems, as well visions for the future; above the crowd gathers in the lobby outside one of the exhibit halls on opening day of the Photonics West Exhibition.
SAN FRANCISCO, California, and BELLINGHAM, Washington, USA -- Nobel Laureates and other research leaders spoke to packed audiences from around the globe, while photonics suppliers spoke with buyers every day. The largest exhibition in the field -- with booth space sold out months before opening -- was abuzz with sales-generating visitors. An industry program provided forums for discussion of trade regulations and disruptive technologies, and new data from the SPIE team assessing the global photonics industry.
In short, SPIE Photonics West 2015 in San Francisco, was bigger, busier, and more vibrant than ever. Total registered attendance exceeded 21,000, topping the previous record set last year. Dates were 7-12 February at Moscone Center.
"Business leaders and researchers from all over the world come to Photonics West to show their next-generation products, meet with customers, hear about leading research and market opportunities to fuel their company growth, and network at the largest optics and photonics business and technology-showcase event on the planet," said SPIE Senior Director Andrew Brown. "The event provides an efficient and effective venue for business leaders to researchers to see and hear about the newest products and technologies driving the industry in the century of the photon. This year's growth is a reflection of the health of the industry and research communities."
Exhibitors uniformly commented that this was one of the best Photonics West events yet, and sets the stage for a positive year. As one participant said, "everyone in the industry you would want to see is here." Another said, "Photonics West is photonics' best!"
For Cambridge Technology, said Marketing Communications Manager Alison Hughes, the ability to connect with existing customers as well as meet new ones -- and the rich flow of new ideas -- helps make Photonics West a major event. "For the U.S., this is our corner," she said. "It kicks off the year."
Scott Orr, Director of Global Marketing, Commercial, for QioptiQ, commented on "unparalleled" traffic volume as well as quantity. "I don't think I've ever seen two consecutive days with that much intense traffic," he said early Thursday. "The depth of engagement with in customer meetings and the number of meetings we've had has achieved a landmark level of opportunities."
SPIE Photonics West offered:
the BiOS Expo with 224 companies on opening weekend
the mid-week Photonics West Exhibition with 1,265 companies
3 technical symposia (BiOS, OPTO and LASE)
virtual programs (Green Photonics, Translational Research, and 3D Printing)
numerous industry-focused events
presentation of the Prism Awards for Photonics Innovation sponsored by SPIE and Photonics Media
the SPIE Startup Challenge with sponsorship by Founding Partner Jenoptik, Lead Sponsor Hamamatsu, and other sponsors
a well-attended professional development program including 70 workshops and courses
an extensive student leadership program.
Among the technical talks:
Nobel Laureate Shuji Nakamura (University of California, Santa Barbara) described the path to the blue LED and predicted that laser-based technology will drive the next generation of sustainable lighting.
John Rogers, University of Illinois at Urbana-Champaign, described implantable wireless optoelectronic systems that meet the need for "minimal disruption to the living tissues."
Ed Boyden, MIT Media Lab, told how optogenetics "can map and fix the brain," with technologies that enable the systematic mapping and engineering of the brain and the computations that it performs, that potentially can be used to treat a wide range of conditions including blindness and Alzheimer's disease.
Christophe Millien of the Hôpital Universitaire de Mirebalais in Haiti described a handheld, smartphone-based colposcope system used by mobile clinics that is enabling screening for cervical cancer -- and resulting in the saving of lives -- among a high-risk and under-served population.
Aydogan Ozcan Research Group (University of California, Los Angeles) member Steve Feng presented the lab's recent success in using Google Glass for the analysis of color-strips for rapid diagnostic tests for prostate cancer and HIV.

A two-day Job Fair connected prospective employees with employers with photonics jobs to fill. Companies sending recruiters included Apple, Ball Aerospace, Coherent, Google, GoPro, Microsoft, Newport Corp., and others.
Conference proceedings are being published online in the SPIE Digital Library as manuscripts are approved, with CD and print publication to follow when all manuscripts are in.
The International Year of Light provided a glow of celebration throughout the week with inspiring displays emphasizing the importance of light-based technologies in daily life, honoring historical figures for their contributions to optics and photonics technologies, and celebrating the role the photonics community plays in applying light-based technologies for the betterment of humankind..
SPIE is the international society for optics and photonics, a not-for-profit organization founded in 1955 to advance light-based technologies. The Society serves nearly 235,000 constituents from approximately 155 countries, offering conferences, continuing education, books, journals, and a digital library in support of interdisciplinary information exchange, professional networking, and patent precedent. SPIE provided $3.4 million in support of education and outreach programs in 2014.
Contact:
Amy Nelson
Public Relations Manager
amy@spie.org
+1 360 685 5478
@SPIEtweets