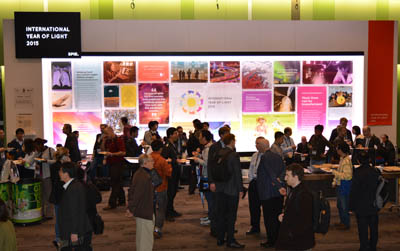 Displays celebrating the International Year of Light in 2015 are a major feature this year at SPIE Photonics West.
BELLINGHAM, Washington, USA -- First-day attendees at SPIE Photonics West heard talks on new developments for imaging the brain at the cellular level, technologies to bring healthcare to remote, under-served areas of the world, and more, as the week-long event opened at Moscone Center in San Francisco Saturday.
A larger-than-ever number of registrants were on hand for conference sessions as well the weekend BiOS Expo, featured talks by several Nobel Laureates, the first of the week's professional development courses, an extensive industry program, displays celebrating the International Year of Light and Light-based Technologies -- and much networking. The annual event is sponsored by SPIE, the international society for optics and photonics, and this year runs 7 through 12 February.
Major topics are biomedical optics, lasers, and optoelectronics, with special focus on translational research, 3D printing, and green photonics.
The week also includes the three-day Photonics West Exhibition -- the largest annual international photonics exhibition -- Tuesday through Thursday with more than 1,260 exhibiting companies. Exhibitor space for the 2015 event sold out months ago, and companies are already beginning to sign up for the 2016 event, said SPIE Senior Director Andrew Brown.
Among Saturday's talks, keynote speakers on a conference on Optogenetics and Optical Control of Cells described recent advances such as mapping brain function and developing soft devices for treating brain tissue.
John Rogers, University of Illinois at Urbana-Champaign, described implantable wireless optoelectronic systems that meet the need for "minimal disruption to the living tissues."
Rogers and his team, in partnership with Michael Bruchas at Washington University in St. Louis, have developed ultrathin, flexible optoelectronic devices comprising LEDs the size of individual neurons, sensors, and electrodes, which are delivered into the brain with a thin, releasable micro-injection needle. The results from such studies, he said, could have implications for treatment of Alzheimer's, Parkinson's, depression, anxiety, and other neurological disorders, Rogers said.
Optogenetics "can map and fix the brain," said afternoon keynote speaker Ed Boyden, MIT Media Lab. "We are developing technologies that enable the systematic mapping and engineering of the brain and the computations that it performs," he said. Boyden described the benefits and functioning of a group of protein, called channelrhodopsins that are cloned from algae and enable light of certain wavelengths to control various cellular processes. That phenomenon could potentially be used to treat a wide range of conditions, including blindness and Alzheimer's disease.
"Ultimately we are hoping to create neuro technologies that enable the correction of brain disorders that affect over a billion people worldwide, and to provide insights into how the brain generates thoughts and feelings -- essential to understanding the human condition," Boyden said.
In the conference on Optics and Biophotonics in Low-Resource Settings, Christophe Millien of the Hôpital Universitaire de Mirebalais in Haiti described a handheld, smartphone-based colposcope system used by mobile clinics that is enabling screening for cervical cancer - and resulting in the saving of lives -- among a high-risk and under-served population.
As has been noted, Millien said, "poverty is a carcinogen." Cervical cancer is a leading cause of cancer death for women across the developing world in communities where there are no clinics or doctors and screening often is done by visualization with the naked eye. Haiti is estimated to have a rate of cervical cancer 10 times higher than, for example, the state of Kentucky in the USA.
The modified smartphone and accompanying software provide an easy-to-use, easily transportable mobile colposcope with which nurses and midwives can capture and share detailed images with doctors in Haiti and the USA, yielding more comprehensive diagnoses and successful treatments.
Other highlights of the week include a BiOS Hot Topics session on Saturday evening, the Prism Awards for Photonics Innovation, and the SPIE Startup Challenge, both on Wednesday.
Plenary speakers in biomedical optics will include 2014 Nobel Laureates Eric Betzig (Howard Hughes Medical Institute) and William Moerner (Stanford University) on their prize-winning work on microscopy providing solutions for diagnostics and therapeutics; Gabriel Popescu (University of Illinois at Urbana-Champaign) on optics for molecular and cellular biology; and Nobel Laureate Thomas Südhof (Stanford University School of Medicine) on neurexins in synapse formation and associations with brain disorders.
Laser program plenary speakers are Xiaoyan Zeng (Huazhong University of Science and Technology) on laser 3D printing of metallic components; Donald Cornwell (NASA Goddard Space Flight Center) on NASA's optical communications program; and Jens Limpert (Friedrich-Schiller-University Jena) on coherent combination of ultrafast laser pulses and joule-class high-repetition-rate femtosecond lasers.
Plenary speakers in optoelectronics are Christoph Lienau (Carl von Ossietzky University) on ultrafast coherent charge transfer in solar cells and artificial light harvesting systems; Harry Atwater (California Institute of Technology) on tunable and quantum metaphotonics; and Yurii Vlasov (IBM T.J. Watson Research Center) on silicon integrated nanophotonics.
SPIE is the international society for optics and photonics, a not-for-profit organization founded in 1955 to advance light-based technologies. The Society serves nearly 235,000 constituents from approximately 155 countries, offering conferences, continuing education, books, journals, and a digital library in support of interdisciplinary information exchange, professional networking, and patent precedent. SPIE provided $3.4 million in support of education and outreach programs in 2014.
Contact:
Amy Nelson
Public Relations Manager
amy@spie.org
+1 360 685 5478
@SPIEtweets