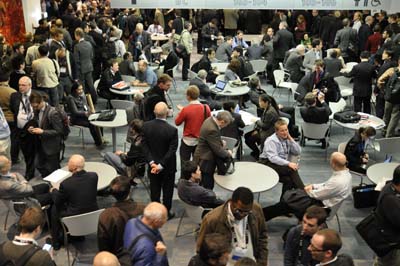 The opportunity to network with colleagues from around the world and throughout the industry is one of the major attractions of SPIE Photonics West.

BELLINGHAM, Washington, USA -- SPIE Photonics West, already the largest and most influential international laser and photonics meeting of the year, is increasing its focus on facilitating transfer of the latest research into new applications.
A new Translational Research virtual symposium and added sessions for technology transfer are joining four well-established technical symposia, a Green Photonics program, two major exhibitions, presentation of the prestigious Prism Awards for Photonics Innovation, professional development courses, and more. Dates are 1-6 February 2014 at the Moscone Center in San Francisco, California.
The Photonics West exhibition, with nearly 1,300 exhibiting companies and over 240 product launches, will run 4-6 February. Exhibitors include suppliers and developers of lasers, fiber optics, imaging, metrology, and more, with top companies such as Agilent Technologies, Hitachi, JENOPTIK, Schott, Hamamatsu, and L3 Communications.
The BiOS Expo, running 1-2 February with approximately 235 exhibiting companies, is the world's largest biomedical optics and biophotonics exhibition. Technologies include therapeutic lasers, molecular imaging, biosensors, spectroscopy, and microscopic imaging.
Admission to both exhibitions is free.
The BiOS technical symposium (2,000 presentations) covers photonic therapeutics and diagnostics, neurophotonics, clinical technologies and systems, optogenetics, tissue optics, biomedical spectroscopy, microscopy, imaging, and nano/biophotonics.
Three conferences will focus on understanding the brain through exciting new imaging techniques, and a new conference will cover Optical Elastography and Tissue Biomechanics.
Highlights include:
200 papers on technologies, tools, and devices with high potential for clinical use, in the new Translational Research virtual symposium chaired by Bruce Tromberg, Beckman Laser Institute
sessions commemorating the 45th anniversary of the discovery of supercontinuum generation, and the 25th anniversary of the conference on laser-tissue interaction
Nano/Biophotonics plenary talk by Min Gu, Swinburne University.
Speakers at the popular BiOS Hot Topics session include:
Bruce Tromberg, Beckman Laser Institute
Eric Seibel, University of Washington
Eric Swanson, OCT News
David Boas, Massachusetts General Hospital
Lihong Wang, Washington University in St. Louis
Jelena Vuckovic, Stanford University
Paul Selvin, University of Illinois, Urbana-Champaign
Rafael Yuste, Columbia University.
The MOEMS-MEMS symposium (250 presentations) focuses on optical MEMS, microfluidics, micro-optics, DLP, and adaptive optics, exploring how research enables mass-produced miniaturized products for systems now -and will in the future.
Plenary speakers are:
Roger Howe, Stanford University
Cornelia Denz, Westfälische Wilhelms-Universität-Münster
John Rogers, University of Illinois, Urbana-Champaign.
The OPTO symposium (1,600 presentations) includes new conferences on Photonic Instrumentation Engineering, and Next-Generation Optical Networks for Data Centers and Short-Reach Links. Symposium topics cover a broad range of technologies and their integration for numerous commercial applications, including silicon photonics, photonic crystals, optoelectronics, semiconductor lasers, quantum dots, and nanophotonics.
Plenary speakers are:
Michal Lipson, Cornell University
Ursula Keller, ETH Zurich.
LASE symposium (750 papers) topics include lasers for manufacturing, micro/nanoengineering, materials processing, and other applications; laser resonators; and fiber, solid-state, and high-power lasers, with the world's largest concentration of semiconductor laser/LED content. A new conference is on Laser 3D Manufacturing.
Plenary speakers are:
Michael Mertin, JENOPTIK and Photonics21
Koji Sugioka, RIKEN
Michel Meunier, Ecole Polytechnique de Montréal.
The 200-paper Green Photonics virtual symposium highlights the latest photonics and optoelectronics tools and materials to reduce power consumption, enable cleaner manufacturing, and create new energy generation for a broad range of applications. Topics are:
Laser-assisted Manufacturing and Micro/Nano Fabrication
Renewable Energy Generation: Fusion and Photovoltaics
Solid State Lighting and Displays
Communications.
With the solar industry stronger than ever, virtual symposium chair Stephen Eglash (Stanford University), said he expects a dynamic discussion in a panel on Green Photonics: a Solar Revolution.
Other executive panels will discuss trends in silicon photonics and photonic-integrated circuits, investing in life sciences and healthcare ventures (new this year), and opportunities in the optics and photonics market.
A new technology-transfer showcase moderated by David Wick (Sandia National Labs) will connect leaders from top universities and labs seeking commercialization partners with business builders looking for new opportunities.
More than 70 professional development courses providing CEU accreditation will cover essential topics in optical, biomedical, laser, manufacturing, and optoelectronics engineering.
The annual Prism Awards for Photonics Innovation, sponsored by SPIE and Photonics Media, will recognize the industry's best new products at a gala banquet.
The SPIE Startup Challenge, hosted by SPIE with support from JENOPTIK and others, will give venture capital exposure and mentoring to aspiring entrepreneurs working to bring new products to market -- with winners receiving cash prizes and equipment donations.
Accepted papers will be published in the SPIE Digital Library as soon as approved after the meeting, and in print volumes and digital collections.
SPIE is the international society for optics and photonics, a not-for-profit organization founded in 1955 to advance light-based technologies. The Society serves more than 235,000 constituents from approximately 155 countries, offering conferences, continuing education, books, journals, and a digital library in support of interdisciplinary information exchange, professional networking, and patent precedent. SPIE provided over $3.2 million in support of education and outreach programs in 2012.
###
Media contact:
Amy Nelson
Public Relations Manager, SPIE
+1 360 685 5478
amy@spie.org
@SPIEtweets