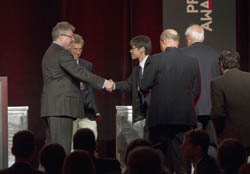 The international photonics community gathers
early each year in San Francisco for the
presentation of the Prism Awards for Photonics
Innovation; at left above, Michael Mertin, CEO of
JENOPTIK and President of Photonics21, presents
the 2013 Industrial Lasers award to TeraDiode.
BELLINGHAM, Washington, and PITTSFIELD, Massachusetts, USA -- Several winners of the prestigious Prism Awards for Photonics Innovation have been in the news recently with more recognition for their life-enhancing, ground-breaking inventions.
The Prism Awards, sponsored by SPIE, the international society for optics and photonics, and industry publisher Photonics Media, honor winners in nine categories at a gala banquet held during SPIE Photonics West early each year in San Francisco. With top executives and other leaders from the international photonics community as presenters, the event celebrates the industry and honors creators of innovative new products based on light-based technologies such as lasers, optical systems, photovoltaics, and solid-state lighting.
Two of this year's winners, TAG Optics, awarded the prize in Optics and Optical Components, and Princeton Instruments, which won in Detectors, Sensing, Imaging, and Cameras, have been included among the R&D magazine 2013 R&D 100 Award Winners.
Verisante, winner in the Life Sciences and Biophotonics category, recently received a Bronze Edison Award winner for innovation from Edison Universe, and was among Popular Science magazine's "Best of What's New Award" listing for 2011.
Illustrating the caliber of presenters -- from established companies such as Google and JENOPTIK as well as outstanding newer firms -- 2013 presenter Allison Lami Sawyer's Rebellion Photonics is among companies vying for the Wall Street Journal Startup of the Year title.
Products for which the companies are getting noticed are:
SPIE is the international society for optics and photonics, a not-for-profit organization founded in 1955 to advance light-based technologies. The Society serves more than 235,000 constituents from approximately 155 countries, offering conferences, continuing education, books, journals, and a digital library in support of interdisciplinary information exchange, professional networking, and patent precedent. SPIE provided over $3.2 million in support of education and outreach programs in 2012.

Photonics Media, a business unit of Pittsfield, Mass.-based Laurin Publishing Co. Inc., publishes Photonics Spectra, BioPhotonics, EuroPhotonics, Photonics Buyers' Guide and Photonics.com. With a collective subscriber base of more than 150,000 worldwide and more than 2 million website visits per year, Photonics Media products and publications lead the photonics industry with editorial excellence and integrity.

###

Media contact:
Amy Nelson
Public Relations Manager, SPIE
+1 360 685 5478
amy@spie.org
@SPIEtweets