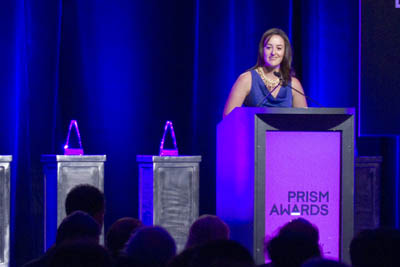 Rebellion Photonics has been named "Startup of the Year" by the Wall Street Journal. Above, co-founder Allison Lami Sawyer, presents one of the 2013 Prism Awards for Photonics Innovation at SPIE Photonics West in San Francisco.

BELLINGHAM, Washington, USA -- The Wall Street Journal on Monday named Houston-based Rebellion Photonics as "WSJ Startup of the Year," culminating a five-month documentary-making process of a competition among 24 startups chosen by WSJ editors from a variety of industries.
Rebellion Photonics develops and manufactures hyperspectral imaging cameras that identify gas leaks on oil rigs and in refineries.
The company was a finalist in the Life Sciences and Biophotonics category of the 2011 Prism Awards for Photonics Innovation, an annual international competition sponsored by SPIE, the international society for optics and photonics, and Photonics Media.
Co-founded in 2009 by Allison Lami Sawyer and Robert Kester, Rebellion Photonics installed its first hyperspectral imaging camera, the Gas Cloud Imaging Camera, at a refinery in Toledo, Ohio, earlier this year. The camera, which can detect leaks in real time and identify over 20 different chemicals simultaneously, is the first of its kind.
"It's been a wild ride in the past three years, starting a company, but it's been amazing," Sawyer said at the 2013 Prism Awards ceremony, where she was a presenter. "I feel blessed to be a part of this industry, and then to take it a step forward and really feel like you're helping the world just that little bit."
Winners of the annual Prism Awards, an international competition honoring new technology and product inventions from the optics and photonics industry, are announced during SPIE Photonics West in San Francisco.
An independent panel of experts including industry executives, leading academic researchers, venture capitalists, and past Prism Award winners is currently judging applications for the 2014 Prism Awards. Finalists will be announced in November, and winners will be announced 6 February during SPIE Photonics West 2014 at a gala banquet that has become one of the largest gatherings of CEOs and other VIPs in the photonics industry.
SPIE is the international society for optics and photonics, a not-for-profit organization founded in 1955 to advance light-based technologies. The Society serves more than 235,000 constituents from approximately 155 countries, offering conferences, continuing education, books, journals, and a digital library in support of interdisciplinary information exchange, professional networking, and patent precedent. SPIE provided over $3.2 million in support of education and outreach programs in 2012.

###

Media contact:
Amy Nelson
Public Relations Manager, SPIE
+1 360 685 5478
amy@spie.org
@SPIEtweets