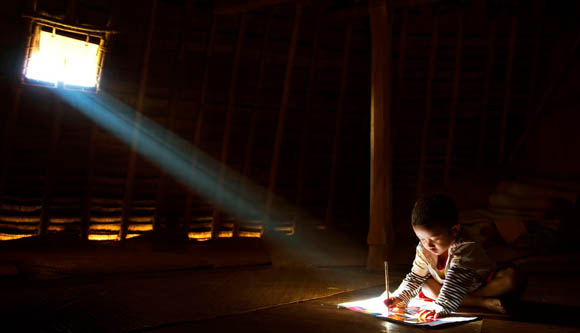 "Studying" by Handi Laksono is the People's Choice Award winner in the SPIE International Year of Light Photo Contest .
BELLINGHAM, Washington, USA, and CARDIFF, UK -- An image highlighting the difficulties encountered by the 1.5 billion people around the world who lack access to electricity has been named winner of the SPIE International Year of Light Photo Contest People's Choice Award, organizers at SPIE, the international society for optics and photonics, have announced.
Captured by Javanese travel and landscape photographer Handi Laksono, the winning photo was taken after Laksono hiked three hours to the remote village of Wae Rebo on Flores Island in Indonesia. In the image, a five-year-old boy is studying in a dark hut, with only natural morning light streaming in a small window.
Laksono said that Wae Rebo's only lighting source is solar, either direct sunlight or a few small solar panels. He noted that the solar panel in the house he visited powers a single light bulb that is only used for a few hours in the evening. "For the children who wish to study in their houses in the morning, the light from the small windows is the option," he said.
Nearly 2,000 people worldwide cast votes in the People's Choice Award competition, choosing from among 32 entries. The contest was sponsored by SPIE Professional magazine as part of the International Year of Light and Light-based Technologies (IYL2015), a global initiative adopted by the United Nations to raise awareness of how optical technologies promote sustainable development and provide solutions to worldwide challenges in energy, education, agriculture, communications and health. SPIE is a Founding Partner of IYL2015.
An international panel of judges previously chose three winners in the contest. Paul Reiffer's "Over the Rainbow" took first place, Susanta Mukherjee's "Joy of Light" took second, and Ian Bell's "Neon Nights" took third place. More than 800 photos portraying light and light-based technologies in daily life were submitted to the contest. SPIE provided prizes of U.S. $4,500, and each of the four winning photos has been featured on the cover of the print version of SPIE Professional.
The photo selected for the People's Choice Award was one of many submitted to the contest illustrating the importance of light of education, and the lack of clean, efficient forms of lighting in many communities.
One of the major themes of IYL2015 is to promote the use of portable solar-powered LED lanterns in regions where there is little or no reliable source of light after sunset.
Most children in developing countries are expected to work during the day to help provide for their families, according to the IY2015 website. "With no or inadequate light at night, these youth are unable to read or write, and thus deprived of an education," the website says.
Lack of electricity is Wae Rebo is one reason that children are sent to live at the nearest village, nine kilometers away, to attend school during the week.
About SPIE
SPIE is the international society for optics and photonics, an educational not-for-profit organization founded in 1955 to advance light-based science and technology. The Society serves nearly 264,000 constituents from approximately 166 countries, offering conferences and their published proceedings, continuing education, books, journals, and the SPIE Digital Library in support of interdisciplinary information exchange, professional networking, and patent precedent. SPIE provided more than $4 million in support of education and outreach programs in 2014. SPIE is a Founding Partner of the International Year of Light and Light-based Technologies and a Founding Sponsor of the US National Photonics Initiative. www.spie.org
---
Contact:
Amy Nelson
Public Relations Manager
amy@spie.org
+1 360 685 5478
@SPIEtweets
---
All photos © SPIE, the international society for optics and photonics, except where noted.
---