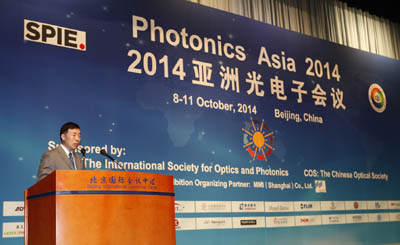 The "must-attend" Photonics Asia featured more than 1,000 technical presentations this year. Above, Xu Liu introduces Bingkun Zhou, who was symposium chair along with Philip Stahl.
BEIJING, China, and BELLINGHAM, Washington, USA -- Optics and photonics technologies with applications in areas such as health care, sustainable energy, manufacturing, and communications were the focus of SPIE/COS Photonics Asia 2014 last week in Beijing. The symposium has become a must-attend event for the international community since 2001 for updates on Asian optics and photonics research. It was held 9-11 October at the Beijing International Convention Center, sponsored by SPIE, the international society for optics and photonics and the Chinese Optical Society (COS).
Among the more than 1,000 presentations, plenary speakers covered photonics applications in several urgent and visionary areas:
Air pollution has become a major worldwide concern. Wenqing Liu from the Anhui Institute of Optics and Fine Mechanics at the Chinese Academy of Sciences discussed optical and spectroscopic techniques combined with satellite-based remote sensing and model-based air-quality forecasting technologies to investigate the mechanism and dynamics of air pollution. This approach offers the advantages of multi-component sensitivity, invasive-free line/area integrating, and fast time resolution.
Direct laser writing (DLW) in 3D-photonic devices is a powerful tool toward meeting challenges in healthcare, communications, and other areas. Min Gu, Centre for Micro-Photonics and CUDOS, Swinburne University of Technology, showed how diffraction-limited resolution associated with DLW can be overcome in the development of superresolution photoinduction-inhibited nanolithography (SPIN), and the application of SPIN in petabyte optical memories and in biomimetic photonics inspired by a recent finding in butterfly-wing scales.
Nanoplatforms have applications in major health care issues, such as infectious diseases. Paras Prasad, Institute for Lasers, Photonics and Biophotonics, State Univ. of New York at Buffalo, discussed work toward developing light-guided/activated gene/siRNA delivery nanoplatforms and optogenetics for application in areas such as infectious diseases (e.g., swine flu, HIV, tuberculosis, malaria), aging, neurological problems, brain diseases, drug addiction, chronic pain, and obesity.
The three-day exhibition organized by COS and supported by Messe München International (Shanghai) as exhibition organizing partner served as a valuable showcase for products in one of the world's largest economies and a rapidly expanding market. Optoelectronic devices for imaging and multimedia technology were one of the many featured technologies in this year's exhibition.


The 14 conferences offered updates of recent developments in devices, systems, and applications:
High-Power Lasers and Applications
Semiconductor Lasers and Applications
Optics in Health Care and Biomedical Optics
Quantum and Nonlinear Optics
Optoelectronic Devices and Integration
Holography, Diffractive Optics, and Applications
Optical Design and Testing
Optoelectronic Imaging and Multimedia Technology
Advanced Sensor Systems and Applications
Infrared, Millimeter-Wave, and Terahertz Technologies
Optical Metrology and Inspection for Industrial Applications<
Nanophotonics and Micro/Nano Optics
Plasmonics
Real-time Photonic Measurements, Data Management, and Processing.
Best Student Paper Awards were presented, to:
Wenhui Sun, for "An ultrawideband optical frequency comb generator based on semiconductor quantum dot F-P cavity" (9267-29)
Jie Zhen, for "Optical coherence tomography: A potential tool for prediction of treatment response for port-wine stain after photodynamic therapy" (9268-5)
Gang Yang, for "A novel fiber Bragg grating wavelength demodulation system based on F-P etalon" (9270-31)
Jin Wang, for "High divergent 2D grating" (9271-52)
Wei Luo, for "Graphene composite anode for flexible polymer light emitting diode" (9272-5)
Kangmin Zhou, for "Far-field beam-pattern of a twin-slot HEB mixer at 600GHz" (9275-31).
Symposium chairs were COS President Bingkun Zhou, Tsinghua University, and SPIE President Philip Stahl, NASA Marshall Space Flight Center.
Conference proceedings are being published online in the SPIE Digital Library as manuscripts are approved, with CD and print publication to follow when all manuscripts are in.
SPIE is the international society for optics and photonics, a not-for-profit organization founded in 1955 to advance light-based technologies. The Society serves nearly 256,000 constituents from approximately 155 countries, offering conferences, continuing education, books, journals, and a digital library in support of interdisciplinary information exchange, professional networking, and patent precedent. SPIE provided more than $3.2 million in support of education and outreach programs in 2013.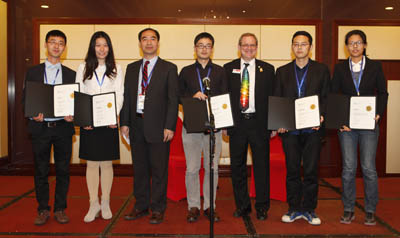 Student Best Paper Winners were congratulated by society leaders. From left are Wei Luo, Jin Wang, COS Vice President Qihuang Gong, Kangmin Zhou, SPIE President Philip Stahl, Gang Yang, and Jie Zhen.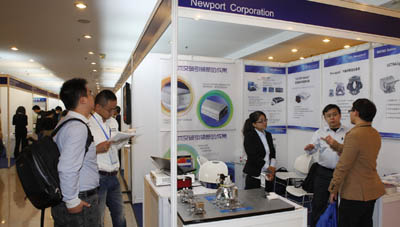 An exhibition brought suppliers and developers together with researchers.

COS and SPIE leaders met during Photonics Asia 2014. From left, Yan Li, Xu Liu, Eugene Arthurs, SPIE President-Elect Toyohiko Yatagai, SPIE President Philip Stahl, COS President Guangcan Cuo, Qihuang Gong, Brian Thomas, and Jinxue Wang.
###
Contact:
Public Relations Manager
amy@spie.org
+1 360 685 5478
@SPIEtweets