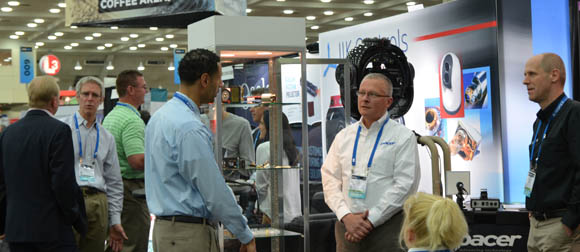 The exhibition hall is a busy place, as suppliers and visitors make connections.
BELLINGHAM, Washington, USA -- Sensing and imaging technologies enabling such wide-ranging applications as machine vision, process control, crop productivity, counter-terrorism, and personalized medicine will be advanced at SPIE Defense and Commercial Sensing in the Baltimore (Maryland) Convention Center 17-21 April.
Topical focus
Dial in on presentations,
courses, and industry
events in these
areas of interest:
With a new overarching name reflecting enhanced content and expanded markets, the event includes two co-located conferences, Defense and Security, and Commercial + Scientific Sensing and Imaging. The week will offer more than 2,000 technical presentations, 35 professional development courses, a comprehensive industry program, seminars, and a major exhibition of suppliers of IR cameras, sensors, imaging, and photonics.
"Over its 40-year lifetime, SPIE Defense and Commercial Sensing has become the community's leading event on optics and photonics technology, with core topics including infrared cameras, lasers, spectroscopy, 3D imaging, terahertz, and multi- and hyperspectral imaging," said SPIE Senior Director Andrew Brown. "Development of these technologies for defense and security applications stimulates a vital flow of new capabilities for scientific research and new commercial applications -- oil and gas exploration, healthcare, wearable sensors, the Internet of Things, autonomous vehicles, drones employed as mobile sensing platforms, to name a few."
Markets are as wide-ranging as homeland defense, food safety, terrorism countermeasures, machine vision, robotic vision and imaging, precision agriculture, and standoff detection, Brown noted.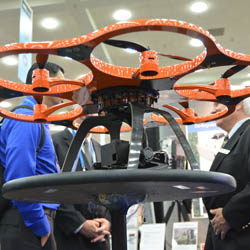 The industry program will include a session
on rules about flying drones in the U.S.
A multi-day industry program underscores the drive to commercialization of advanced optical technologies. Presentations will cover topics such as the latest information from the Federal Aviation Agency on flying drones in the U.S., sensor applications from agriculture to pharmaceuticals, target recognition in contested environments, and emerging markets sessions on:
Miniaturization and autonomous vehicles
Hyperspectral imaging for health, agriculture, and food safety
Imaging for machine vision, life sciences, and research applications
ITAR and other international trade regulations.
More than 380 leading industry suppliers and developers will show their latest products and systems in a three-day exhibition. Among exhibiting companies are FLIR Systems, Xenics, Zygo, Thorlabs, Canon USA, Corning, Gooch & Housego, Hamamatsu, Headwall Photonics, and BaySpec.
Two top-level speakers will present plenary talks:
Bradford Tousley, director of the Defense Advanced Research Projects Agency (DARPA) Tactical Technology Office
Patrick Carrick, director of the Homeland Security Advanced Research Projects Agency (HSARPA).
The technical program's 56 conferences cover important emerging and established topics, and include featured talks by leading researchers. Among them:
Accepted conference proceedings papers will be published in the SPIE Digital Library as soon as approved after the meeting, and in print volumes.
More information is at www.spie.org/DCS. Sponsor is SPIE, the international society for optics and photonics. .
SPIE is the international society for optics and photonics, an educational not-for-profit organization founded in 1955 to advance light-based science, engineering, and technology. The Society serves nearly 264,000 constituents from approximately 166 countries, offering conferences and their published proceedings, continuing education, books, journals, and the SPIE Digital Library in support of interdisciplinary information exchange, professional networking, and patent precedent. In 2015, SPIE provided more than $5.2 million in support of education and outreach programs.
---
Contact:
Amy Nelson
Public Relations Manager
amy@spie.org
+1 360 685 5478
@SPIEtweets
---
All photos © SPIE, the international society for optics and photonics, except where noted.
---