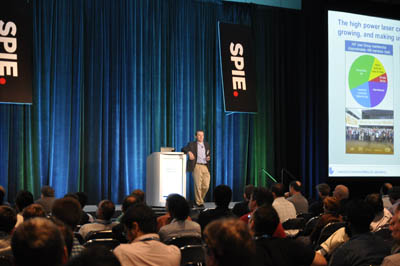 Plenary talks featured experts from the event's four symposia: Nanoscience and Engineering, Solar Energy and Technology, Organic Photonics and Electronics, and Optical Engineering and Applications. Above, Mike Dunne of the National Ignition Facility presents the first of three symposium-wide plenary talks.
SAN DIEGO, California, and BELLINGHAM, Washington, USA -- New research in nanoscience and optical engineering, visions for next-generation wearable technology, and inspiration for the International Year of Light 2015 provided a few of numerous highlights at this year's brighter, busier SPIE Optics + Photonics in the San Diego, California, Convention Center last week. More than 4,400 international scientists, engineers, researchers, developers, and suppliers attended conferences, courses, an exhibition, and industry sessions sponsored by SPIE, the international society for optics and photonics.
Among the 3,100 technical presentations in four symposia were:
The hopes for using laser inertial confinement fusion to produce clean, practical nuclear energy from a pea-sized fuel pellet have improved sharply, according to Mike Dunne, director of laser fusion energy at the National Ignition Facility at Lawrence Livermore National Lab: "We have made truly spectacular advances in the last 12 months. We are now at a point where every time, more energy comes out than is absorbed by the fuel."
Data from a proposed mission to determine the existence of an underground ocean on Jupiter's moon Europa has the potential to confirm Europa's ability to support life -- a discovery that would change our view of who we are in the universe, said Robert Pappalardo, a senior research scientist at the Jet Propulsion Lab and Pre-Project Scientist for the Europa Clipper mission.
The era of wearable technologies may see computing power become more mobile and versatile than many would have predicted, said Babak Parviz, one of the creators of Google Glass and now a vice president at Amazon. More compact, miniature, and personal new devices could shorten the time needed to access information from the internet to just a few milliseconds, even bypassing the need for a browser. "You would just ask," Parviz said.
Michel Meunier (L'ecole Polytechnique de Montréal) described using gold nanoparticles as "nano-scalpels" in treatments for illnesses such as breast cancer. By varying laser pulses, physicians can control interactions between tissues and medications to treat targeted cells. Meunier's paper was one of more than 1,000 in the Nanoscience and Engineering symposium, the world's largest meeting on the topic.
John Rogers (University of Illinois, Urbana-Champaign) said that for medical devices such as post-operative monitoring implants, long device lifetime and the need for removal create complications. His group has developed nanoscale silicon-based structures which dissolve in water, using bioresorbable materials that decompose in the body.
The Optics + Photonics Exhibition included more companies than last year, and its new location in the convention center's skylighted Sails Pavilion drew rave reviews.
"Optics + Photonics 2014 is unbelievably good," said Birgit Heinz of Edmund Optics. "The move to the Sails Pavilion with its natural light has really improved the amount of time attendees are spending with us."
Arnau Farre Flaquer of Impetux Optics remarked on the synergy between the technical program and the exhibition: "We presented a paper in Optical Trapping, and decided to exhibit also. The response has been really great."
New data developed in a year-long project by SPIE on the size of the global photonics suppliers market was announced by SPIE Industry and Market Strategist Steve Anderson at a breakfast for exhibitors. In assessing the core photonics components market, the SPIE team found that 2,750 companies in 46 countries are generating US$156 billion in revenues. The companies provide 700,000 jobs, and produce materials, LEDs, lasers, detectors, image sensors, lenses, prisms, optical filters, gratings, solar cells, and fiber optics.
Speaking to SPIE's advocacy role, SPIE Vice President Robert Lieberman told of recent successes marked by the National Photonics Initiative in its efforts to raise awareness of and drive funding to photonics R&D in the U.S. Most recent is the first-ever inclusion of language specifying "optics and photonics" in legislation, in the America COMPETES reauthorization bill.
Information about the United Nations-sanctioned International Year of Light and Light-based Technologies 2015 (IYL 2015) was everywhere, and panelists sharing ideas about their countries' plans energized their audience about finding their own ways to observe IYL 2015.
Ana María Cetto (Universidad Autónoma de México), one of those who traveled to UNESCO and the UN to petition for the IYL 2015 observance, urged attendees at the Women in Optics reception to find ways to share the message of the importance of light to people in all walks of life.
Plenary talk reports, selected paper write-ups, and other news and photos from the meeting are posted at www.SPIE.org/OPnews.
Next year's event will run 9-13 August in the San Diego Convention Center.
SPIE is the international society for optics and photonics, a not-for-profit organization founded in 1955 to advance light-based technologies. The Society serves nearly 256,000 constituents from approximately 155 countries, offering conferences, continuing education, books, journals, and a digital library in support of interdisciplinary information exchange, professional networking, and patent precedent. SPIE provided more than $3.2 million in support of education and outreach programs in 2013.
###
Contact:
Amy Nelson
Public Relations Manager
amy@spie.org
+1 360 685 5478
@SPIEtweets