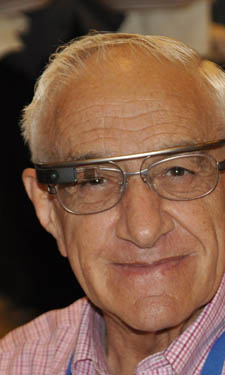 Google Glass is a player in the emerging
wearables market; above, Stanford
University Professor Emeritus Joseph
Goodman wears his.
BELLINGHAM, Washington, USA -- Visionaries driving next-generation wearable technology offered their insights on development challenges facing the technology -- and some concerns about its impacts -- in recent talks at SPIE Optics + Photonics 2014 and in interviews with SPIE, the international society for optics and photonics.
Babak Parviz, one of the creators of Google Glass and now a vice president at Amazon, told an Optics + Photonics audience in August that the smartphone is merely the leading edge of a revolutionary and more personalized form of global communication.
Stressing that his remarks had no particular connection with Amazon, Parviz said that what's next is something even more compact, miniature, and personal.
"Eventually the technology should disappear," he said. In the future, a user could immediately access highly connected computing power by simply glancing at a display. Such a system would also allow access to a world seen through the eyes of the wearer.
New devices, Parviz said, could shorten the time needed to access information from the internet down to just a few milliseconds, even bypassing the need for a browser.
The emerging market for wearables is fragmented at the moment, said Bernard Kress of Google, who spoke at Optics + Photonics and in an interview published today on the SPIE Newsroom.
Consumer segments include occlusion-display smartglasses, see-through smartglasses such as Google Glass, connected lenses, fitness monitors, and head-mounted displays for defense, gaming, and professional applications including firefighting and healthcare. Other markets are electronic monitoring devices for paroled criminals, smartshirts to monitor athletes' movements, environmental monitors, and vital-signs and GPS monitors for soldiers.
Kress said that the perfect see-through optical eyewear for the consumer market has yet to be discovered. It would have a large eye box at conventional eyewear vertex distances, high pixel count, and large, rescalable field of view, and would allow seamless integration of meniscus prescription lenses as well as sensors for eye, gesture, and perhaps the brain.
Khaled Sarayeddline, CTO and co-founder of OPTINVENT S.A., producers of the wearable display platform ORA-1, said significant challenges for the next phase include the need for ergonomic improvements, reduction in size of the display units and embedded electronics, optimization of the CPU/GPU platform, improvements in power efficiency, and creation of a true ecosystem around the glasses through apps and software solutions.
Thomas Furness of the University of Washington (UW), inventor of various head-worn displays, told SPIE that important next steps include solving the brightness problem in mobile screens, developing reliable, adequate portable power, adding more memory storage, ensuring security, developing new embedded sensors that let us see into the UV and IR, and more -- all while maintaining low cost.
Furness sees future applications such as:
More robust use of the imaging sensors onboard smartphones to allow recognition of objects
More robust use of non-imaging sensors that can be used for diagnosis and early detection of cardiovascular disease and other maladies.
Electronic noses for smartphones that can measure quality of food, smell infections, flowers, body odor, or breath.
But the insinuation of wearables into everyday life raises other questions, he said.
"This technology has displaced or even replaced cameras, phones, entertainment systems, books, and now, with near-field communications, our wallet," Furness said. "Perhaps one of the greatest impacts is real-time tools to help us manage our health."
Furness is the founder and Director Emeritus of the Human Interface Technology Laboratory (HIT Lab) at the UW. The lab was founded in 1989 with the goal of empowering people by building interfaces to advanced machines. Another HIT Lab has been established in New Zealand, and Furness hopes to expand the network. Part of the mission is to understand the human impacts, he says.
"The question to ask is, 'so what?'. Does this really improve my quality of life or am I intoxicated by these gadgets?" Furness said. "We are living in a day when we have unprecedented communications technologies. They seem to bring us closer to each other when we are physically apart, but separate us when we are physically together. Screens seem to take the place of eye contact."
While he is excited by the transformation that tablets make in education, and sees virtual reality as part of that, he has some concerns.

"Virtual reality is like writing with indelible ink on the mind. But with such a powerful medium, I fear for its misuse, especially in violent gaming, wherein killing becomes far more realistic and more difficult to separate from reality," Furness said. "Like splitting the atom, I hope we use it for good purposes and not to vaporize people."
Papers from SPIE Optics + Photonics 2014 by Kress, Sarayeddline, and their coauthors are published in the SPIE Digital Library.
SPIE is the international society for optics and photonics, a not-for-profit organization founded in 1955 to advance light-based technologies. The Society serves nearly 256,000 constituents from approximately 155 countries, offering conferences, continuing education, books, journals, and a digital library in support of interdisciplinary information exchange, professional networking, and patent precedent. SPIE provided more than $3.2 million in support of education and outreach programs in 2013.
###
Contact:
Public Relations Manager
amy@spie.org
+1 360 685 5478
@SPIEtweets