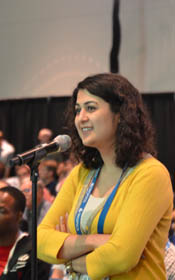 SPIE Optics + Photonics drew an
international audience for a week
of cross-disciplinary presentations,
professional development and an
exhibition; above, an audience
member steps up to ask a
question during the all-symposium
plenary session.
SAN DIEGO, California, USA -- Two words best describe the overall experience of SPIE Optics + Photonics in San Diego last week: growth and vitality. Higher numbers in attendance, technical presentations and exhibiting companies over last year were complemented by busy exhibition aisles, overflowing plenary audiences and the synergy of the wide-ranging multidisciplinary program.
The result: a stimulating, fast-paced week for the international audience of scientists, engineers and developers across multiple disciplines from industry, government and academia. (See photos, videos and news from throughout the week at www.spie.org/OPnews).
Total attendance this year exceeded 4,500, growing more than 5% over last year.
The industry exhibition also expanded this year with the number of participating companies increasing by 7% to 178 vendors showcasing products across the optics, nano, LED and photovoltaic markets. And student chapter displays were up almost 20%, with 75 universities represented this year.
Exhibitors reported a good week, with busy booths throughout the run along with more and even stronger leads than in recent years. As one representative noted, "We had one lead that was so hot that the customer wanted to know how fast we could deliver the product."
The unique multidisciplinary synergy of the event and strong technical program worked for both technical attendees and exhibitors. Symposia are organized in NanoScience and Engineering, Organic Photonics and Electronics, Solar Energy and Technology and Optical Engineering and Applications, with a professional development program and topical technical events augmenting conference presentations and the exhibition.
Z Microsystems, which also shows its real-time video enhancement technology at the SPIE DSS exhibition in Baltimore, characterized Optics + Photonics visitors as "a good crowd, tech-savvy." The company has been providing military displays and is moving into biomedical applications.

Federico Capasso of Harvard University's School of Engineering and Applied Sciences was among technical participants who praised the program. In his plenary talk, Capasso called SPIE's event "the most exciting conference in nanoscience and nanotechnology." (See a brief SPIE Newsroom video interview with Capasso at www.spie.org/x102966.xml [4:23]).
Papers from the event's more than 70 conferences are being published in the SPIE Digital Library as soon as approved, and will be compiled in print and digital collections.
Looking ahead
Exhibit representatives were enthusiastic about the announcement that next year's exhibition will move to the bright and airy Sails Pavilion adjacent to upstairs conference rooms.
Conference planning meetings yielded some important ideas for technical content. Calls for papers will be published in a few weeks for next year's Optics + Photonics event, scheduled for 17-21 August in the San Diego Convention Center.
Conferences related to the biennial SPIE Astronomical Telescopes and Instrumentation symposium run independently from Optics + Photonics in even-numbered years. The 2014 event will be held 22-27 June in the Palais des congrès de Montréal in Québec.
National Photonics Initiative 'has legs'
SPIE Industry and Market Strategist Steve Anderson reported to exhibitors about efforts underway to collect revenue and job numbers to help raise awareness of the impact and importance of the photonics industry - an important step in gaining support for policy directions and funding.
Anderson recalled the announcement at Optics + Photonics last year of the release of the National Academies report "Optics and Photonics, Essential Technologies for Our Nation," and provided an update on the National Photonics Initiative (NPI) launched as a direct result of the report's recommendations.
Goals of the NPI, sponsored by SPIE and several other societies, are to raise awareness about photonics among policy makers, the media and the public; increase collaboration among the community; and drive U.S. funding and investment in photonics.
"The NPI has legs, and it is moving forward -- it's an exciting time" Anderson said. He urged individuals and companies to "join the movement," pointing to resources at www.lightourfuture.org.
SPIE is the international society for optics and photonics, a not-for-profit organization founded in 1955 to advance light-based technologies. The Society serves more than 235,000 constituents from approximately 155 countries, offering conferences, continuing education, books, journals, and a digital library in support of interdisciplinary information exchange, professional networking, and patent precedent. SPIE provided over $3.2 million in support of education and outreach programs in 2012.

###

Media contact:
Amy Nelson
Public Relations Manager, SPIE
+1 360 685 5478
amy@spie.org
@SPIEtweets