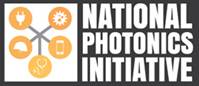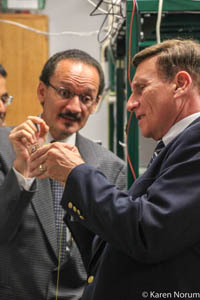 CREOL researcher Dr. Peter Delfyett,
at left, demonstrates photonics
technology to Rep. John Mica during
the Congressman's visit to UCF.
ORLANDO, Florida, USA -- - Congressman John L. Mica (Winter Park, Florida) witnessed space-age technologies being developed at the Center for Research and Education in Optics and Lasers (CREOL) at University of Central Florida (UCF) in a recent briefing by professors, students and researchers connected with the university.
From cancer treatments to cell phones to defending our country with Star Wars-type lasers, Mica saw the opportunity to change lives by harnessing light.
"They are performing phenomenal research in our backyard," Mica says. "The work going on at UCF holds tremendous potential for our workforce and will impact and touch nearly every aspect of our lives."
Of particular interest to Mica is research solving some of our greatest medical mysteries. For instance, UCF has developed a technology whereby a cell phone can be waved over a person's hand to analyze their blood. As another example, a laser can be used to break apart cancer particles.
"It was a privilege to host Rep. Mica and showcase to him the integral role photonics plays in making our everyday lives possible," said Bahaa Saleh, dean of the College of Optics and Photonics at UCF. "As a new constituent of the congressman's, UCF was pleased by the interest that Rep. Mica demonstrated in learning more about our school and the photonics industry."
UCF is home to one of the most advanced and well-regarded schools in the country for research in the field of optics and photonics, the science and application of light. Through the National Photonics Initiative (NPI), UCF is working to raise awareness about photonics and unite academia, industry and government experts to identify and advance areas of photonics critical to maintaining US competitiveness and national security: advanced manufacturing, communication and information technology, defense and national security, energy, and health and medicine.
Historically, the United States has been the world leader in deploying photonics research to power cutting-edge technologies, but global competition has put US leadership at risk, causing a substantial loss of global market share to overseas competitors as well as thousands of US jobs.
"Central Florida is a prime example of how the NPI's goals can be realized through education, research and public-private partnerships," said Peter Baker, executive director of the Laser Institute of America (LIA), one of five optics and photonics societies that united to found the NPI. "Greater investment in key photonics-driven fields will create jobs, grow our economy and protect and improve lives."

###

ABOUT CREOL: CREOL, The College of Optics & Photonics, is a world-renowned graduate college for optical science and engineering education and research. Its mission is to:
Provide the highest quality education in optical science and engineering, support the educational needs of undergraduate students in other programs, serve the continuing educational needs of industry, and enhance optics and photonics education at all levels.
Create and disseminate new knowledge and innovations in optics and photonics by conducting, presenting, and publishing cutting-edge fundamental and applied research
Aid in the development of the State of Florida and the nation's knowledge-based and technology-based industries, and create, foster, and sustain mutually beneficial research collaborations and partnerships with industry.
The College includes 30 faculty members, 14 faculty with joint appointments, 10 faculty with courtesy appointments, and five emeritus professors, 40 research scientists and 154 graduate students with research activities covering all aspects of optics and photonics, including lasers, fiber optics, semiconductor and integrated photonic devices, nonlinear and quantum optics and imaging science. For more information, visit http://www.creol.ucf.edu/.

ABOUT THE NPI: The National Photonics Initiative (NPI) is a collaborative alliance among industry, academia and government seeking to raise awareness of photonics and the impact of photonics on our everyday lives; increase cooperation and coordination among US industry, government and academia to advance photonics-driven fields; and drive US funding and investment in areas of photonics critical to maintaining US economic competitiveness and national security. The initiative is being led by a coalition of scientific societies, including the American Physical Society (APS), the IEEE Photonics Society, the Laser Institute of America (LIA), the Optical Society (OSA) and SPIE, the International Society for Optics and Photonics. For more information, visit www.LightOurFuture.org.

###

Emily Pappas
+1 202 448 5208
epappas@podestagroup.com