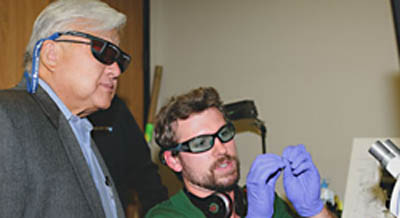 Rep. Mike Honda (above, left) got a close-up look at photonics technologies while visiting the Silicon Valley firm Directed Light.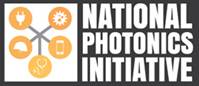 SAN JOSE, California, USA -- Today, Rep. Mike Honda (D-California) toured Directed Light Inc. to see first-hand the impact of photonics on San Jose, the state and the nation. During the site visit, the congressman (at left, below) met with employees, local business leaders and researchers to discuss the benefits of photonics and the role that Directed Light plays in solving the challenges of a modern world by harnessing the power of light.
"It was a privilege to host Rep. Honda today," said Neil Ball, president of Directed Light. "We appreciate his continued support for our business and for the photonics industry in our district and beyond. This was a wonderful opportunity for us to showcase how optics and photonics enable the development of key technologies that make our everyday lives possible."
Directed Light serves the industrial, medical and scientific laser communities worldwide through its three business units -- laser contract manufacturing, laser components sales and service, and medical laser and intense pulsed light (IPL) components and service. The company assists customers in the medical device, aerospace, automotive, electronics, semiconductor, commercial products, and telecom industries by providing the technology and components necessary for manufacturing essential items ranging from jet engines to pacemakers to car airbags.
As one of the businesses supporting more than 20,000 California jobs dependent on optics and photonics, Directed Light is part of a growing industry in critical need of qualified workers. The National Photonics Initiative (NPI) seeks to expand STEM education and training programs that equip Americans with the skills companies like Directed Light need to grow and continue providing top-quality products and services.
"Many people take for granted the modern-day technologies made possible largely by photonics," said Congressman Honda. "My tour of Directed Light today highlighted how photonics enables our day-to-day lives, and I saw first-hand the ways in which optics and photonics support our local economy. We must ensure US workers receive the training they need to have careers in this important, expanding industry."
Historically, the United States has been the world leader in deploying photonics research to power cutting-edge technologies, but global competition has put our leadership position at risk, causing a substantial loss of global market share to overseas competitors as well as thousands of US jobs.
Through the National Photonics Initiative, Directed Light is working to raise awareness about photonics and unite industry, academia and government experts to identify and advance areas of photonics critical to maintaining US competitiveness and national security: advanced manufacturing, communication and information technology, defense and national security, energy, and health and medicine. US investment in these photonics-driven fields will create jobs and grow our economy, protect and improve the lives of our people, and position the United States as a global technology leader.
"Educating the public about photonics is key to the future of our industry and country," added Mark Taggart, president of Laser Mechanisms, Inc. and NPI Advanced Manufacturing Subcommittee chair, who delivered remarks during Rep. Honda's visit. "It was a pleasure to speak with the congressman and emphasize the importance of optics and photonics to industries that present opportunities for US leadership, such as advanced manufacturing. By embracing the goals of the NPI, Rep. Honda and other leaders in Washington, DC support America's workers, businesses and overall industrial and economic strength."
ABOUT THE NPI: The National Photonics Initiative (NPI) is a collaborative alliance among industry, academia and government seeking to raise awareness of photonics and the impact of photonics on our everyday lives; increase cooperation and coordination among US industry, government and academia to advance photonics-driven fields; and drive US funding and investment in areas of photonics critical to maintaining US economic competitiveness and national security. The initiative is being led by a coalition of scientific societies, including the American Physical Society (APS), the IEEE Photonics Society, the Laser Institute of America (LIA), the Optical Society (OSA) and SPIE, the International Society for Optics and Photonics. For more information, visit www.LightOurFuture.org.
###

Erin Hatch
+1 202 448 5202
ehatch@podestagroup.com