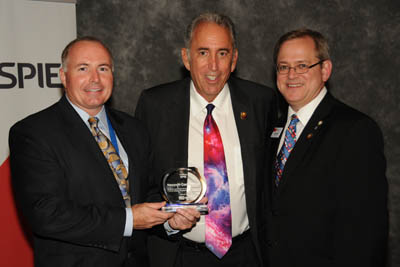 From left above, Newport Corporation's Jim Fisher and Gary Spiegel are congratulated by SPIE President-Elect Philip Stahl after accepting an award from SPIE recognizing the company's support for student and other programs for optics and photonics professionals.

BELLINGHAM, Washington, USA -- Ongoing generous support on the part of Newport Corporation for students, early-career entrepreneurs, and women professionals in the field was honored with an award from SPIE, the international society for optics and photonics, at a recent event sponsored by the society.
"Over the last decade, Newport Corporation has contributed more than $130,000 in travel funding for student authors to attend SPIE conferences," noted SPIE President Bill Arnold in recognizing the company with a special award at SPIE Optics and Photonics in San Diego this summer.
The Newport Research Excellence Travel Awards Program has supported travel to SPIE conferences for numerous students from around the world over the past decade, enabling them to present their research to international audiences, Arnold said.
"For more than 40 years Newport has been a strong supporter of the photonics research community," said Newport Corporation Vice President Jim Fisher. "At the heart of this community are the students who are advancing the field with their new ideas, perspectives, and passion. We are honored to continue to support their work by sponsoring these young innovators to join the many technology experts at important conferences like SPIE Photonics West and SPIE Optics and Photonics to present their research findings, learn about the latest advancements in photonics, and make industry connections that can benefit them in their future endeavors."
Applications for the next round of grants is 25 November. More information about the Newport Research Excellence Awards is available at www.spie.org/x27619.xml.
In addition to funding the travel grants program, Newport has been a sponsor of the BioPhotonics Start-Up Challenge at SPIE Photonics West, the Optics Outreach Games at SPIE Optics and Photonics, and the Women in Optics planner published annually by SPIE to celebrate achievements of women in the field.
The Newport Research Excellence Travel Awards Program was launched in 2004, and annually provides $15,000 to enable university researchers to travel and present their work at either SPIE Photonics West early in the year or SPIE Optics and Photonics in August, both top international meetings in their fields.
Newport Corporation produces advanced technology products and solutions for research, life, and health sciences, aerospace and defense, industrial manufacturing, semiconductors, and microelectronics.
Travel award winners in 2013 included:
SPIE Optics and Photonics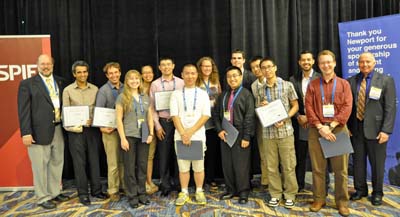 Tarig Algadey, University of Dayton
Lucie Devys, École Polytechnique
Christopher Eng, Stony Brook University
Ronan Havelin, National University of Ireland Galway
Xiaoli Jin, Beijing Institute of Technology
Heather Lemire, Case Western Reserve University
Eran Maimon, Tel Aviv University
Martin Rodriguez Rodriguez, Universidad Nacional Autónoma de México
Yaoguang Rong, Huazhong University of Science and Technology
Stephen Swinotek, Pennsylvania State University
Chen Wang, Northwestern University
Honglie Xu, School of Electronic and Optical Engineering
Ku Zhiliang, Huazhong University of Science and Technology.
SPIE Photonics West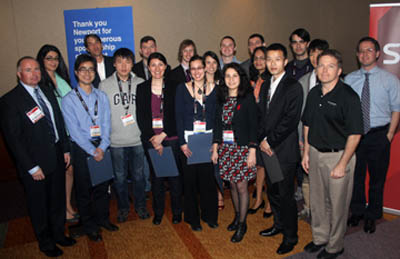 Isinsu Baylam, Koҫ University
Kiran Bhattacharyya, University of Missouri
Sandrine Filion Côté, McGill University
Christopher Head, University of Southampton
Derek Heeger, Rose-Hulman Institute of Technology
Swarnapali Indrasekara, Rutgers University
Kelsey Kennedy, University of Western Australia
Hamdam Nikkhah, University of Ottawa
Lucas Paluchowski, Norwegian University of Science and Technology
Lorenzo Romeo, NEST -- Scuola Normale Superiore
Chaotan Sima, University of Southampton
Jason Tucker-Schwartz, Vanderbilt University
Adam Tuer, University of Toronto
Shota Ushiba, Osaka University
Atena Zahedi, University of California, Riverside
Xingwang Zhang, Fudan University.
SPIE is the international society for optics and photonics, a not-for-profit organization founded in 1955 to advance light-based technologies. The Society serves more than 235,000 constituents from approximately 155 countries, offering conferences, continuing education, books, journals, and a digital library in support of interdisciplinary information exchange, professional networking, and patent precedent. SPIE provided over $3.2 million in support of education and outreach programs in 2012.

###

Media contact:
Amy Nelson
Public Relations Manager, SPIE
+1 360 685 5478
amy@spie.org
@SPIEtweets