Presentations on the most advanced research will presented in conferences this month at the
Internationales Congress Center München. Image © Messe München
CARDIFF, UK — The new SPIE Digital Optical Technologies conference — highlighted by the opportunity for a hands-on demonstration of the most advanced augmented reality (AR), virtual reality (VR), and mixed reality (MR) headsets — joins the long-running SPIE Optical Metrology symposium in Munich later this month. Sponsored by SPIE, the international society for optics and photonics, the conferences will run 25-29 June at the Internationales Congress Center.
Both events are part of the World of Photonics Congress. Registration includes access to the congress and the Laser World of Photonics exhibition and other events, including a congress-wide plenary talk by Jörg Wrachtrup of Universität Stuttgart on the quest for the ultimate quantum machine.
Federico Capasso of Harvard University will give an SPIE plenary talk on metasurface diffractive optics, discussing high-performance metalenses for the visible, achromatic lenses, axicons, vortex plates, holograms, ultracompact spectrometers, and polarimeters, and the potential of this technology for a wide range of applications.
SPIE Digital Optical Technologies, a new conference dedicated to emerging digital trends and perspectives in optics, is chaired by Bernard Kress of Microsoft Corp., Wolfgang Osten of Universität Stuttgart, and Paul Urbach of Technische Universiteit Delft.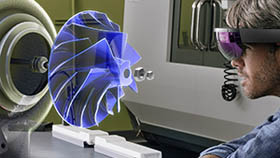 Hands-on demonstrations of AR/VR/MR headsets
will be a highlight of the new SPIE Digital Optical
Technologies conference. Image © Microsoft Corp.
Bernard Kress has organized demo sessions of AR, VR, and MR headsets from Microsoft, Oculus, HTC, and Sony, the first demonstration available to the public of multiple advanced headsets in a single location. Registered attendees of SPIE Digital Optical Technologies and SPIE Optical Metrology who sign up in advance will be able to participate in the hands-on demonstration sessions 26-28 June.
Highlights among the nearly 80 conference presentations in 11 sessions on topics such as digital holography for sensing and imaging, 3D displays, systems design, and components include talks on:
Large holographic 3D display for real-time computer-generated holography, by Ralf Häussler and colleagues at SeeReal Technologies GmbH
See-through 3D technology for augmented reality, by Byoungho Lee and colleagues from Seoul National University
Promises and pitfalls of real-time holographic display, by Joel Kollin of Microsoft Corp.
Four half-day courses will offer career-enhancing training in:
using spatial light modulators
design, modeling, and fabrication techniques for micro-optics
optical technologies and architectures for VR, AR, and MR headsets
optics and image processing design in computational sensing and imaging.
Presentations at SPIE Optical Metrology will include reports on the latest research in optical measurement systems, modeling, videometrics, machine vision, and optical methods for inspection, characterization, and imaging of biomaterials. Wolfgang Osten is symposium chair.
Optical inspection in the times of Industry 4.0, by Robert Schmitt of RWTH Aachen Universität
A compact hyperspectral camera for investigating artworks, by Constanza Cucci and colleagues at Istituto di Fisica Applicata Nello Carrara and Specim Spectral Imaging Ltd.
Optical sensors for robotics and automotive applications, by Max Ruffo of Terabee
Sub-diffraction surface topography measurement using a microsphere-assisted Linnik interferometer, by Paul Montgomery and colleagues at Université de Strasbourg
Holographic on-chip microscopy, by Aydogan Ozcan of the University of California, Los Angeles
Optical metrology of the eye and of ocular tissues, by Christoph Hitzenberger of Medizinische Universität Wien.
SPIE Optical Metrology will also include a pre-conference SPIE Student Chapter leadership workshop and three professional development courses on Sunday and Monday. Jean-luc Doumont of Principiae will facilitate the student workshop and teach the courses.
SPIE is a co-sponsor with The Optical Society (OSA) of the European Conference on Biomedical Optics, also part of the World of Photonics Congress. Presentations will cover advanced microscopy, clinical and biomedical spectroscopy, molecular imaging, diffuse optical imaging, optical coherence tomography, therapeutic laser applications, laser-tissue interactions, optoacoustic methods, and other novel biophotonics techniques.
Plenary speakers are optogenetics pioneer Ed Boyden of Massachusetts Institute of Technology who will discuss tools for seeing and controlling biological systems, and lensless-imaging and mobile-health innovator and inventor Aydogan Ozcan on computational microscopy, sensing, and diagnostics.
Rainer Leitgeb of Medizinische Universität Wien is general chair for the biomedical optics conferences and Brett Bouma, Massachusetts General Hospital, and Paola Taroni, Politecnico di Milano, serve as program chairs.
About SPIE
SPIE is the international society for optics and photonics, an educational not-for-profit organization founded in 1955 to advance light-based science, engineering, and technology. The Society serves nearly 264,000 constituents from approximately 166 countries, offering conferences and their published proceedings, continuing education, books, journals, and the SPIE Digital Library. In 2016, SPIE provided $4 million in support of education and outreach programs. www.spie.org
---
Contact:
Amy Nelson
Public Relations Manager
amy@spie.org
+1 360 685 5478
@SPIEtweets
---