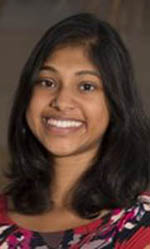 Tanya Das

BELLINGHAM, Washington, and WASHINGTON, DC, USA — SPIE, the international society for optics and photonics, and The Optical Society (OSA) have announced the selection of metamaterials researcher and science, technology, engineering, and mathematics (STEM) education activist Tanya Das as the 2017-2018 Arthur H. Guenther Congressional Fellow. Das will serve a one-year term as a special legislative assistant on the staff of a U.S. Congressional office or committee in Washington, D.C. The term begins in September 2017.
As part of the Fellowship, Das will attend a comprehensive training and orientation facilitated by the American Association for the Advancement of Science (AAAS). Following orientation, Fellows go through an interview and selection process with Senate and House of Representatives offices or Congressional committees on Capitol Hill, then select the offices in which they will serve.
The Congressional Fellowship program aims to bring technical and scientific backgrounds and perspectives to the decision-making process in Congress, and provide scientists with insight into the inner workings of the federal government. Typically, Fellows will have the opportunity to conduct legislative or oversight work, assist in congressional hearings and debates, prepare policy briefs, and write speeches as part of their daily responsibilities.
Each year, following a formal application process, finalists are interviewed and Congressional Fellows are selected by a committee of volunteer members from SPIE and OSA.
Das is a PhD candidate in Electrical and Computer Engineering at the University of California, Santa Barbara, (UCSB) where she works in the lab of professor Jon Schuller. Her research in the field of metamaterials explores new ways to manipulate light using nanoparticles by changing a property of light known as polarization. She received her BS in Electrical Engineering from the University of Michigan in Ann Arbor.
In addition to her research, Das explores issues in STEM education through her work in program evaluation. She has undertaken projects to evaluate the effectiveness of new teaching methods in undergraduate engineering courses at UCSB as well as the effectiveness of programs that aim to increase retention and graduation rates of STEM undergraduate students who come from minority and low-income backgrounds.
Das was also part of the workforce development team for the American Institute for Manufacturing Integrated Photonics (AIM Photonics), where she helped to assess workforce needs in the photonics industry.
Das is committed to serving the community through volunteer work. She founded a poetry workshop for teens at the local Santa Barbara juvenile probation center and volunteered at community science events including the annual Santa Barbara junior high science fair, Family Science Exploration nights, and Women in Photonics Week.
She has held leadership roles in UCSB student organizations including the Photonics Society, the Beyond Academia conference organizing committee, and Graduate Students for Diversity in Science.
Das said she is very excited to serve as the 2017-2018 Arthur H. Guenther Congressional Fellowship, and looks forward to working on policy issues related to STEM education, workforce development, and optics and photonics technologies. She hopes to use her experiences from the fellowship to pursue a career as a policy analyst, to help federal legislatiors make informed policy decisions.
About SPIE
SPIE is the international society for optics and photonics, an educational not-for-profit organization founded in 1955 to advance light-based science, engineering, and technology. The Society serves nearly 264,000 constituents from approximately 166 countries, offering conferences and their published proceedings, continuing education, books, journals, and the SPIE Digital Library. In 2016, SPIE provided $4 million in support of education and outreach programs. www.spie.org
About The Optical Society
Founded in 1916, The Optical Society (OSA) is the leading professional organization for scientists, engineers, students and business leaders who fuel discoveries, shape real-life applications and accelerate achievements in the science of light. Through world-renowned publications, meetings and membership initiatives, OSA provides quality research, inspired interactions and dedicated resources for its extensive global network of optics and photonics experts. For more information, visit osa.org.
---
Contact:
Amy Nelson
Public Relations Manager
amy@spie.org
+1 360 685 5478
@SPIEtweets
---