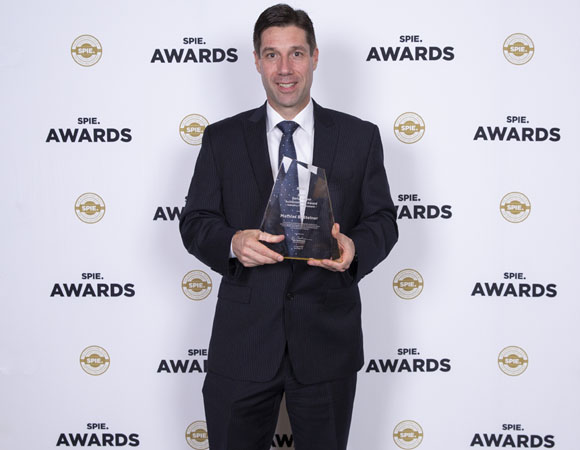 Mathias B. Steiner received the SPIE 2019 Industry Early Career Achievement Award.

BELLINGHAM, Washington, USA and CARDIFF, UK - Yesterday evening, at the 2019 Awards Banquet at SPIE Optics + Photonics in San Diego, SPIE, the international society for optics and photonics, honored Mathias B. Steiner with an Early Career Achievement in Industry. The award recognizes Steiner's pioneering and influential contributions to industrial and applied optics, especially the nanometer-scale optical characterization and photonic application of one- and two-dimensional materials.
An SPIE Member, Steiner's success started with his thesis: that work combined conceptions from quantum optics, photonics, and molecular spectroscopy to develop an optical cavity that allows for spatially immobilizing molecules within a photonic structure and studying optical coupling on the level of individual emitters and single photons.
During a postdoctoral fellowship at the IBM Thomas J. Watson Research Center, Steiner developed experimental techniques for studying optical properties of one- and two-dimensional nanostructures — including carbon nanotubes and graphene — embedded as functional components in optoelectronic and photonic devices. At Brazil's IBM Research Lab in 2013, Steiner established an interdisciplinary effort to study the interactions of liquids and solids at the nanometer scale, research with future applications in the recovery of natural resources.
Today, Steiner's team conducts experimental and computations R&D for industrial-scale applications. As part of his ongoing efforts to strengthen optical science and engineering in Latin America, he has also initiated a collaboration between IBM Research and Brazil's Federal University of Minas Gerais (UFMG), focusing on optical nanospectroscopy for industrial applications.

"Dr. Steiner is a great physicist with strong impact in the development of nanoscience, specifically in nano-optics," said UFMG's Professor Ado Jorio who has worked with Steiner since 2006. "He is already an established leader and strong contributor to the construction of the Brazilian innovation ecosystem. Together, we have been discussing and building novel models for Industry-University relations in Brazil. In addition, his professional behavior is exemplary: he treats everyone with respect and kindness, and is a wonderful model for our community."
About SPIE
SPIE is the international society for optics and photonics, an educational not-for-profit organization founded in 1955 to advance light-based science, engineering, and technology. The Society serves 257,000 constituents from 173 countries, offering conferences and their published proceedings, continuing education, books, journals, and the SPIE Digital Library. In 2018, SPIE provided more than $4 million in community support including scholarships and awards, outreach and advocacy programs, travel grants, public policy, and educational resources. www.spie.org.
________________________________________
Contact:
Daneet Steffens
Public Relations Manager
daneets@spie.org
+1 360 685 5478
@SPIEtweets