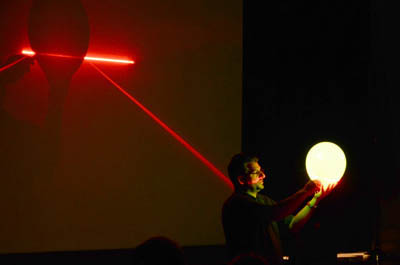 Red plus green makes ... yellow, when it comes to light, demonstrates Laser Roadshow founder Chris Volpe during a visit to Whatcom Middle School in Bellingham, Washington, earlier this year. Volpe's presentations provide engaging, accessible STEM lessons.
BELLINGHAM, Washington, USA -- Students in New York, California, and Illinois recently benefitted from science lessons in the form of an informative, entertaining laser show, after a community vote on altruism spending by members and constituents of SPIE, the international society for optics and photonics.
Show producer Prismatic Magic presents more than a dozen educational shows featuring lasers in schools across the U.S. each year with support from SPIE, as part of the society's educational outreach mission. (See the brief video here [4:24].)

Music and images such as the above
illustrate Laser Roadshow presentations.
In 2013, Prismatic Magic received an additional $2,500 from SPIE to present its Laser Roadshow after an open vote by members on how to allocate a portion of the non-for-profit's philanthropic funds.
As a result, the Laser Roadshow was experienced by 1,650 more students via shows at The Scholars' Academy in Rockaway Park, New York; Martin Luther King, Jr., Middle School in Oceanside, California; and Fred Rodgers Magnet Academy in Aurora, Illinois, in November and December.
The programs combine dynamic presentations, laser animations, and positively themed music in educational demonstrations of the science of lasers. The event includes a 20-minute introduction to laser science followed by a 40-minute laser show illustrating exciting developments in the fields of optics and photonics.
"I am well aware of the difficulties of trying to find an appropriate enrichment program that not only piques the interest of the student, but is also a genuine educational experience," said Irene Dougherty, a former middle school teacher and parent of a sixth-grader at The Scholars' Academy. "The show far exceeded any expectations. Our students were not only actively engaged, they were excited to learn."
Students in Rockaway Park were impressed with the STEM (science, technology, engineering, and mathematics) acronym, which helped them see how closely the fields work together, Dougherty said. She noted that the Laser Roadshow was the school's first enrichment activity after the auditorium was damaged in Hurricane Sandy in October 2012.
Besides increasing general awareness of optics and photonics, the Laser Roadshow's message includes a vocational element, said Chris Volpe, a Ph.D. physicist and president of Prismatic Magic.
"The message is, 'You can grow up and do something like this, or even cooler, in optics and photonics,' " he said. "We're trying to reach these kids at a critical phase is their development and introduce an exciting career path option."
Volpe said that he and his team find it very gratifying to hear from students, teachers, and parents that the roadshow has staying power. "Lasers and light continue to be an active topic of discussion both in the classroom and in the living room weeks after the event," he said.
A recent report from the U.S. National Academies titled "Optics and Photonics, Essential Technologies for Our Nation" highlights the pervasiveness of optics and photonics technologies in everyday life, the substantial potential for economic growth, and the need to increase the number of STEM graduates to take on high-value jobs in the rapidly expanding fields.
The SPIE vote earlier this year channeling additional funds toward the Laser Roadshow also resulted in donations of:
$10,000 to Child ViSion, an organization that helps the fight the impact of poor vision on the educational, quality of life and economic potential of young people by distributing self-adjustable glasses, based on a fluid-filled lens technology, through school-based programs in Africa
$2,500 to Active Learning in Optics and Photonics (ALOP) for workshops introducing basic optics and photonics concepts to teachers in developing countries by pairing theoretical modules with hands-on applications and using low-cost locally available materials. ALOP is supported on an ongoing basis by SPIE, ICTP (the International Centre for Theoretical Physics) and UNESCO.
SPIE provided $3.2 million in support of education and outreach programs in 2013, meeting both its educational mission as well as the desire of its members to give back to the community. SPIE members rate the ability to contribute to the optics and photonics community among the four most valuable benefits of membership in the society.
The deadline for the next round of SPIE Education Outreach Grants is 31 January.
More information about SPIE's innovative resources for educators and students is online at www.spie.org/x30114.xml.
SPIE is the international society for optics and photonics, a not-for-profit organization founded in 1955 to advance light-based technologies. The Society serves nearly 235,000 constituents from approximately 155 countries, offering conferences, continuing education, books, journals, and a digital library in support of interdisciplinary information exchange, professional networking, and patent precedent. SPIE provided $3.2 million in support of education and outreach programs in 2013.

Contact:
Amy Nelson
Public Relations Manager
amy@spie.org
+1 360 685 5478
@SPIEtweets