BELLINGHAM, Washington, USA, and CARDIFF, UK — The Journal of Astronomical Telescopes, Instruments, and Systems (JATIS), published by the not-for-profit SPIE, the international society for optics and photonics, is now included in the Science Citation Index Expanded (SCIE), part of the Web of Science.

Mark Clampin
The Journal of Astronomical Telescopes, Instruments, and Systems, edited by Mark Clampin of NASA Goddard Space Flight Center, is indexed in SCIE with coverage beginning in Volume 1, Issue 1.
JATIS is also covered in Current Contents/Engineering, Computing & Technology and will be included in the upcoming release of the Journal Citation Reports, said SPIE Publications Director Eric Pepper.
"JATIS is the preeminent journal for publishing scientific research on the development of instrumentation and techniques for astronomy," Clampin, an SPIE Fellow, said. "Its admission into SCIE represents a key milestone for the journal and recognition of the quality of papers being submitted to the journal."
The journal is already included in the SAO/NASA Astrophysics Data System (ADS) as well as several other abstracting and indexing databases including Inspec, Scopus, and Ei Compendex.
JATIS launched in 2015 and is published online in the SPIE Digital Library as well as in print. The journal publishes original research on the development, testing, and application of telescopes, instrumentation, techniques, and systems for ground- and space-based astronomy.
The SPIE Digital Library contains more than 458,000 articles from SPIE journals, proceedings, and books, with approximately 18,000 new research papers added each year. Abstracts are freely searchable, and a number of journal articles are published with open access.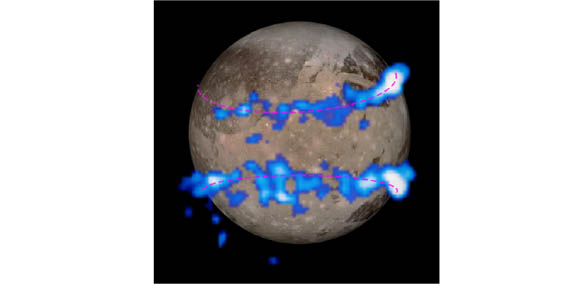 From Vol 2, No. 3: Fig. 38 Aurora on Ganymede recorded with the STIS FUV MAMA.
The auroral belts are colored blue in this image and are overlaid on a visible-light image of
Ganymede taken by NASA's Galileo orbiter. doi:10.1117/1.JATIS.2.3.030901
About SPIE
SPIE is the international society for optics and photonics, an educational not-for-profit organization founded in 1955 to advance light-based science, engineering, and technology. The Society serves nearly 264,000 constituents from approximately 166 countries, offering conferences and their published proceedings, continuing education, books, journals, and the SPIE Digital Library. In 2016, SPIE provided $4 million in support of education and outreach programs. www.spie.org
---
Contact:
Amy Nelson
Public Relations Manager
amy@spie.org
+1 360 685 5478
@SPIEtweets
---