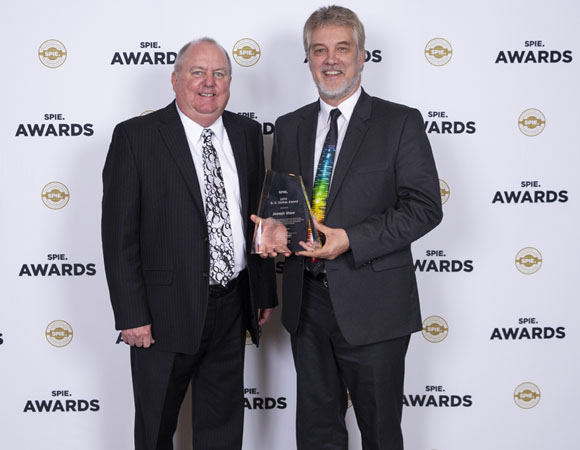 Joseph Shaw (right) receiving his award from SPIE President-Elect John Greivenkamp.

BELLINGHAM, Washington, USA and CARDIFF, UK - Yesterday evening, at the Awards Banquet at SPIE Optics + Photonics in San Diego, SPIE, the international society for optics and photonics, honored Joseph Shaw with its G.G. Stokes Award in Optical Polarization. Shaw was recognized for contributions made to the understanding of the distribution of optical polarization in the natural environment through the development of instruments, measurement methods, and analysis techniques.
Shaw, an SPIE Fellow and a professor of electrical and computer engineering at Montana State University and director of its Optical Technology Center, is a pioneer and leader in the quantitative understanding of polarization in nature. Shaw's work has led to important "firsts," such as the first observation of the effect of sky state on polarized emission, the first observation and explanation for the role of the Earth in polarized observations in the sky, and the first observation of the effects of sub-visible clouds on the distribution of sky polarization.
These works have contributed to atmospheric science and remote sensing, as well as to a range of applications where understanding the polarization state leads to more accurate results. Also an avid photographer, Shaw published the SPIE Press book, Optics in the Air: Observing Optical Phenomena through Airplane Windows in 2017.
"In addition to his impressive research contributions, what sets Joe apart is his exemplary behavior as a collaborator, mentor, and teacher in the optics and photonics community," said SPIE Senior Member Julia Craven of Sandia National Laboratories. "SPIE awards should call attention to and reward those who are not just outstanding researchers, but also exceptional members of the community. By being a welcoming collaborative conference organizer, and an approachable, caring mentor and professor, Joe Shaw is certainly well deserving of the Stokes Award."
About SPIE
SPIE is the international society for optics and photonics, an educational not-for-profit organization founded in 1955 to advance light-based science, engineering, and technology. The Society serves 257,000 constituents from 173 countries, offering conferences and their published proceedings, continuing education, books, journals, and the SPIE Digital Library. In 2018, SPIE provided more than $4 million in community support including scholarships and awards, outreach and advocacy programs, travel grants, public policy, and educational resources. www.spie.org.
________________________________________
Contact:
Daneet Steffens
Public Relations Manager
daneets@spie.org
+1 360 685 5478
@SPIEtweets