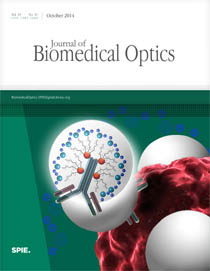 BELLINGHAM, Washington, USA -- New applications of structures and materials that replicate complex yet efficient arrangements that have evolved in nature over millennia are featured in a special section on biomimetic and bioinspired materials for applications in biophotonics in the October issue of the Journal of Biomedical Optics. The journal is published by SPIE, the international society for optics and photonics, in the SPIE Digital Library. Several of the peer-reviewed articles are accessible via open access.
Biomimetic and bioinspired materials present an emerging field in the areas of biomedicine, bioengineering, and biological sciences," write the special section's guest editors Bahman Anvari (University of California, Riverside), Pablo del Pino (CIC biomaGUNE, Bioengineered Particles Lab), Vikas Kundra (University of Texas M.D. Anderson Cancer Center), and Wolfgang Parak (Philipps Universität Marburg) in their guest editorial.
Of particular interest is the current trend toward the production of biofunctional materials that are able to interact with light, thereby enabling applications in therapy, biosensing, and bioimaging, the editors note. The aim of the special section is to present some of the current state-of-the-art research activities on the use of such materials in relation to the field of biophotonics.
The open access papers include:
Other papers concern quantitative evaluation and visualization of size effect on cellular uptake of gold nanoparticles by multiphoton imaging-UV/Vis spectroscopic analysis, and Europium-quantum dot nanobioconjugates as luminescent probes for time-gated biosensing.
Lihong Wang of Washington University in St. Louis is the journal's editor-in-chief. Wang is the author of Biomedical Optics: Principles and Imaging which received the Joseph W. Goodman Book Writing Award in 2007.
The Journal of Biomedical Optics is published in print and digitally in the SPIE Digital Library, which contains nearly 400,000 articles from SPIE journals, proceedings, and books, with approximately 18,000 new research papers added each year. Abstracts are freely searchable, and an increasing number of full journal articles are published with open access.
SPIE is the international society for optics and photonics, a not-for-profit organization founded in 1955 to advance light-based technologies. The Society serves nearly 256,000 constituents from approximately 155 countries, offering conferences, continuing education, books, journals, and a digital library in support of interdisciplinary information exchange, professional networking, and patent precedent. SPIE provided more than $3.2 million in support of education and outreach programs in 2013.
###
Contact:
Amy Nelson
Public Relations Manager
amy@spie.org
+1 360 685 5478
@SPIEtweets