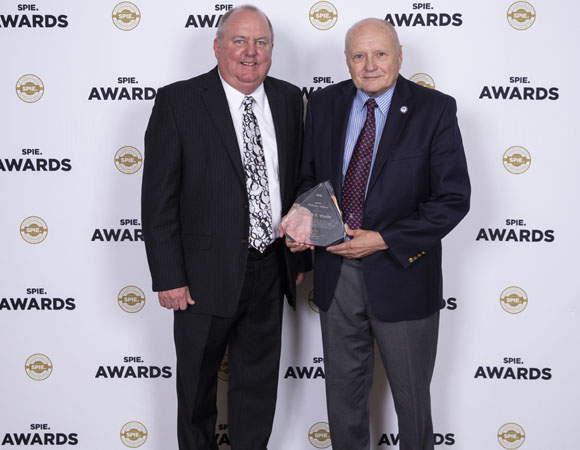 James C. Wyant (right) receiving his award from SPIE President-Elect John Greivenkamp.

BELLINGHAM, Washington, USA and CARDIFF, UK - Yesterday evening, at the Awards Banquet at SPIE Optics + Photonics in San Diego, SPIE, the international society for optics and photonics, honored James C. Wyant with its 2019 Visionary Award. SPIE recognized Wyant for his role as the founding dean of the College of Optical Sciences at the University of Arizona; for pioneering photonics at WYKO Corporation and 4D Technology; for generous philanthropy that enables education in optics; and for thoughtful investment in the future of photonics.
An SPIE Fellow and former SPIE President, Wyant has forged a highly successful life in optics, including his transformative work as the founding dean of the University of Arizona's College of Optical Sciences, and his entrepreneurial leadership in such companies as WYKO and 4D Technology.
Under Wyant's future-facing direction and his deeply held belief in the importance of optics, that career-long success story has had a generous ripple effect. In 2013, his $10 million gift to UA's College of Optical Sciences — now named the James C. Wyant College of Optical Sciences — helped to establish 30 first-year graduate student scholarships, and, in late 2018, he and his family pledged $20 million for ten endowed faculty chair positions.
"The optics and photonics community has a number of luminaries who have made extraordinary impacts in education, invented new products, and created new businesses or generously given back to the community through outsized support of students or education, but very few have done all three," says SPIE CEO Kent Rochford. "Jim Wyant has. He meets all of the qualifications of the SPIE Visionary Award, and then some. I, and the SPIE Board of Directors, are proud to honor Jim with this award."
About SPIE
SPIE is the international society for optics and photonics, an educational not-for-profit organization founded in 1955 to advance light-based science, engineering, and technology. The Society serves 257,000 constituents from 173 countries, offering conferences and their published proceedings, continuing education, books, journals, and the SPIE Digital Library. In 2018, SPIE provided more than $4 million in community support including scholarships and awards, outreach and advocacy programs, travel grants, public policy, and educational resources. www.spie.org.
________________________________________
Contact:
Daneet Steffens
Public Relations Manager
daneets@spie.org
+1 360 685 5478
@SPIEtweets