BELLINGHAM, Washington, USA -- The "transformative power of light" is a familiar reality for the first Patron Sponsor of the International Year of Light and Light-based Technologies (IYL2015). Philips Lighting, announced today as the initiative's first Patron Sponsor by IYL2015 Founders including SPIE, the international society for optics and photonics, has been providing lighting devices and systems for more than a century.
The IYL2015 is the initiative of a large consortium of scientific bodies with UNESCO as lead agency. It was proclaimed by the United Nations General Assembly 68th Session to recognize the importance of raising global awareness of how light-based technologies promote sustainable development and provide solutions to global challenges in energy, education, agriculture, and health.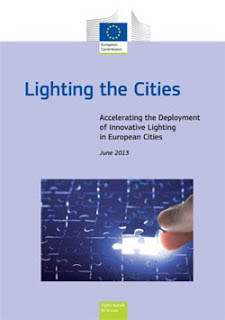 Philips Lighting is among participants whose
contributions and projects are featured in
the
European Commission report "Lighting
the Cities."
"The transformative power of light is immense, as we have seen over the last 120 years of Philips' history -- from the launch of the first commercial incandescent bulb through to connected LED lighting solutions," said Harry Verhaar, Head of Global Public and Government Affairs at Philips Lighting. "Lighting has now entered a digital era, where sustainable LED technologies are connected to networks, devices, and apps and placed to address the world's challenges like never before."
Verhaar said the IYOL 2015 is an opportunity to realize the potential of recent innovations in light to benefit people both socially and economically, while addressing global challenges like climate change at the same time.
Further, noted SPIE President Philip Stahl, "Philips' participation will help emphasize the IYOL 2015 message that 'green' lighting can benefit people everywhere, by illustrating the potential for solid-state lighting to bring the lighting revolution to millions in the developing world and reduce the need for new power sources in the developed world."
As a Patron Sponsor, Philips will play a leading role in several specific areas. During the Opening Ceremony at UNESCO headquarters in Paris in January 2015 and at other events during the year, Philips will participate in high-level discussions about the need for innovative lighting solutions to address energy efficiency and climate protection.
The company will also support a key programme of the IYL2015 focusing on the fact that for over 1.5 billion people around the world, night-time means either darkness or the dim glow of an unhealthy kerosene lamp or candle. With specific emphasis on the impact this has on educational opportunities, Philips will participate in the IYL2015 programme "Study after Sunset" to promote the use of portable solar-powered high-brightness LED lanterns in regions where there is little or no reliable source of light.
"Lighting is a technology that everybody uses today, often without much thought about how the introduction of artificial lighting profoundly transformed people's lives. It is an excellent example of how light science and light-based technologies are crucial for the development of humankind and for individual well-being," said SPIE Past President María Yzuel, professor of physics at the Universitat Autònoma de Barcelona. Yzuel is active in the IYL2015 planning committee for Europe. "In our time, lighting is evolving and improving in ways such as energy efficiency and diminishing light pollution. How we deploy lighting in homes, commercial buildings, and public places is of wide interest."
Yzuel noted that Philips Lighting has taken a lead role in finding solutions to lighting-related challenges, in ways such as helping to develop innovative public lighting in several cities. "Their participation as a Patron Sponsor in the IYL will provide many opportunities to meet the goal of demonstrating how companies are working to improve lighting for the benefit of users and communities," she said.
Maciej Nalecz, Director, Executive Secretary of the International Basic Sciences Programme at UNESCO, said that UNESCO is "very keen to engage with private sector partners in its activities in areas of sustainability and development, and Philips Lighting is a natural partner."
Founding Partners of IYL2015 are the American Physical Society (APS); the Deutsche Physikalische Gesellschaft (DPG); the European Physical Society (EPS); the IEEE Photonics Society (IPS); the Institute of Physics (IOP); SPIE, the international society for optics and photonics; the lightsources.org International Network; and The Optical Society (OSA).
EPS President John Dudley, Université de Franche-Comté, is chair of the IYL2015 Steering Committee.
SPIE is the international society for optics and photonics, a not-for-profit organization founded in 1955 to advance light-based technologies. The Society serves nearly 256,000 constituents from approximately 155 countries, offering conferences, continuing education, books, journals, and a digital library in support of interdisciplinary information exchange, professional networking, and patent precedent. SPIE provided $3.2 million in support of education and outreach programs in 2013.
###
Contact:
Amy Nelson
Public Relations Manager
amy@spie.org
+1 360 685 5478
@SPIEtweets