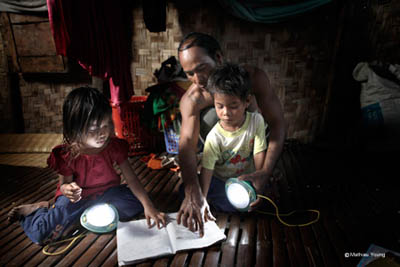 In an example of light-based technology, above, rural Cambodians make use of a MoonLight, a solar-powered lantern designed to replace the often-dangerous kerosene lamps that are typically found in villages throughout Cambodia and the developing world. The Kamworks lantern uses energy-efficient LED bulbs and is powered by a small solar cell. (Mathieu Young photo; by permission only)
BELLINGHAM, Washington -- Winning photos in a contest opening today for images showing the use of light and light-based technologies in daily life will win cash prizes and cover placement in an issue of SPIE Professional magazine, published by SPIE, the international society for optics and photonics. Contest sponsor and organizer SPIE Professional is presenting the SPIE International Year of Light 2015 Photo Contest as part of the society's observance of the United Nations-declared International Year of Light and Light-based Technologies in 2015 (IYL2015).
IYL2015 is a celebration of the crosscutting discipline of science that has revolutionized medicine, astronomy, and clean energy and opened up international communication via the Internet, and that continues to be central to linking cultural, economic, and political aspects of the global society.
Entries in the SPIE Professional contest must be received by 30 September 2014. Prizes will be awarded in 2015.
Judges knowledgeable in light-based technologies and photography will award a top prize of US $2,500, a second prize of $1,000, and a third prize of $500.
In addition, members of the optics and photonics community and the general public will vote on awarding a "People's Choice" prize of $500.
Photographers of all ages and from around the world are eligible to submit a maximum of two photos that show light or a light-based technology used in everyday life. Photos are not required to be scientific but they should hold some scientific interest or communicate the International Year of Light theme.
In addition to scientific interest, judges will also evaluate photos on creativity, artistry, and overall appeal. Minimal digital enhancement will be permitted. Because the top photos will be published on the covers of the print editions of SPIE Professional in 2015 and displayed in large format at SPIE Optics + Photonics in 2015, only print-quality digital files will be considered. Files smaller than 5 MB will not be accepted.
Complete information on the contest and rules is at www.spie.org/IYL
SPIE is the international society for optics and photonics, a not-for-profit organization founded in 1955 to advance light-based technologies. The Society serves nearly 256,000 constituents from approximately 155 countries, offering conferences, continuing education, books, journals, and a digital library in support of interdisciplinary information exchange, professional networking, and patent precedent. SPIE provided more than $3.2 million in support of education and outreach programs in 2013.
###
Contact:
Amy Nelson
Public Relations Manager
amy@spie.org
+1 360 685 5478
@SPIEtweets