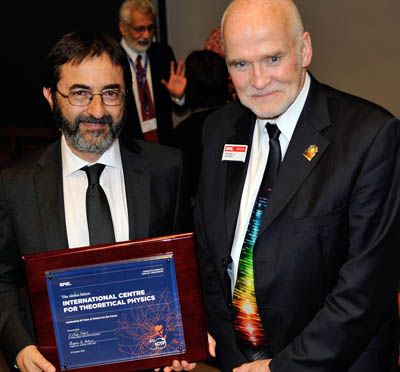 ICTP Director Fernando Quevedo (at left) accepts a commemorative plaque and congratulations from SPIE CEO Eugene Arthurs during the center's 50th anniversary celebration.
TRIESTE, Italy, and BELLINGHAM, Washington, USA -- A celebration of the 50th anniversary of the Abdus Salam International Centre for Theoretical Physics (ICTP) in Trieste recently also celebrated 50 years of success in international scientific cooperation and the promotion of scientific excellence in the developing world, noted participant Eugene Arthurs, CEO of SPIE, the international society for optics and photonics.
Arthurs was among speakers from science and government during a four-day celebration held 6-9 October hosted by ICTP to mark its first century -- and to envision what new capabilities and challenges science may spawn in the next 50 years.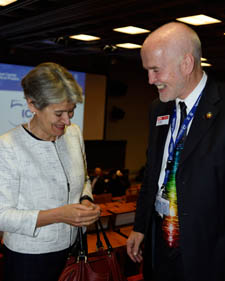 UNESCO Director-General Irina Bokova
and SPIE CEO Eugene Arthurs
"ICTP is the first global science research organization ever created," said opening-day speaker UNESCO Director-General Irina Bokova, highlighting the importance of ICTP as a hub for scientific collaboration. "It has demonstrated that it is a successful model to respond to the needs of scientists in the developing world and to build scientific capacity."
Rwandan President Paul Kagame told the audience that ICTP enables scientists from Africa to return home and contribute. "Connecting our young people to the scientific mindset can help them be better citizens," he said.
In a roundtable discussion on the next 50 years of optics, Arthurs offered several predictions -- after pointing out that Lord Kelvin, president of the British Royal Society in 1895, said that "x rays will prove to be a hoax," and "heavier-than-air flying machines are impossible," and Ernest Rutherford, known as "the father of nuclear physics," said, "The energy produced by the breaking down of the atom is a very poor kind of thing. Anyone who expects a source of power from the transformation of these atoms is talking moonshine."
Caveats duly noted, Arthurs then offered several predictions for the year 2065. Among them:
Solar energy meets half of the world's still increasing energy demand.
A second laser fusion power station has been completed.
More than 90% of humanity has Tb/s photonic communications connections.
Lighting has become smart and personalized as a result of our having come to understand its interaction with human biology.
Genomics, proteomics or metabolomics, all affordably optically determined, define therapy on an individual basis.
Completed superresolution brain map, quantum computing, early detection with eye exams, and photonics neuro-therapy promise end to dementia.
The number of planets with "life signatures" are now at 1849; no communication as yet.
For the here and now, Arthurs brought up some concerns.
"We are seeing a worrying lack of translation of scientific advances into useful outcomes," he said. "While basic science is a key element of the innovation infrastructure, by itself it is not sufficient. The value of scientific enterprise is increasingly measured by criteria that are taking it away from innovation -- for example, the current system of establishing journal impact factor, with its inverse relationship to practicality."
Arthurs said there is a growing scientific illiteracy among the nontechnical public and politicians in many nations. However, he said, the International Year of Light and Light-based Technologies (IYL 2015) established by the United Nations for 2015 is a once-in-a-lifetime opportunity for the photonics community to work toward increasing scientific awareness and knowledge.
Others speakers at the roundtable were John Dudley (Université de Franche-Comté), chair of the IYL 2015 steering committee and president of the European Physical Society, Alain Aspect (Laboratoire Charles Fabry, Institut d'Optique), Peter Zoller (University of Innsbruck), and 2005 Physics Nobel Laureate Roy Glauber (Harvard University and College of Optical Sciences, University of Arizona).
Talks by several Nobel laureates were part of the program, including one by Steven Weinberg, who shared the 1979 Nobel Prize in Physics with ICTP namesake the late Abdus Salam.
SPIE is a co-sponsor of the annual ICTP Winter College on Optics, along with the International Commission for Optics (ICO) and several other organizations. In addition, SPIE provides $30,000 annually to support an optics staff position at ICTP. In conjunction with ICTP, SPIE offers free SPIE Digital Library access in participating countries through the eJDS (electronics Journals Delivery Service) program. SPIE, the ICTP and other partners also support the UNESCO program Active Learning in Optics and Photonics (ALOP).
Founded in 1964, ICTP seeks to accomplish its mandate by providing scientists from developing countries with the continuing education and skills that they need to enjoy long and productive careers. ICTP has been a major force in stemming the scientific brain drain from the developing world.
SPIE is the international society for optics and photonics, a not-for-profit organization founded in 1955 to advance light-based technologies. The Society serves nearly 256,000 constituents from approximately 155 countries, offering conferences, continuing education, books, journals, and a digital library in support of interdisciplinary information exchange, professional networking, and patent precedent. SPIE provided more than $3.2 million in support of education and outreach programs in 2013.
###
Contact:
Public Relations Manager
amy@spie.org
+1 360 685 5478
@SPIEtweets