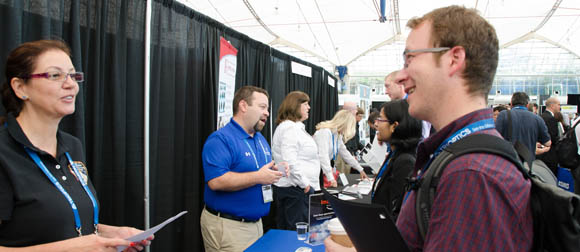 Representatives from 16 companies will be at the SPIE Job Fair in San Diego next week
looking for applicants to fill positions in their high-tech companies;
above representatives talk with potential employees during last year's event.
BELLINGHAM, Washington, USA , and CARDIFF, UK — Companies at the larger-than-ever job fair at SPIE Optics + Photonics in San Diego next week are looking for engineers, technicians, sales professionals … and some "wizards."
The virtual-reality technology firms Oculus and Magic Leap — whose website proclaims "wizards wanted" on its jobs listing — are among 17 optics-and-photonics sector organizations whose representatives will collect resumes and talk with applicants Tuesday and Wednesday at the San Diego Convention Center.
Positions offer opportunities to work on light-based technologies and products that make a positive difference in the world, said Lacey Barnett, coordinator of the SPIE Career Center, sponsor of the job fair.
The field is characterized by high job satisfaction, Barnett noted. More than 90% of respondents in this year's annual SPIE Optics and Photonics Global Salary Survey reported a high level of satisfaction with their work, saying they find it meaningful and enjoy the respect of their peers.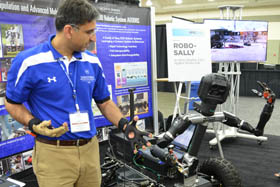 Johns Hopkins Applied Physics Lab demonstrates
neurally controlled prosthetics at a recent SPIE
exhibition in Baltimore.
Among companies in the SPIE Job Fair are the Johns Hopkins Applied Physics Lab, whose work in neurally controlled prosthetics has earned it recognition as one of the most innovative companies of 2016.
NASA's Jet Propulsion Lab, whose missions include Mars Rover and other space explorations will participate, along with companies including:
Applied Materials
Ball Aerospace & Technologies
General Atomics Aeronautical
Jenoptik
KLA-Tencor
L-3
Lockheed Martin
Mahr-ESDI
National Security Technologies
Raytheon
Sunex
II-VI Optical Systems.
Registration is free but required to enter the exhibition hall where the SPIE Job Fair is located. Hours are 10 a.m. to 5 p.m. each day, 30-31 August.
The free-admission SPIE Optics + Photonics exhibition runs Tuesday through Thursday, with 184 exhibiting companies, and industry sessions on managing patents and intellectual property and operating in international markets. Stephen Anderson, SPIE Director of Industry Development, will provide an update from an ongoing SPIE analysis of the global photonics market, highlighting growth in the number of companies, revenues generated, and employees in the sector, among other data.
The exhibition is part of the weeklong SPIE Optics + Photonics symposium, with more than 3,000 presentations in technical conferences and a suite of professional development courses on topics in:
Nanoscience and Engineering
Optics and Photonics for Sustainable Energy
Organic Photonics and Electronics
Optical Engineering and Applications.
About SPIE
SPIE is the international society for optics and photonics, an educational not-for-profit organization founded in 1955 to advance light-based science, engineering and technology. The Society serves nearly 264,000 constituents from approximately 166 countries, offering conferences and their published proceedings, continuing education, books, journals, and the SPIE Digital Library. In 2015, SPIE provided more than $5.2 million in support of education and outreach programs. www.spie.org
---
Contact:
Amy Nelson
Public Relations Manager
amy@spie.org
+1 360 685 5478
@SPIEtweets
---