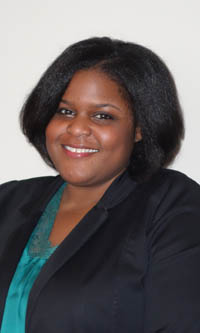 Ariel Marshall
BELLINGHAM, Washington, and WASHINGTON, DC, USA -- SPIE, the international society for optics and photonics, and The Optical Society (OSA) have announced the selection of Georgia Institute of Technology researcher and STEM education advocate Ariel Marshall as the 2014-2015 Arthur H. Guenther Congressional Fellow.
Marshall will serve a one-year term working as a special legislative assistant on the staff of a U.S. congressional office or committee in Washington, D.C.
Along with other 2014-2015 Congressional fellows, Marshall will formally begin the program in early September, starting with a comprehensive training and orientation process facilitated by the American Association for the Advancement of Science (AAAS). The new Fellows will then go through an interview and selection process with offices of senators, representatives, or committees on Capitol Hill before choosing the offices in which they will serve.
Marshall will receive her Ph.D. from Georgia Tech this summer. She studied chemistry as an undergraduate at the University of Central Arkansas, where she worked on the synthesis and characterization of nickel-cysteine complexes that have potential applications in hydrogen formation.
She subsequently joined Georgia Tech to pursue a Ph.D. in chemistry, where her research focuses on the structural, electronic and optical properties of organic conjugated small molecule and polymer systems with promising applications in electronics, photonics and photovoltaics.
Marshall was awarded the 2012-2013 Sam Nunn Security Policy Fellowship, a MacArthur-funded program in which scientists and engineers are prepared to render policy advice on issues at the nexus of science, technology and international affairs.
In 2013, she received the Graduate Certificate of Public Policy from the School of Public Policy at Georgia Tech, during which she examined policies pertaining to renewable energy and STEM education issues.
As a Guenther Congressional Fellow, Marshall said she hopes to work on issues pertaining to renewable energy and education.
The Congressional Fellows program aims to bring technical and scientific backgrounds and perspectives to the decision-making process in Congress, and to provide scientists with insight into the inner workings of the federal government. Typically, fellows conduct legislative or oversight work, assist in congressional hearings and debates, prepare policy briefs and write speeches as part of their daily responsibilities.
Each year, following a formal application process, Guenther Congressional Fellow finalists are interviewed and selected by a committee comprised of volunteer members from OSA and SPIE. For more information on the selection process and fellowship criteria, visit the SPIE or OSA websites.
SPIE is the international society for optics and photonics, a not-for-profit organization founded in 1955 to advance light-based technologies. The Society serves nearly 256,000 constituents from approximately 155 countries, offering conferences, continuing education, books, journals, and a digital library in support of interdisciplinary information exchange, professional networking, and patent precedent. SPIE provided $3.2 million in support of education and outreach programs in 2013.
###

Contact:
Amy Nelson
Public Relations Manager
amy@spie.org
+1 360 685 5478
@SPIEtweets