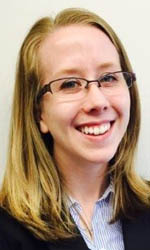 Jennifer Brookes
BELLINGHAM, Washington, USA -- SPIE, the international society for optics and photonics, and The Optical Society (OSA), have announced Jennifer Brookes, a Ph.D. candidate at the University of Washington (UW), as the 2015-2016 Arthur H. Guenther Congressional Fellow. As a fellow, Brookes will serve a one-year term working as special legislative assistant on the staff of a U.S. congressional office or committee in Washington, D.C.
The Congressional Fellows program aims to bring technical and scientific backgrounds and perspectives to the decision-making process in Congress, and provide scientists with insight into the inner workings of the federal government. Typically, fellows conduct legislative or oversight work, assist in congressional hearings and debates, prepare policy briefs and write speeches as part of their daily responsibilities.
Each year, following a formal application process, finalists are interviewed and Fellows are selected by a committee of OSA and SPIE volunteers. More information on the selection process and fellowship criteria is on the SPIE website.
Brookes said she is looking forward to combining her scientific and technical background with her interest in policy as a Guenther Congressional Fellow, to help elected officials make complex policy decisions. She is particularly interested in issues regarding energy, natural resources, STEM (science, technology, engineering, and mathematics) education at all levels, and the advancement of underrepresented demographics in STEM fields.
Brookes will formally begin the program in early September with other new Fellows, after participating in a comprehensive training and orientation process facilitated by the American Association for the Advancement of Science (AAAS). The new Fellows interview with offices of senators, representatives, or committees on Capitol Hill before choosing the offices in which they will serve.
Brookes is Ph.D. candidate in Physical Chemistry at the UW, where she has worked under the direction of Professor Munira Khalil. Brookes is preparing to defend her thesis, which focuses on understanding the local solvent environment of biologically relevant iron-nitrosyl systems using 2D infrared spectroscopy. She holds a Bachelor of Science in Chemistry and Biology from the University of Portland.
Brookes has served the UW community in various capacities. She volunteers with the university's Science Explorers, an outreach group facilitating STEM activities at an afterschool program for elementary students, and is an officer in the newly reformed UW Chapter of OSA Student Affiliates, Social Chair in the Chemistry Graduate Student Club, and Safety Officer for the Khalil lab. She recently interned in the Seattle office of U.S. Senator Maria Cantwell (D-Washington).
About SPIE
SPIE is the international society for optics and photonics, a not-for-profit educational organization founded in 1955 to advance light-based technologies. The Society serves nearly 264,000 constituents from approximately 166 countries, offering conferences, continuing education, books, journals, and a digital library in support of interdisciplinary information exchange, professional networking, and patent precedent. SPIE provided more than $4 million in support of education and outreach programs in 2014. www.spie.org
---
Contact:
Amy Nelson
Public Relations Manager
amy@spie.org
+1 360 685 5478
@SPIEtweets
---
All photos © SPIE, the international society for optics and photonics, except where noted.
---