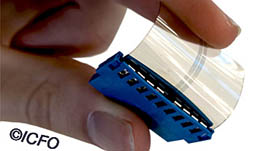 Wearables similar to ICFO's prototype flexible 2D sensor above will enable health monitoring, among capabilities possible with future applications of graphene-based photonics technology.

BELLINGHAM, Washington, USA, and CARDIFF, UK -- A daylong workshop at SPIE Photonics Europe in Brussels in April will present 12 research leaders from industry and academia speaking on prospects and potential for commercialisation of graphene technology. Workshop chairs are Frank Koppens of ICFO (Institut de Ciències Fotòniques, Barcelona Institute of Science and Technology) and Nathalie Vermeulen of B-PHOT (Brussels Photonics Team, Vrije Universiteit Brussel).
SPIE Photonics Europe will run 3-7 April in the Square Brussels Meeting Centre, with the graphene workshop on 5 April. Pre-registration is required for the workshop, and seating is limited.
"Graphene-based photonics technology promises a radically new set of capabilities to meet pressing future needs," said SPIE Science and Technology Director Bob Hainsey. "Among its wide-ranging applications are expanded communications networking and data storage, increased computing speeds, enhanced disease control utilising increasingly larger and more complex data sets, and more accurate fire, motion, chemical, and other sensor systems."
The workshop, featuring leaders in graphene technology from many leading university and industrial labs, will provide those attending with valuable insights on the latest research and inspiration for developing new products and capabilities, Hainsey said.
A rapid-presentations panel at the end of the day will feature industry leaders discussing next steps and challenges in commercialising graphene-based technologies.
Among the workshop speakers:
Marco Romagnoli of the CNIT National Laboratory for Photonics Networks will present a vision for and advantages of graphene-based integrated photonics for data communication, and discuss strategies for wafer-scale integration.
Christoph Stampfer of RWTH Aachen University will describe scalable, cost-efficient fabrication technology to produce high-mobility graphene for applications such as high-frequency transistors, magnetic field sensors, and flexible optoelectronics.
Wolfgang Templ, Alcatel-Lucent Bell Labs, will describe how graphene-based photonics can help to provide extremely high data rates up to the range of tens of gigabits and down to the individual user level -- ideally ubiquitously and at any time.
Cedric Huyghebaert of imec will outline research into integration schemes for silicon photonics transceivers incorporating graphene-based modulators and photodetectors co-integrated with silicon waveguides, working toward industrial-compatible solutions for the semiconductor environment.
Alan Colli of Nokia Technologies will discuss how a new class of thermal detectors for infrared imaging based on graphene technology can be applied in healthcare, smart energy systems, security, fire sensing, automotive, and motion tracking.
Hartmut Roskos of the Physikalisches Institut at Goethe-Universität will present on a comparative performance analysis of antenna-coupled field-effect transistors (Tera-FETs) in four different material systems (silicon CMOS, AlGaN/GaN, CVD graphene, and carbon nanotubes) for application in versatile, sensitive detection of THz radiation.
Valerio Pruneri of ICFO and ICREA will show how ultrathin metals of a thickness ranging from 0.5 to 50 nm can be used to directly grow graphene on transparent substrates, enabling new functionalities for optoelectronic devices.
More information about the potential of graphene and other 2D technologies is at:
About SPIE
SPIE is the international society for optics and photonics, an educational not-for-profit organization founded in 1955 to advance light-based science, engineering, and technology. The Society serves nearly 264,000 constituents from approximately 166 countries, offering conferences and their published proceedings, continuing education, books, journals, and the SPIE Digital Library. In 2015, SPIE provided more than $5.2 million in support of education and outreach programs. www.spie.org
---
Contact:
Amy Nelson
Public Relations Manager
amy@spie.org
+1 360 685 5478
@SPIEtweets
---
All photos © SPIE, the international society for optics and photonics, except where noted.
---