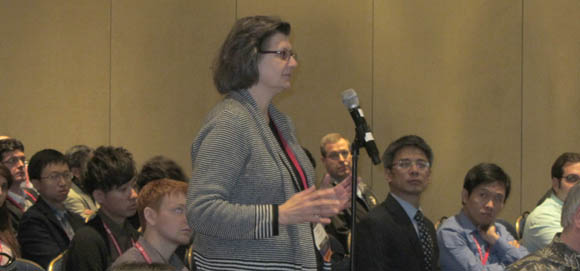 A PROSTATEx Challenge has been organized for SPIE Medical Imaging 2017;
above, Maryellen Giger asks a question from the audience during presentations
by LUNGx Challenge participants during the 2015 conference.
BELLINGHAM, Washington, USA, and CARDIFF, UK — Training data sets were released this week in a "Grand Challenge" on quantitative image analysis methods for diagnosing clinically significant prostate lesions. Participants in the PROSTATEx Challenge being conducted by SPIE, the international society for optics and photonics, and supported by the American Association of Physicists in Medicine (AAPM) and the National Cancer Institute (NCI) will compare results during SPIE Medical Imaging 2017 in Orlando, Florida, in February.
"The PROSTATEx Challenge will provide a unique opportunity for participants to compare their algorithms with those of others from academia, industry, and government in a structured, direct way using the same data sets," said Samuel Armato (University of Chicago), one of the challenge organizers.
Training set cases with truth were released 22 November, and test set cases without truth will be released 12 December.
Participants' output from the test set classification is due 15 January, and challenge results will be released to participants on 20 January.
The two top-performing PROSTATEx Challenge participants will receive waivers of the conference registration fee in order to present their methods during a special session during the meeting, and will be recognized during the conference plenary session.
Challenge participants who submit test set classification results by 15 January will be invited to present posters and demonstrate their algorithms in the live demonstration CAD Workshop during the meeting.
Participants are encouraged to submit their work to the CAD conference proceedings volume as well as for peer review to the SPIE Journal of Medical Imaging. SPIE 2016 Vice President and long-time conference organizer Maryellen Giger (University of Chicago) is editor-in-chief.
The database for this challenge will contain a total of approximately 350 MRI cases consisting of four DICOM-formatted MRI datasets, each from a single examination on a particular patient. Approximately 60% of the cases will serve as the training set, and the remainder will serve as the test set, with each case consisting of four sets of MRI scan data.
A discussion of lessons learned from the 2015 LUNGx Challenge, also sponsored by SPIE, AAPM, and NCI, appears in a guest editorial by Armato and other organizers in the SPIE Digital Library.
SPIE Medical Imaging runs 11 through 16 February. In addition to the PROSTATEx Challenge, other highlights are the Ultrasound Computer Tomography data challenge; a plenary talk by Google Senior Research Scientist Greg Corrado on applying deep learning to medical imaging; and an applications track in Precision Medicine.


About SPIE
SPIE is the international society for optics and photonics, an educational not-for-profit organization founded in 1955 to advance light-based science, engineering and technology. The Society serves nearly 264,000 constituents from approximately 166 countries, offering conferences and their published proceedings, continuing education, books, journals, and the SPIE Digital Library. In 2015, SPIE provided more than $5.2 million in support of education and outreach programs. www.spie.org
---
Contact:
Amy Nelson
Public Relations Manager
amy@spie.org
+1 360 685 5478
@SPIEtweets
---