SPIE Photonics West is expected to draw attendance of more than 20,000;
above, Bruce Tromberg addresses the BiOS Hot Topics session in 2016.
BELLINGHAM, Washington, USA, and CARDIFF, UK — An international audience of more than 20,000 is set to make its annual visit to SPIE Photonics West in San Francisco next month, to see and hear the latest in inventive, life-enhancing new photonics technology applications.
The capabilities to see more deeply into the living brain, print electronic sensors onto textiles, and use virtual reality to treat patients with post-traumatic stress disorder are representative of advances to be presented in technical conferences and showcased in major international exhibitions during the week.
The event will include more than 4,800 technical presentations, two major international exhibitions, an expanded industry program, professional development courses, and other activities. Dates are 28 January through 2 February at Moscone Center.
Neurophotonics, optical coherence tomography (OCT), additive manufacturing, fiber lasers, and silicon photonics are among hot topics in the technical conferences, said SPIE Science and Technology Director Bob Hainsey.
In Biomedical Optics (BiOS), a new application track, Brain, will provide a leading-edge forum on technologies to increase understanding of brain function. The track includes a 10-speaker plenary session on Neurotechnologies.
A returning application track on Translational Research will present outcomes-based studies on technologies, tools, and techniques with high potential to change the lives of patients. Select participants will present methodology and findings in a lunchtime forum.
New to BiOS this year, a conference on Visualizing and Quantifying Drug Distribution in Tissue is one of 45 BiOS conferences.
Nine speakers in the popular Saturday night BiOS Hot Topics session will cover topics such as cardiac optogenetics and noninvasive optical biopsy.
Other reports in BiOS will cover:
3D imaging of brain activity (Rafael Yuste, Columbia University)
photo-acoustic tomography tools to guide robotic surgeries (Muyinatu Bell, Johns Hopkins University)
OCT for imaging of the heart and in characterization of early-term childbirth (Christine Hendon, Columbia University).
In Optoelectronics and Photonic Materials and Devices (OPTO), plenary talks will cover metaphotonics for the control of light and heat, quantum-dot-based photonics for energy-efficient and secure information systems, and LiFi for transforming fiber into wireless.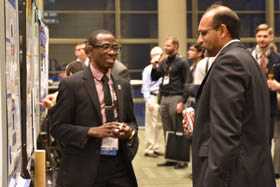 Poster sessions during the week draw large
crowds to discuss new work with authors.
Presentations in the 34 OPTO conferences will include topics such as:
terahertz imagers and sources for biomedical imaging without labels, and for chemical sensing (Mona Jarrahi, University of California, Los Angeles)
imaging with multicore fibers (Demetri Psaltis, École Polytechnique Fédérale de Lausanne)
mid-IR silicon photonics sensor platforms (Lionel Kimerling, Massachusetts Institute of Technology, head of education and workforce development for the American Institute for Manufacturing Integrated Photonics [AIM Photonics]).
In Laser Technology and Industrial Applications (LASE), an applications track on 3D Printing will cover multidimensional, multidisciplinary 3D technology.
LASE plenary talks will cover gravitational wave astronomy, micro 3D structures, and extreme ultraviolet lithography.
Presentations in the 16 LASE conferences will include reports on:
eye-safe and mid-IR lasers (Helena Jelínková, Czech Technical University)
transverse mode instability analysis in fiber amplifiers (Michalis Zervas, Optoelectronics Research Centre, University of Southampton)
femtosecond laser sources and industrial lasers (Eric Mottay, Amplitude Systèmes).
A suite of more than 70 courses in lasers and applications, sensors, imaging, IR systems, optical and optomechanical engineering, and other topics includes IACET-accredited offerings for CEUs as well as professional development and industry workshops.
New trends in markets from healthcare to wearables, and valuable insights on success for startups to multinational corporations will be explored in more than 30 industry-focused business sessions.
The Photonics West Exhibition, 31 January through 2 February, will include more than 1,340 companies showing laser systems, optoelectronic components, and numerous devices and technologies for photonics manufacturing and research.
The BiOS Expo (28 and 29 January), the world's largest biomedical optics and biophotonics exhibition, will feature more than 200 companies.
New entrepreneurs with light-based technology business ideas will pitch their plans to a jury of corporate development experts and venture capitalists in the annual SPIE Startup Challenge. The final round of competition on 1 Feburary will be open to the public.
Outstanding new products will be honored with the 2017 Prism Awards for Photonics Innovation. Industry leaders will present awards at a gala banquet attended by the who's who of the photonics industry.
Recruiters from more than 30 companies are expected at the SPIE Career Center Job Fair (31 January and 1 February).
Complete information is on the Photonics West website.
About SPIE
SPIE, the international society for optics and photonics, is an educational not-for-profit organization founded in 1955 to advance light-based science, engineering and technology. The Society serves nearly 264,000 constituents from approximately 166 countries, offering conferences and their published proceedings, continuing education, books, journals, and the SPIE Digital Library. In 2016, SPIE provided $4 million in support of education and outreach programs. www.spie.org
---
Contact:
Amy Nelson
Public Relations Manager
amy@spie.org
+1 360 685 5478
@SPIEtweets
---