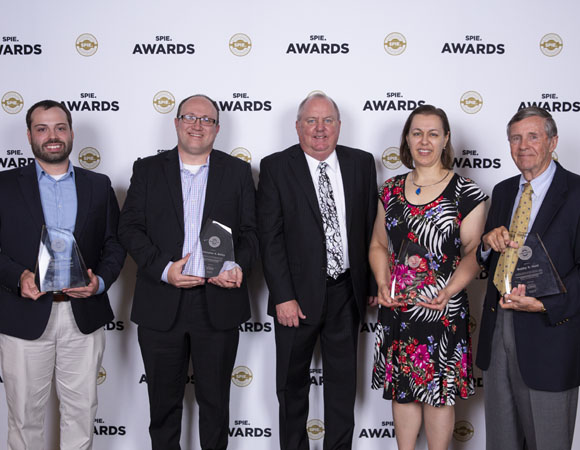 Michael A. Rucci (far left), Christopher Bailey (second from left), Amber Iler (second from right), and Bobby Hunt (far right), receiving their awards from SPIE President-Elect John Greivenkamp (center).

BELLINGHAM, Washington, USA and CARDIFF, UK - Yesterday, at the Awards Banquet at SPIE Optics + Photonics in San Diego, SPIE, the international society for optics and photonics, presented Christopher A. Bailey, Bobby R. Hunt, Amber L. Iler, and Michael A. Rucci with the Society's annual Rudolf and Hilda Kingslake Medal and Prize.
The award recognizes their work as the authors of a 2018 paper, "Synthesis of atmospheric turbulence point spread functions by sparse and redundant representations," published in the SPIE journal Optical Engineering.
"Realistic simulation of long-path turbulence effects in imagery is a longstanding problem that is typically addressed using very computationally intensive wavefront propagation methods," noted Optical Engineering Editor-in-Chief Michael T. Eismann. "While providing accurate representations of turbulence impacts, the computational complexity of these approaches limits their utility in many practical settings, particularly for training reconstruction methods based on machine learning where large numbers of realistic turbulence-degraded images are required. The authors of the Optical Engineering paper recognized by this year's Kingslake Medal address this problem through a singular value decomposition algorithm that establishes a sparse representational dictionary of collected point spread functions to serve as a basis for a much more computationally efficient simulation. The paper exhibits a combination of novelty, significance and thoroughness that makes it a model for Optical Engineering publications."
Rudolf Kingslake, one of the preeminent optical engineers in the history of the United States, was born and educated in England but developed and taught the first lens design and geometrical optics courses formally offered in America at the University of Rochester in the 1930s. He also served as the head of the Lens Design Department of Kodak Research Laboratories, and wrote three books on optical design. In recognition of his outstanding contributions to the field of optical engineering, SPIE annually awards the Rudolf Kingslake Medal and Prize to the most noteworthy original paper to appear in Optical Engineering on theoretical or experimental aspects of optical engineering. This will be the final year for this particular form of the award: starting in 2020, it will transition into the Rudolf and Hilda Kingslake Award in Optical Design, and no longer be tied to a journal paper.
About SPIE
SPIE is the international society for optics and photonics, an educational not-for-profit organization founded in 1955 to advance light-based science, engineering, and technology. The Society serves 257,000 constituents from 173 countries, offering conferences and their published proceedings, continuing education, books, journals, and the SPIE Digital Library. In 2018, SPIE provided more than $4 million in community support including scholarships and awards, outreach and advocacy programs, travel grants, public policy, and educational resources. www.spie.org.
________________________________________
Contact:
Daneet Steffens
Public Relations Manager
daneets@spie.org
+1 360 685 5478
@SPIEtweets