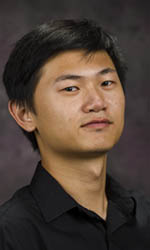 Yukun Qin

BELLINGHAM, Washington, and TUCSON, Arizona, USA -- The first recipient of a new scholarship sponsored by SPIE, the international society for optics and photonics, has been announced by the College of Optical Sciences (OSC) at the University of Arizona in Tucson.
Yukun Qin has been selected recipient of the SPIE Graduate Student Endowed Scholarship in Optical Sciences for the 2015-2016 academic year, said OSC Senior Director of Development Kaye Rowan.
Qin, who is majoring in physics and mathematics at Kansas State University, said that it was working with lasers that attracted him to optical sciences. His physics department's major concentration in atomic molecule optical physics gave him the opportunity to use ultrafast, ultra-intense laser pulses to study the structure and dynamics of atoms and molecules. An undergraduate symposium connected him with OSC scientists, and his decision to do graduate work in optical sciences was set.
The SPIE scholarship is one of 27 new endowed scholarships for optics graduate students enabled by a matching funds campaign established with a $10 million donation by SPIE Past President and former OSC Dean James Wyant. His vision, Wyant said, was to help students through their first and most challenging year of graduate study, and he structured his gift as a 4-to-1 matching offer to encourage others to participate.
More than 270 donors, including SPIE, collectively raised $2.5 million in response to Wyant's challenge after it was initiated in 2013. Last February, at SPIE Photonics West in San Francisco, OSC Dean Thomas Koch announced that the fund-raising goal had been met - four years ahead of expectations.
Donors to the scholarship campaign, dubbed Friends of Tucson Optics, or FoTO, include optics alumni and faculty, as well as industry business leaders, optics industry association SPIE, and even faculty from other prominent universities, Koch said.
When the scholarship plan was shared over breakfast with backers at Photonics West 2014, SPIE CEO Eugene Arthurs and then-President Philip Stahl worked with other society leaders to provide a $100,000 grant -- with matching funds, the basis for a full scholarship -- that was presented that evening when the program was publicly announced.
"SPIE congratulates the college on meeting this fundraising challenge in such a short time. Along with the other donors - who include SPIE Fellows, Members, and Past Presidents such as Dr. Wyant himself - we know the important role OSC plays in educating new generations of scientists and engineers who will change the world through application of optics and photonics," said SPIE President Toyohiko Yatagai when the goal was met in February. "The strong support for this program is a testament to past excellence and a show of confidence for future achievements. It is very fitting that we should see this at the same time the world is celebrating the International Year of Light."
About SPIE
SPIE is the international society for optics and photonics, a not-for-profit educational organization founded in 1955 to advance light-based technologies. The Society serves nearly 264,000 constituents from approximately 166 countries, offering conferences, continuing education, books, journals, and a digital library in support of interdisciplinary information exchange, professional networking, and patent precedent. SPIE provided more than $4 million in support of education and outreach programs in 2014. www.spie.org
---
Contact:
Amy Nelson
Public Relations Manager
amy@spie.org
+1 360 685 5478
@SPIEtweets
---
All photos © SPIE, the international society for optics and photonics, except where noted.
---