A winner in one of nine categories accepts an award during the 2015 gala awards ceremony.
BELLINGHAM, Washington, USA, , and PITTSFIELD, Massachusetts, USA - Dolby, Coherent, Hamamatsu, Alakai Defense Systems, PI (Physik Instrumente), KMLabs, Rochester Precision Optics, and QD Laser are among 27 finalists in nine categories for the 2015 Prism Awards for Photonics Innovation. The awards are sponsored by SPIE, the international society for optics and photonics, and Photonics Media.
Winners will be announced by industry leaders on 17 February during SPIE Photonics West in San Francisco at a gala banquet that has become the largest gathering of CEOs, VIPs, and entrepreneurs in photonics.
Entries are judged by an independent panel of experts including industry executives, leading academic researchers, venture capitalists, and past Prism Award winners.
Finalist companies and their products are:
Biomedical Instrumentation
Avotec: Real Eye Nano
Biodesy: Biodesy Delta
Convergent Dental: Solea
Detectors and Sensors
Alakai Defense Systems: Portable Raman Improvised Explosive Detector
Hamamatsu: MEMS-FPI Spectrum Sensor
Spectral Engines: Wireless IR Analyzer
Displays and Lighting
Crystal IS: Optan SMD
Dolby, Christie, and Necsel: Dolby Vision Cinema Laser Projector
QD Laser: Retinal Imaging Laser Eyewear
Imaging and Cameras
First Light Imaging: C-RED One
Rochester Precision Optics: CMOS Night Observation Device
Stream Technologies: ColorFlow Lens
Industrial Lasers
Coherent: Diamond J-3 5 μm CO Laser
LightFab: LightFab 3D Printer
Onefive: Katana 06 HP
Materials and Coatings
Element Six: Diamond PureOptics
Nanoco: Cadmium Free Quantum Dots
Shasta Crystals: All Crystalline Cladded Single Crystal Fibers
Optics and Optical Components
Boulder Nonlinear Systems: Liquid Crystal Polarization Gratings
GLOphotonics: Kagome Hollow Fiber
OZ Optics: Directional Fiber Optics Power Monitors
Other Metrology Instrumentation
4D Technology: FlexCam
neaspec: nano-FTIR
PI (Physik Instrumente): Fast Multichannel Photonics Alignment
Scientific Lasers
KMLabs: High Harmonic Generation XUUS4
Lasertel: Laser Diode Arrays
Lytid: TeraCascade
"The range and depth of submissions to this competition are welcome reminders of the vibrancy of our broad industrial frontier," said SPIE CEO Eugene Arthurs. "The creativity and execution in our community is amazing. The 27 finalists for the 2016 Prism Awards for Photonics Innovation have employed a wide variety of photonics technologies in developing new products that will touch nearly every area of our lives. I do not envy the judges the difficulty they faced in choosing just three in each category. Seeing these new products emerge from ideas presented in our conference rooms and exhibition halls over the years is very gratifying. Being part of this important competition provides a sense of how these ideas evolve into useful devices that become new products, new tools of regeneration of this exciting field I congratulate all these innovators."
"This is a time of reflection for all of us at Photonics Media and Laurin Publishing, following the recent loss of our founder, Teddi Laurin," said Laurin Publishing CEO Thomas Laurin. "As we contemplate her impact on our business and on the photonics industry, we are reminded that she understood the need to recognize innovation and to applaud the companies that achieved it. Her vision was realized in the Circle of Excellence Awards, which celebrated technical breakthroughs in this industry from 1987 to 2005, and which were a precursor to the Prism Awards for Photonics Innovation. In Teddi's memory, and on behalf of everyone at Laurin Publishing, I'm pleased to join SPIE in recognizing and celebrating these finalists, and sharing their innovations with our global audience."
The Prism Awards were developed to recognize innovative products that are newly available on the open market. Each category is meant to isolate a specific contribution in photonics, in a technology area or sector of the industry. Categories have been added, removed, and updated over time to reflect trends in the industry. One winner will be selected from among the three finalists in each category.
Many of the finalists will exhibit in the Photonics West Exhibition (16-18 February) and BiOS Expo (13-14 February).
About SPIE
SPIE is the international society for optics and photonics, a not-for-profit organization founded in 1955 to advance light-based science and technology. The Society serves more than 264,000 constituents from approximately 166 countries, offering conferences, continuing education, professional networking, books, journals, and a digital library in support of interdisciplinary information exchange and patent precedent. In 2015, SPIE provided more than $5.2 million in support of education and outreach programs in 2012. SPIE is a Founding Partner of the International Year of Light and Light-based Technologies and a Founding Sponsor of the U.S. National Photonics Initiative. www.spie.org.
About Photonics Media
Photonics Media, a business unit of Pittsfield, Mass.-based Laurin Publishing Co. Inc., publishes Photonics Spectra, BioPhotonics, EuroPhotonics, Photonics Buyers' Guide and Photonics.com. With a collective subscriber base of more than 150,000 worldwide and more than 2 million website visits per year, Laurin Publishing's Photonics Media products and publications lead the photonics industry with editorial excellence and integrity -- fostering a tradition of innovation and progress by sharing knowledge, insights and visions for the future. Learn more at www.photonics.com.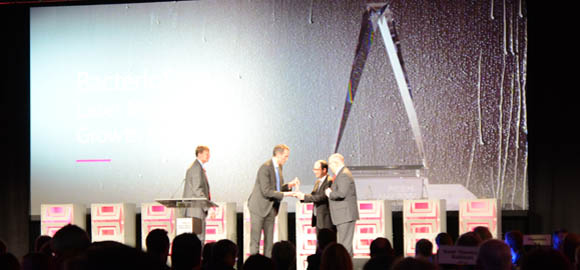 Presentation of Prism Awards for Photonics Innovation provides high visibility for winners; above, representatives of a winning company accept their award during the 2015 ceremony.
---
Contact:
Amy Nelson
Public Relations Manager
amy@spie.org
+1 360 685 5478
@SPIEtweets
---
All photos © SPIE, the international society for optics and photonics, except where noted.
---