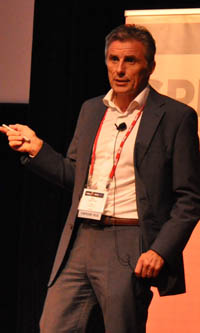 SPIE Security + Defence cochair Bart
Snijders, above, was among many
TNO participants who shared research
findings and marked their agency's 50t
anniversary during the events.
AMSTERDAM, Netherlands, and CARDIFF, UK -- Talks on sensors and imaging technologies for monitoring crops, measuring airborne toxins, and detecting IEDs (improvised explosive devices) were among approximately 900 presentations at last week's SPIE Remote Sensing and SPIE Security + Defence conferences co-located in Amsterdam. The event was sponsored by SPIE, the international society for optics and photonics, and ran 22-25 September.
"Together, these events provide a stimulating multidisciplinary forum for the latest research in signal processing, electro-optical system design, nanoengineering, and lasers for imaging and sensing applications," said SPIE Senior Director Andrew Brown. "Once again this year, the meetings served as a fertile environment for collaboration among more than 800 scientists, researchers, engineers, and developers using these underpinning technologies for applications as diverse as exploring space, monitoring weather, and countering terrorism."
Four plenary talks were featured:
Jos Benschop (ASML) focused on the impact of Moore's law on tool suppliers, noting that the steady increase in the number of transistors results in a miniaturization delivering more functionality -- with the expectation of reduced cost. This trend should continue, he said, driven by a need for additional processing power and memory to support development, for example, of the Internet of Things.
The ability to detect subtle changes in the environment in real time has important safety implications whether for a motorist on the highway or troops on patrol in hostile territory, said Peter de With (Technische Universiteit Eindhoven). He described applications of imaging and 2D/3D video analysis for change detection.
Charles Bostater (Florida Institute of Technology), filling in for Lisa Huddleston (NASA Kennedy Space Center), described ground-based remote sensing activities to safeguard personnel and ensure safe launch of space platforms. A phased array of antennas is being installed with the goal of establishing a high-power, high-resolution radar system to detect near-Earth objects and debris. The system will be 100,000 times more precise than current optical methods, and should allow for improved detection of asteroids like the one that exploded over Chelyabinsk in February 2015.
Bart Snijders(TNO Defence, Safety and Security) reviewed 50 years of contributions by Dutch scientists and engineers to European and U.S. space programs, detailing particular contributions in instrumentation, monitoring, and calibration. Beginning in 1964 with the design of a telescope and spectrometer for the TD14 satellite, TNO has worked on instrumentation for missions including Gaia, to produce the most precise 3D mapping yet of our galaxy; the James Webb Space Telescope's MIRI unit containing both an IR camera and spectrograph; and TROPOMI, to be deployed on the Sentinel-5 precursor satellite as part of the Copernicus program to detect and identify sources of pollutants on Earth.
Among SPIE Security + Defence presentations:
Tracking the position of vehicles in dense urban environments using global positioning satellite (GPS) and inertial navigation systems (INS) can prove challenging. GPS signals can be blocked by urban features such as tall buildings, and INS are subject to drift over time. Marcel Ruizenaar and Danny Maat (TNO) told how information from encounter data and relative distance measurement are augmenting GPS and INS.
Augustus Way Fountain (U.S. Army Edgewood Chemical Biological Center) noted that detection of IEDs requires sensors that merge modalities and take into account all potential signatures from a target since interaction with the environment can result in chemical changes.
Agnes Dolfi-Bouteyre (ONERA) described how continued evolution and maturing of fiber lasers coupled with their small footprint enable increasing use of these systems in systems in structural damage assessment, multi-gas detection, and long-range wind mapping.
Among SPIE Remote Sensing presentations:
Marco Esposito (cosine Research B.V.) described a miniaturized hyperspectral imager deployed in micro- and nanosatellites for monitoring vegetation, assessing crop water needs, determining fire hazards, and mapping flood-zone boundaries.
Marc-André Gagnon (Telops) described an airborne system for characterizing gas clouds which may contain toxic chemicals. Airborne measurement has the benefit over ground-based systems of not only being able to scan large ranges but being able to do so from further, presumably safer, distances.
Wim Bastiaanssen (International Water Management Institute) discussed using remote sensing data to develop a water accounting method to enable quantitative analysis of water use - a critical task given continued competition for access to the resource -- allowing for data-driven decision making, fusing data from multiple sources such as rainfall products, evapotranspiration tables, biomass production tables, and hydrological models.
Snijders also chaired a session celebrating the 50th anniversary of TNO, featuring speakers from TNO, SRON and Dutch Space. Henri Werij, TNO Director of Innovation Space, and other speakers discussed trends from institutional to commercial Earth observation, technology challenges faced by designers of space instruments, the difficulties and trade-offs in project management of space instrumentation, and future opportunities.
The late Piet Schwering, longtime member of the organizing committee for the Technologies for Optical Countermeasures conference, was remembered during the opening session of Security + Defence. Schwering had been affiliated with TNO since 1987, and was a well-respected author, journal reviewer, course instructor, and conference organizer.
SPIE President Philip Stahl presented the 2014 Rudolf Kingslake Medal and Prize to Maarten Hogervorst and Alexander Toet of TNO. The prize, awarded annually for the most noteworthy original paper published in Optical Engineering, was given for the paper "Progress in color night vision" in the January 2012 issue.
A two-day exhibition connected customers with more than 30 developers and suppliers showcasing devices and systems for chemical and biological sensing, infrared sources, detectors, and sensors, lasers and other light sources, and related technologies.

The 2015 events will take place from 21 to 24 September 2015 in Toulouse, France.

Conference proceedings are being published online in the SPIE Digital Library as manuscripts are approved, with CD and print publication to follow when all manuscripts are in.
SPIE is the international society for optics and photonics, a not-for-profit organization founded in 1955 to advance light-based technologies. The Society serves nearly 256,000 constituents from approximately 155 countries, offering conferences, continuing education, books, journals, and a digital library in support of interdisciplinary information exchange, professional networking, and patent precedent. SPIE provided more than $3.2 million in support of education and outreach programs in 2013.
###
Contact:
Public Relations Manager
amy@spie.org
+1 360 685 5478
@SPIEtweets