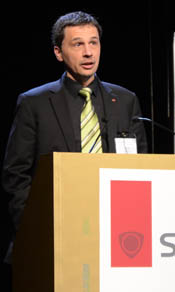 General Chair Francis Berghmans
will once again welcome
international participants to
Brussels for Photonics Europe.
CARDIFF, UK -- Presentations by leading research experts in photonics, optics, lasers, and micro- and nanotechnologies, reports from the European Commission on photonics R&D funding initiatives, and an expanded technology-transfer and industry programme will draw international participants to Brussels next month for SPIE Photonics Europe. The event will run 14-17 April at the Square Brussels Meeting Centre, and is sponsored by SPIE, the international society for optics and photonics.
"For anyone in the field, Photonics Europe is the place to be," said General Chair Francis Berghmans, a professor at the Vrije Universiteit Brussel (VUB). "It brings together different disciplines, technologies, and perspectives from across Europe and around the world."

More than 1,200 technical presentations have been organized into 18 conferences, on topics in:
Micro- and nanotechnologies
Organic photonics
Biophotonics
Highly integrated and functional photonic components
Advances in laser and amplifier technologies
Photonics in industrial applications
Quantum optics
Metamaterials
Laser sources and applications.
New this year is a session on Neurophotonics in the Biophotonics conference. The past decade has seen the rise of optical methods in neurological research, and direct stimulation of neural cells and tissues using laser light has seen tremendous interest in the past few years. Recent research suggests future applications in tools to cure neurological conditions such as Alzheimer's disease.

Hot Topics sessions throughout the week will highlight the technical programme. Speakers and topics include:
John Dudley, Université de Franche-Comté: International Year of Light 2015
Wolfgang Boch, European Commission Photonics Unit: Horizon 2020 and the Photonics Public-Private Partnership
Raymond Beausoleil, Hewlett-Packard Labs: integrated photonics
Brian Wilson, University of Toronto: nanoparticle-enabled endoscopy
John Sipe, University of Toronto: quantum nonlinear optics
Frank Koppens, ICFO-Institute of Photonic Sciences: graphene quantum nano-optoelectronics
Marc Sciamanna, Supélec, OPOTEL and LMOPS: laser diode dynamics
Michal Lipson, Cornell University: silicon photonics.
A full-day Industry Perspectives Programme on 16 April will provide executive briefings on growing photonics markets and related business opportunities. Facilitator Steve Anderson, SPIE Industry and Market Analyst, will present the latest findings from SPIE analysis of the global marketplace for core photonics components. Speakers are:
Peter Hartmann, SCHOTT, on how EU regulations RoHS and REACH threaten the use of key enabling optical materials
Wenko Süptitz, SPECTARIS, on measures against damages for the optical industry caused by RoHS and REACH
Elisabeth Leitner, Deutsches Institut für Normung, on the ISO's international standardisation of optics and photonics
Detlev Ristau, Laserzentrum Hannover, on how standards are developed and how to get involved in order to gain a competitive lead through timely access to relevant information
Augustin Grillet, Barco, on the Photonics21 Public Private Partnership's structure, tasks, and role under Horizon 2020
Anthony Hillion, Aquiti Gestion, on recent trends in the European venture capital industry
Els Van de Velde, IDEA Consult, on tracking the implementation of the KETs Observatory Project
Peter Peumans, IMEC, on market potential for integrated photonics in the life sciences
Reinhard Poprawe, Fraunhofer ILT, on laser additive manufacturing and the vision of 3D printing.
Several industry-oriented workshops are offered. Pre-registration is required, and is free to technical conference registrants. Topics include:
finding partners for Horizon 2020 (chaired by ESP KTN)
recent advancements in fibre Bragg grating sensors and interrogators
properties of optical glass and special optical materials (presented by SCHOTT)
interdisciplinary biophotonics (organised by Photonics4Life).
Nearly 80 leading photonics suppliers will show their latest devices and systems in a two-day exhibition (15 and 16 April) featuring optical components, lasers, fibre optics, detectors, sensors, and cameras.
The Photonics Innovation Village competition including 13 optics and photonics projects from universities, not-for-profits, and research centres will showcase research programmes aiming to transfer new technology into new and useful products.
Organised by B-PHOT, the Brussels Photonics Team at VUB, the Photonics Innovation Village is supported by SPIE with cash awards sponsored by the Brussels Capital Region Government to be awarded to the top three projects.
Winners will be selected by a committee comprising representatives of the European Commission Photonics Unit, SPIE, Photonics21, VUB, a bank or venture capital company, and a large European photonics company.
Along with Professor Berghmans, General Chairs are Ronan Burgess, European Commission Photonics Unit; Jürgen Popp, Institute of Photonic Technology Jena; and Peter Hartmann, SCHOTT. Hugo Thienpoint, VUB, is Honorary Chair.
Conference proceedings papers will be published individually in the SPIE Digital Library as soon as approved after the meeting, and also in collected print and digital volumes.
SPIE is the international society for optics and photonics, a not-for-profit organization founded in 1955 to advance light-based technologies. The Society serves nearly 256,000 constituents from approximately 155 countries, offering conferences, continuing education, books, journals, and a digital library in support of interdisciplinary information exchange, professional networking, and patent precedent. SPIE provided $3.2 million in support of education and outreach programs in 2013.
###
Contact:
Amy Nelson
Public Relations Manager
amy@spie.org
+1 360 685 5478
@SPIEtweets