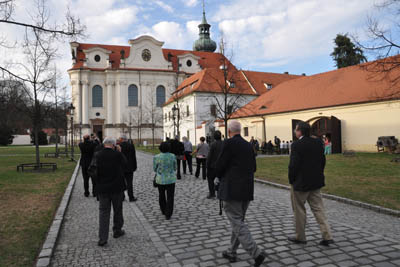 Off to Prague! SPIE Optics + Optoelectronics will return to Prague in April; above, participants in the 2013 event make their way to a reception at the 1,000-year-old Brevnov Monastery.

CARDIFF, UK, and BELLINGHAM, Washington, USA -- A two-day workshop on laser energy projects in Europe and the United States and plenary talks by four leading photonics researchers are among programme highlights planned for SPIE Optics + Optoelectronics next month in Prague, Czech Republic. The symposium will feature over 700 technical presentations in 17 conferences alongside a two-day exhibition. Sponsored by SPIE, the international society for optics and photonics, the event will run 13-16 April in the Clarion Congress Hotel.

Ferenc Krausz

Andrea Melloni

Peter Moulton

Sang-Hyun Oh
Conferences will cover topics such as petawatt photonics, high-power and high-repetition-rate systems, free-electron lasers, optical sensing, holography, x-ray optics, metamaterials, and nonlinear and quantum optics.
"The strong level of participation and high quality of technical reports demonstrate the event's role as an important forum for science, government, and industry to access and share information," said Jiří Homola of the Institute of Photonics and Electronics of the Academy of Sciences of the Czech Republic, a symposium chair. "SPIE Optics + Optoelectronics promises to be an exciting week, with excellent science and technology in a setting conducive to international interchange, networking, and exchange of ideas. This year's observance of the International Year of Light and Light-based Technologies will add even more to the experience."
Invited speakers at the full-day Laser Energy Workshop will update attendees on experiments and developments at the European High Power laser for Energy Research (HiPER) project, the National Ignition Facility in the U.S., Laser Megajoule in France, and other campaigns to achieve inertial fusion energy. Other presentations will cover Orion and the Central Laser Facility in the UK, diode-pumped solid-state laser (DPSSL) technology, and related topics.
Jiří Drahoš, president of the Academy of Sciences of the Czech Republic, and SPIE President-Elect Robert Lieberman of Lumoptix LLC will open the week's activities.
Plenary speakers and their topics are:


Ferenc Krausz, director of the Max Planck Institute for Quantum Optics and chair of experimental physics at Ludwig-Maximilians-Universität München: next-generation femtosecond and attosecond technology
Andrea Melloni, associate professor at Politecnico di Milano: photonic integrated circuits (PICs)
Peter Moulton, principal research scientist and retired CTO at Q-Peak: ultra high-peak-power laser systems
Sang-Hyun Oh, associate professor at University of Minnesota: new approaches for engineering metallic nanostructures for plasmonics and optoelectronics.
Along with Homola, symposium chairs are Chris Edwards of the Central Laser Facility, UK Science and Technology Facilities Council; Mike Dunne of the SLAC National Accelerator Lab/Linac Coherent Light Source; and Ivo Rendina from CNR/Istituto per la Microelettronica e Microsistemi. Miroslav Miler of the Czech Republic Institute of Photonics and Electronics is Honorary Chair.
Conference proceedings will be published online in the SPIE Digital Library as approved following the event, with CD and print publication to follow.
About SPIE
SPIE is the international society for optics and photonics, a not-for-profit organization founded in 1955 to advance light-based technologies. The Society serves nearly 256,000 constituents from approximately 155 countries, offering conferences, continuing education, books, journals, and a digital library in support of interdisciplinary information exchange, professional networking, and patent precedent. SPIE provided more than $3.4 million in support of education and outreach programs in 2014. www.spie.org
---
Contact:
Amy Nelson
Public Relations Manager
amy@spie.org
+1 360 685 5478
@SPIEtweets
---
All photos © SPIE, the international society for optics and photonics, except where noted.
---